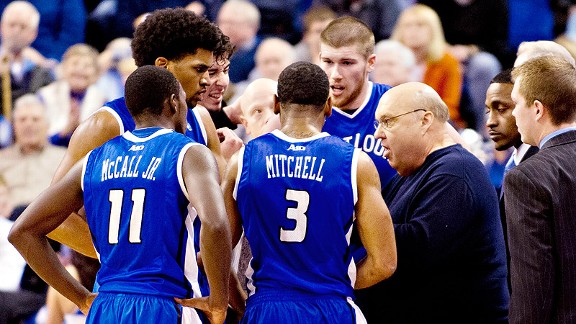 Scott Rovak/US PresswireDespite the A-10's offseason additions, Rick Majerus' Billikens are the team to beat.
Five offseason storylines
1. Hello, Butler and VCU: The Atlantic 10 gladly took Butler (Horizon) and VCU (CAA) a year early and pulled off the coup of the realignment season. These two weren't going to be allowed to play in the respective conference tournaments so the choice was obvious -- bolt to the A-10. The league can make a strong case to be a top-seven conference in the country -- and the Bulldogs and Rams immediately leap to the top of the conference power structure. They will compete for the regular-season and conference tournament titles. Book it.
2. Headed to Brooklyn: The A-10 had a hard time finding a home for its conference tournament. The perfect location would've been the Palestra in Philadelphia, but it's simply too small. So the league headed to a big-time media market when it chose the brand-new Barclays Center, home of the Brooklyn Nets. The league's Big Apple debut might result in a record number of bids for this stacked conference.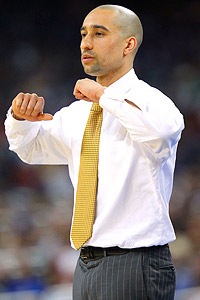 Andy Lyons/Getty ImagesExpect Shaka Smart's Rams to contend in their first season in the Atlantic 10.
3. Saint Louis as a favorite: This is exactly why Rick Majerus returned to college coaching. He loves to coach. He relishes teaching. But let's not fool ourselves -- he wants to win. And he did it as well as any coach in the country at Utah. The Billikens are the favorite because they have the most experience and now have NCAA tournament experience. They expect to win. Xavier and Temple have dominated this league and I would never count out either in the title chase. But the favorite this season is in St. Louis.
4. A one-year schedule: The A-10 is at 16 teams for one season until Temple and Charlotte move to the Big East and Conference USA, respectively. The league had to be creative with its schedule knowing that it would be for only one season. The best part about the unbalanced schedule is that it gives the teams a chance to crown as true a champion without a round-robin slate. Every team will play each team once with one rivalry game twice. The home-road split will cause some concern but that is to be expected. By staying at 16 games instead of 18, the A-10 gave itself a chance to have as equitable a schedule as possible.
5. The arrival of the Hurleys: Danny and Bobby Hurley gave the NEC a national appeal. They were able to turn around Wagner, even if they didn't make the NCAA tournament. Now the Hurleys have arrived in the A-10 at Rhode Island. Jim Baron had a decent run but just couldn't get the Rams to the Big Dance. We'll have to see if the Hurleys can get the Rams to break through. But more than anything they will make the league a bit more interesting. The A-10 needs some of its traditional powers to catch up to the new blood. Saint Joseph's and UMass should have a revival and compete for NCAA bids. The time has come for the Rams to do the same -- it just won't be this season.
Best-case/worst-case scenarios
Butler

Best-case scenario: Last season was a textbook transition year for Brad Stevens' program, and a well-earned one after miraculous back-to-back runs to the NCAA title game. The Bulldogs still had their defensive calling card, but Stevens' group of young, developing players couldn't score, thanks primarily to an utter lack of outside shooting. Butler shot 27.2 percent from 3-point range; only four teams in Division I were worse. Fortunately, help is on the way. Arkansas transfer Rotnei Clarke, who averaged 43 percent from 3 and scored 15.2 points per game as a junior, is eligible to compete this fall, and Indiana native Kellen Dunham is a top-100 recruit known for one trait above all else: prodigious outside shooting. It's fair to expect a drastic uptick in perimeter efficiency from this offense, and the same baseline defensive strength. If that's the case, there's no reason this group can't make a run at its first A-10 title in its very first opportunity.
Worst-case scenario: A middle-of-the-pack finish. There are question marks here. With Clarke, Dunham and Chrishawn Hopkins, the backcourt may lack a true point guard, and it will definitely lack one with the lock-down perimeter defense (not to mention the team leadership) of departing senior Ronald Nored. Likewise, Butler is far from a sure thing on the front line. Andrew Smith is long and good around the rim but can be pushed off the block and Khyle Marshall, though effective on the boards, is undersized at 6-6. Over the long term, Butler will be just fine in the A-10; it's been good enough to make this transition for years. But in 2012-13, in a much tougher league, that front line could prove vulnerable.
Charlotte

Best-case scenario: Alan Major's job -- resurrect Charlotte from an extended period of mediocrity -- was already difficult enough before Butler and VCU joined a incredibly deep A-10 configuration. The good news? The 49ers are heading in the right direction (right as they get set to leave for C-USA). Forward Chris Braswell is back for his senior season, as is junior swingman DeMario Mayfield, and freshman forward Willie Clayton promises to be (at the very least) an energetic presence as he develops on the low block. Charlotte finished 13-17 with five league wins last season; even in a league this tough, both of those numbers should jump in 2012-13.
Worst-case scenario: This will be Major's third season at the helm, and it just so happens to feature a one-time-only, fully loaded version of an already difficult league. Major needs more time to bring this thing along, and reasonable 49ers fans, hungry for wins as they are, would have to agree. The only worst-case here is a significant regression. Positive momentum is the most realistic immediate goal.
Dayton

[+] Enlarge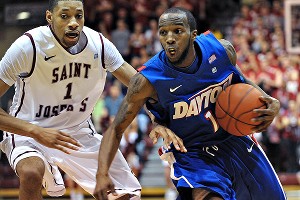 Eric Hartline/US PresswireKevin Dillard and Dayton will score points, but the Flyers' success will depend on their defense.
Best-case scenario: The 2011-12 Flyers were one of the A-10's -- for that matter, one of the country's -- most maddening teams. They knocked off a handful of good opponents and dropped more than their fair share of questionable losses, too. Archie Miller lost three seniors from that squad, but he retained a solid guard-forward combo in rising seniors Kevin Dillard and Matt Kavanaugh, so the scoring punch -- Dayton's strength -- should remain. If UD can improve last year's lackluster team defense, the optimistic projection is a 10-6 league record and realistic hopes of an at-large bid.
Worst-case scenario: Then again, Miller's team will need to make up a lot of minutes and possessions from those three departed seniors, and they'll likely have to do so with green underclassmen. That's never the best recipe for defensive improvement -- although a full season from Josh Benson will help. A .500 league finish would be nothing to be ashamed of, but it wouldn't get Miller and Co. any closer to the NCAA tournament.
Duquesne

Best-case scenario: Can the Dukes grab a few rebounds? If so, they'll win more than 16 games, last season's total. If not, forget it. Rarely is basketball analysis quite this simple, but it's true: Duquesne finished ranked No. 260 in offensive rebounding rate, but were far worse than that on the defensive end, where only two Division I teams (Northwestern State and Delaware State) yielded opponents a higher percentage of available misses.
Worst-case scenario: Unfortunately, it's not clear exactly how Duquesne will improve on the glass, because it's not clear the Dukes will have the size to match up with most of their A-10 foes on the front line. They also need to become a much better defensive team against opposing shooters. Most likely, Duquesne is facing another .500 season overall, and anything worse than that won't be a major surprise.
Fordham

Best-case scenario: Avoid league whipping boy status enough to build some positive programmatic momentum? That seems like the best case for a team that finished 10-19, ranked No. 273 in overall adjusted efficiency, and returns much of last year's personnel. There is some youth in the pipeline here, so that's cause for optimism. And hey, Chris Gaston is still really, really good -- so there's that.
Worst-case scenario: Fordham finished 3-13 in A-10 play last season, and it's not hard to imagine a very similar conference record in 2012-13, too. Five or six league wins would qualify as a bonus.
George Washington

Best-case scenario: The Colonials got some bad news this month, when senior forward David Pellom was diagnosed with a wrist injury that will keep him out four to five months -- possibly through the start of the season in November. (Even worse, Pellom won't get to play during the team's offseason trip to Italy. Bummer.) If Pellom can get healthy in time, he could be the team's leading force down low, but he'll need help from a wide swath of players (including five recruits) if GW plans to break into the top half of the league.
Worst-case scenario: Even when Pellom is able to return, this is still just Mike Lonergan's second season in the program. With the rise of the D.C. recruiting scene, George Washington is positioned well for a long-term talent rebirth, but personnel-wise, the Colonials just aren't there yet.
La Salle

Best-case scenario: How strong is the Atlantic 10 this season? The Explorers (one of my favorite team nicknames in college sports) return essentially every major piece of a rotation (save for Earl Pettis) from a team that went 20-13 overall and finished in the top 70 in the KenPom rankings ... and they might be the A-10's seventh-best team. Still, the prospectus looks good. Forward Jerrell Wright shone as a freshman, as did then-sophomores Tyreek Duren and Sam Mills, while sophomore-to-be D.J. Peterson made 48 percent of his 3s and posted a 123.0 offensive rating in reserve minutes. La Salle was already a solid team; with youth leading the way, it can make a real run at the tournament this season -- somewhere they haven't been in 20 years.
Worst-case scenario: It would be surprising to see this group of players, led as it is by still-improving underclassmen, fall short of last season's performance. But in an even tougher league, with at least six fellow tourney hopefuls (if not more), even an improved Explorers squad could finish right where they did last year: 9-7 in conference play, with no NCAA tournament bid to show for it. In a vacuum, optimism is definitely warranted. But context matters, too.
Massachusetts

Best-case scenario: Chaz Williams becomes a bonafide star. The 5-foot-11 guard submitted a solid all-around season in 2012-13, but he took his play up a notch in UMass's run to the NIT semifinals, averaging 21.8 points, 5.3 rebounds and 4.8 assists. Meanwhile, though the Minutemen lose leading rebounder Sean Carter, Cady Lalanne posted rebounding rates of 16.0 (offensive) and 23.1 (defensive) before a foot injury ended a promising season. And the Minutemen return the rest of a rotation that won 25 games. There's a reason this conference is hailed as deep, and it goes beyond the additions of VCU and Butler. UMass will have to be reckoned with, too.
Worst-case scenario: Before we get too excited about Williams' performance in the NIT, it was just four games. That's a small sample size; Williams will have to convert his 2-point field goals at a higher clip than 40 percent, and lower his turnover rate, if he wants to improve his overall efficiency. Still, Massachusetts should be a factor near the top of the A-10 table. The only question is how high.
Rhode Island

Best-case scenario: It feels borderline cruel to rehash longtime coach Jim Baron's final season at Rhode Island, in which the Rams finished 7-24, and 13th in the league in efficiency defense. Baron is gone now, replaced by Dan Hurley, who will piece together what he can of the current roster and work in three-star freshman center Jordan Hare at the first possible opportunity. There's nowhere to go but up.
Worst-case scenario: No such thing. This is pure rebuilding stuff in a rough league. The won-lost record will be beside the point.
Richmond

Best-case scenario: The Spiders are going to score the basketball, and score it efficiently. That was already the case for much of last season, thanks in large part to sophomores Cedrick Lindsay and Derrick Williams, junior Darien Brothers and freshman point guard Kendall Anthony (who posted a 107.7 offensive rating and shot 41.7 percent from 3 despite his 5-foot-8 size). Those four starters all return for 2012-13. Anthony has major breakout potential, and last season's least efficient regulars were all seniors. With a dynamic offense, Richmond could be the A-10's deep sleeper.
Worst-case scenario: The departing seniors were inefficient, sure, but at least they brought size and, in the case of Darius Garrett, great defensive rebounding. The Spiders have a pair of two-star power forward recruits on the way, but neither player appears ready to make an immediate impact. The end result of all this? Richmond, a team that allowed opponents to retreive 36.4 percent of available misses last season -- ranking No. 314 in the country in that category -- looks likely to be decimated on the defensive glass yet again. Another lackluster defensive season could keep Chris Mooney's squad in the lower half of the A-10 again.
Saint Joseph's

Best-case scenario: Everyone's expecting big things from Saint Joseph's in 2012-13, and it's not hard to figure out why: The Hawks return literally everyone -- all five starters and every key reserve -- from a squad that went 20-14 and flirted with the NCAA tournament bubble throughout much of February and March. That mutual experience and collective cohesion can be invaluable at the collegiate level, and so the natural and understandable expectation is that St. Joe's will take another step in the right direction. The best-case scenario is a conference title, but even if the Hawks fall short of that, they should find themselves in the NCAA tournament by season's end.
Worst-case scenario: Another 20-14 year. That's the thing about teams that bring literally everybody back, particularly when most of those players aren't freshmen: There is always the possibility that a team simply is what it is. That seems like the only conceivable worst-case scenario for this squad -- although the summer ACL tear from incoming freshman Kyle Molock isn't exactly an encouraging start.
Saint Louis

Best-case scenario: An A-10 title and a March seed much higher than last season's No. 9. Like St. Joe's, Saint Louis returns much of last season's squad; the only major loss is 6-foot-6 forward Brian Conklin, the team's leading scorer. But everyone else of note -- point guard Kwamain Mitchell, off-guards Mike McCall and Jordair Jett, swingman Dwayne Evans, forward Cody Ellis -- is back. Meanwhile, 6-11 forward Rob Loe looks capable of stepping into a bigger role in the frontcourt in his junior season. That group, plus Conklin, ranked No. 10 in the country in defensive efficiency. (If NCAA tournament seeds were determined by KenPom rank, SLU wouldn't have had to play Memphis and Michigan State on the tourney's first weekend.) With Majerus on the sideline, and that defense in tow, the Billikens' upside is huge.
Worst-case scenario: Is there one? Maybe the loss of Conklin is more impactful than I'm giving it credit for, but even if that's the case, it would be a major surprise to see Saint Louis do anything but compete for the A-10 title and get to the NCAA tournament.
St. Bonaventure

Best-case scenario: The Bonnies got to the NCAA tournament -- and nearly knocked off 3-seed Florida State -- thanks in large part to the play of senior forward Andrew Nicholson, who averaged 26 points and 9.9 rebounds per game in his final eight, including St. Bonaventure's surprising run to the A-10 tourney title. Nicholson graduated this spring, but the Bonnies return a solid supporting cast, including Eric Mosley, Chris Johnson, Demitrius Conger and Matthew Wright. This team's best possible result is probably a plus-.500 record in the A-10.
Worst-case scenario: The best guess is this team won't entirely fall off -- mediocrity is probably the order of the season -- but Nicholson is a major absence, not only for his production but for the attention he drew from defenses. Offense was the Bonnies' strength; Nicholson's graduation could radically alter that dynamic.
Temple

Best-case scenario: Fran Dunphy's program has been the model of consistency for the past three seasons, in which Temple has won 29, 26 and 24 games, with two second-place finishes and one A-10 regular-season title. Fittingly enough, those benchmarks sound a lot like the Owls' best-case scenario in their final go-around in this league. They will have to plug the holes created by the loss of seniors Ramone Moore and Juan Fernandez, and the status of star forward Khalif Wyatt -- who was arrested in an Atlantic City prostitution sting on June 10 -- remains in question. (Wyatt may have to serve a suspension, but odds are he'll be back.) Those are significant holes, but Dunphy has a solid core of young players ready to step in, and while Temple may not win 29 games, it would be a shock to see them win fewer than 23.
Worst-case scenario: Moore and Fernandez do present rather large gaps in production, not to mention experience and leadership. Wyatt's eventual return will be interesting to watch, because his efficient offensive production could be the difference between another typical Temple year and a potential step back in a significantly more challenging league landscape.
Virginia Commonwealth

Best-case scenario: Shaka Smart brings havoc to the Atlantic 10. The Rams return every key contributor but Bradford Burgess, including rising senior point guard Darius Theus, who took over for the seemingly irreplacable Joey Rodriguez in 2012. Theus was excellent, a savvy floor general who also led VCU's defense at the crucial pressing point of attack. Last season, the Rams forced the highest number of turnovers per possession of any team in the country. That trait is likely to continue in 2012-13, and it promises to give A-10 opponents fits on a nightly basis. This team can compete for the conference title. It can make a run in the NCAA tournament. It has the talent to do so, but more importantly, it has the system.
Worst-case scenario: Burgess' departure should not be understated. He led the Rams in scoring and finished second in rebounding and 3-point field goal percentage; he and Treveon Graham were the only players who shot better than 35 percent from beyond the arc. VCU's defense is likely to remain intact, but unless the Rams get some better outside shooting -- which was, remember, the biggest key to their crazy 2011 Final Four run -- their so-so offense will remain as such.
Xavier

Best-case scenario: It's a changing-of-the-guard type of season for one of the nation's best non-Big Six programs. Leading scorer Tu Holloway and bruising forward Kenny Frease both graduated this spring, while guard Mark Lyons transferred to Arizona amid questions about his attitude toward coaches and fellow players. But the Musketeers still have talent. I'm thinking primarily of sophomore guard Dezmine Wells, who possesses a linebacker-esque frame that becomes nearly impossible to stop when he attacks the rim. There weren't many touches for Wells during the 2011-12 campaign, but as the main focus, he could be a star. And X will bring in the No. 16-ranked recruiting class, which features three four-star recruits.
Worst-case scenario: Even if Wells emerges as a star sophomore, and even if some supporting players step up, and even if Xavier freshmen arrive ready to contribute, the losses of Holloway, Lyons and Frease do represent a substantial drop in points, minutes and possessions. Even so, the Musketeers lose talent all the time, but Chris Mack always has his team in contention for the conference title. Xavier always goes to the NCAA tournament, and almost always makes some noise while there. Projecting anything less than that this season feels like folly.
Most Important Player

Butler: Rotnei Clarke
It's very un-Butler like, but the best and most important player is a transfer. Clarke didn't have a smooth final season at Arkansas two years ago. But the hope is that he has been indoctrinated -- in a positive manner -- in the Butler Way. If Clarke is fully on board with Brad Stevens and staff, he should flourish. The Bulldogs struggled to score last season and were horrid from the outside. Clarke is one of the best shooters in the country. Sounds like a pretty important player, no?

Charlotte: Chris Braswell
He was one of just three players in the A-10 to lead the team in scoring and rebounding. Braswell is also Charlotte's only scholarship player who has more than one year of experience with the 49ers. He lit up Xavier for 28 points in a loss in the regular-season finale. If Alan Major's team makes a jump in the A-10 before moving to Conference USA, Braswell will be the reason.

Dayton: Kevin Dillard
The Southern Illinois transfer is in his second full year of playing for the Flyers. And he has turned into an all-A-10 performer. He was as consistent for the Flyers as he was for the Salukis. The 6-foot guard shot over 40 percent. He still needs to improve his 3-point shooting (32.5 percent), but is excellent from the free throw line (83 percent). Dillard will have to do more than any other player to ensure the Flyers are a legit postseason contender.

Duquesne: Sean Johnson
New coach Jim Ferry will lean heavily on the 6-2 senior guard who averaged 13.5 points a game last season. With four of the top five scorers gone, Johnson will have to be Mr. Everything. His scoring averages have increased from 5.6 to 9.8 to 13.5 and his shooting percentage jumped from 31.6 to 36.8 percent from his sophomore to junior year.

Fordham: Chris Gaston
Gaston has averaged a double-double in all three of his seasons in the Bronx and his leadership skills have continued to improve under Tom Pecora. The Rams are making progress, even if the number of league wins don't spell that out. If the jump is going to come during Gaston's senior season, he has to continue his steady play.

George Washington: Lasan Kromah
Kromah was a solid 11-point scorer in each of his two seasons, which were spread out over three years. But if the Colonials are to take that next step, Kromah may need to produce a bit more. GW has better depth under Mike Lonergan now, but he needs to lean on a senior like Kromah.

La Salle: Steve Zack
The Explorers are set on the perimeter with Tyreek Duren, Sam Mills, Ramon Galloway and D.J. Peterson, forming one of the top groups in the A-10. But that's why Zack has to be larger than life for La Salle inside. He was hardly the most impressive player last season, averaging just 1.4 points and 2.3 rebounds in 9.5 minutes a game. But the Explorers can't be perimeter-only and coach John Giannini said if Zack plays as well as he projects he will, he could be "one of the most improved players in the A-10.''

Massachusetts: Chaz Williams
The Minutemen really struggled at point guard prior to Williams getting eligible. The transfer from Hofstra averaged 16.4 points and 6.4 assists a game. Williams is a playmaker and UMass has a real shot to get the Mullins Center rocking again because of his ability to change the tempo. Derek Kellogg has been desperate for a game-changer and now he has one.

Rhode Island: Mike Powell
New coach Dan Hurley was able to keep the Rams' most important player in the 5-11 rising sophomore guard. Powell played 30.4 minutes a game last season and averaged 8.7 points, 3.1 rebounds and 3.5 assists. He will have the ball in his hands as much as possible and has tremendous tutors in the Hurley brothers. Billy Baron would have completed the backcourt but, understandably, he left to join his father at Canisius.
Richmond: Derrick Williams
Williams is a nimble big man who has been able to have his way at times. He had a big-time outing with 18 points and 13 rebounds in a win over Temple last season. Williams often gets double-teamed and without much help inside the Spiders were more vulnerable. But he should have more help with the arrival of Alonzo Nelson-Ododa. Richmond still has two players left from the Sweet 16 in Cedrick Lindsay and Darien Brothers, but both are in the backcourt.

Saint Joseph's: C.J. Aiken
The Hawks have been Guard U under Phil Martelli. But Aiken could change that perception if the Hawks reach their potential. Aiken blocked 120 shots last season and will be the premier big man in the A-10 this season. Aiken continues to develop his offensive game and averaged 10.9 points last season as well as grabbing 5.1 rebounds a game. Expect his touches to increase as the Hawks need to funnel the offense through him.

Saint Louis: Kwamain Mitchell
Mitchell was suspended for his third season but it was like a redshirt year. Mitchell returned for his junior year and fully embraced the Rick Majerus system. Now he has become exactly what Majerus wants with his point guard. To run the Majerus system, you need to understand it. To understand it, the player must experience it. Mitchell has done both and is ready to lead this squad to an A-10 title.

St. Bonaventure: Youssou Ndoye
The Bonnies don't view him as their best player, but with the departure of Andrew Nicholson, they are a bit center-challenged. Ndoye averaged just 2.6 points and 2.4 rebounds last season, averaging 10.4 minutes a game coming off shoulder surgery. The most prolific scorer may be Demitrius Conger, who was second in scoring and rebounding behind Nicholson. But the Bonnies will need Ndoye to be a major factor to remain a success in the A-10.

Temple: Khalif Wyatt
Ask other A-10 schools and they'll tell you one of the most important players in the league is Wyatt. He averaged 17.1 points and shot 47.9 percent from the field last season. Wyatt's production has skyrocketed from barely playing as a freshman to averaging 10 as a sophomore to 17 as a junior. As long as his legal troubles are behind him, he will be a star in the league this season.

VCU: Juvonte Reddic
Brad Burgess is gone so Reddic becomes the potential go-to player. The Rams will still have plenty of experience and Reddic tops that list. Coach Shaka Smart showed tremendous commitment in staying put and not looking at Illinois. His players continue to be loyal to him with their continued development. Reddic is the latest example during Smart's brief tenure of players who continue to shine when given an opportunity.

Xavier: Dez Wells
The departures of Tu Holloway and Mark Lyons means Wells has to be the leader from the first day of practice to the last. He is the top returning scorer and minute leader from last season. Xavier has done a great job of having not just one star, but a full compliment of contributors. Wells will need to lead a bit more than past players based on the high turnover. He should be up for the challenge.
-- Andy Katz
Cannon: Best Outside Big Six
ESPN Insider Drew Cannon took a shot at ranking the top 10 teams outside the Big Six conferences, including programs from Conference USA, the Mountain West, West Coast, Atlantic 10, Missouri Valley and Southern Conference.
How many A-10 teams made the cut? To find out, click here

.
Five freshmen to watch
Jordan Burgess, VCU: The Rams needed a stud and found one in the small forward from Benedictine High in Midlothian, Va. He's a strong wing who can board. VCU has always had undersized power players who find a way to get to the basket and be productive. Expect Burgess to do the same.
Keith Carter, Saint Louis: Saint Louis coach Rick Majerus said the Proviso East High (Ill.) guard could be the best point guard he has coached since Andre Miller at Utah. The Billikens are already loaded in the perimeter but Carter will have to play with that type of praise. If he's as good as advertised then the Billikens have more depth than they've had during Majerus' tenure.
Semaj Christon and Jalen Reynolds, Xavier: The Musketeers have never had an issue reloading and this is no exception. Xavier needed to reshape its core and the addition of Christon at the point and Reynolds inside gives the Musketeers two cornerstones. You could toss in Myles Davis or James Farr as well. This was a critical class for Chris Mack and he appears to have added four players who can contribute immediately in a significant manner.
Kellen Dunham, Butler: The Bulldogs continue to find hidden gems, including NBA-level talent. Dunham is one of the higher-rated prospects that Brad Stevens has found. He comes from Pendleton Heights, Ind., and should be an immediate star for Butler, playing alongside Rotnei Clarke. The pair will give the Bulldogs two of the top newcomers in the conference.
Isaiah Miles, Saint Joseph's: The Hawks are finally coming out of a mediocre period and certainly should be a major player in the A-10 title chase. The 6-7 Miles, out of Baltimore, can be a force for St. Joe's. One player that would've been on the list is Kyle Molock, but he re-tore his ACL in individual workouts earlier this month. He's expected to miss the entire season.
-- Andy Katz