Five Biggest Offseason Storylines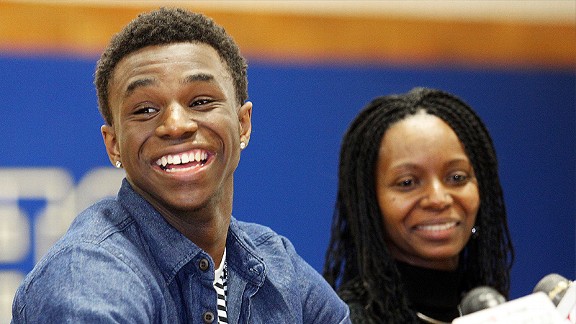 AP Photo/The Herald-Dispatch/Sholten SingerAndrew Wiggins waited until mid-May to decide on a school, but it was well worth the wait for Kansas.
1. Kansas lands Wiggins: The Jayhawks were being projected as a fringe top-25 team before beating out Kentucky, Florida State and North Carolina for Andrew Wiggins, arguably the nation's top high school prospect since LeBron James. Wiggins' signing in May propelled Kansas into almost everyone's top five while making Bill Self's squad the favorite to win a 10th straight Big 12 title. The Toronto native initially planned to spend a large chunk of his summer practicing and competing with the Canadian national team. But he backed out on that commitment and enrolled at KU in June. Autograph seekers greeted him at the airport, and more than 2,000 fans were on hand for his first intrasquad game. It will be interesting to see if the 6-foot-7 shooting guard can live up to the almost-unprecedented hype.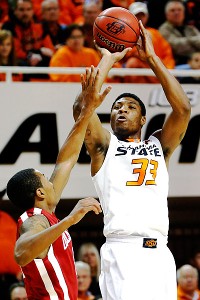 AP Photo/Sue OgrockiMarcus Smart surprised many by returning to Stillwater for his sophomore season.
2. Smart pulls a shocker, stays in school: Rare is the player who will risk millions of dollars and the chance to be a top-five pick in the NBA draft to return to school. But that's exactly what Oklahoma State's Marcus Smart did last spring. Smart's decision -- coupled with the return of NBA prospects Le'Bryan Nash and Markel Brown -- should make the Cowboys a top 10-15 team heading into the season. Smart is one of the most versatile players in the country. He led OSU in points, steals and assists and ranked second in rebounds last season, when his competitiveness and fire changed the vibe surrounding the Cowboys' program. Smart, who has already pledged to enter the 2014 draft, will likely open his sophomore campaign as a preseason first-team All-American.
3. Mass exodus at Texas: The Longhorns spent most of this century as one of the top programs in the Big 12 along with Kansas. But Rick Barnes' squad went just 16-18 in 2013-14 and missed the NCAA tournament for the first time in Barnes' 14 seasons. The situation got even more bleak in April. Point guard Myck Kabongo made an ill-advised decision to enter the NBA draft, and second- and third-leading scorers Sheldon McClellan and Julien Lewis decided to transfer. Barnes has been one of the country's top recruiters for the past decade, but his 2013 class was lackluster. With a mediocre cast returning and not much immediate help on the way, Texas is staring at the possibility of a second straight losing season. If that happens, Barnes will be squarely on the hot seat.
4. Texas Tech hires Tubby: After conducting the sloppiest coaching search of the offseason -- seriously, who wasn't interviewed for this job? -- TTU finally saved face and hired an established coach with an NCAA title on his résumé. Tubby Smith may not have the Red Raiders competing for the Big 12 title anytime soon, but he'll certainly bring order to what has been a tumultuous situation the past two seasons. Tech athletic director Kirby Hocutt wanted to hire Chris Walker, who went just 11-20 as the program's interim coach last season. Sources, though, said that school administrators stepped in and prevented Hocutt from selecting someone who had no prior head-coaching experience. It was a smart move, especially considering Texas Tech ended up with Smith, who boasts 511 career wins and an NCAA title with Kentucky in 1998.
5. Austin injures shoulder, returns to Baylor: Seven-foot-1 center Isaiah Austin had all but moved out of his Waco apartment and was prepared to enter the NBA draft before suffering a torn labrum in his shoulder the week before he was set to declare. The injury, which required surgery, would've prevented Austin from working out for NBA teams, which would've hurt his status and possibly caused him to slip into the second round. Thus, Austin made the logical decision to return to Baylor, where he'll team with NBA prospect Cory Jefferson, Rico Gathers and others to form the top frontcourt in the Big 12. The 220-pounder, who averaged 13 points and 8.3 rebounds as a freshman, needs to bulk up and become a better defender in the paint, where he was often pushed around and bullied last season. Still, his presence should make a deep Baylor squad a contender in the Big 12 and a threat to make a significant run in the NCAA tournament.
College basketball writer for ESPN.com
Longtime writer at the Kansas City Star
Author of two books
Best-case/worst-case scenarios
Baylor
Best case: Quite possibly the most talented group Scott Drew has assembled at Baylor coalesces -- and plays elite offense -- en route to a Big 12 title push and a deep NCAA tournament run.
Worst case: It's hard to imagine a group with this much talent falling short of the NCAA tournament, but that's exactly what happened in 2012-13, when the Bears were just as talented, albeit less experienced, and merely mediocre until their NIT title run.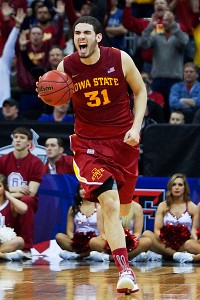 Shane Keyser/Kansas City Star/Getty ImagesGeorges Niang will be key in ISU's attempt to make a third straight NCAA tournament.
Iowa State
Best case: Iowa State lost a score of key seniors from last year's team, but arguably their best -- or at least their most unique -- player, sophomore Georges Niang, is back. In the best-case version of this world, Niang develops into a dominant inside-out point/forward threat, and the Cyclones keep putting points on the board as fast as any team in the country.
Worst case: All that turnover from 2012-13's run-and-gun Cyclones proves too much for the promising Niang to overcome, and the Cyclones take a half-step back in Fred Hoiberg's nonetheless promising revitalization project.
Kansas
Best case: Two words: Andrew Wiggins. If Wiggins is as good as pretty much everyone in the world thinks, then he's good enough to keep the Jayhawks playing all the way through the first week of April.
Worst case: Kansas is crazy talented, of course, but it's also young -- younger than most Kansas teams under Bill Self, who has thrived on squeezing stars out of patient four-year development curves. How will Self's formula work with such an unusually young team?
Kansas State
Best case: This group of players, slightly tweaked from recent seasons, still plays great defense, rebounds and shoots for a top-half Big 12 finish.
Worst case: The Wildcats didn't just lose Rodney McGruder to graduation, they also lost point guard Angel Rodriguez to transfer, while starter Martavious Irving and 6-foot-11 forward Jordan Henriquez are also gone, and Bruce Weber will have to piece together a backcourt and some depth out of what's left.
Oklahoma
Best case: The Sooners will have to fight to continue the momentum they built last season, a process Lon Kruger is attempting to achieve with the help of Dominique Elliott, Keshaun Hamilton and Edson Avila, all junior college pickups. Even if those three pan out, Oklahoma will still be rebuilding, but Kruger's teams are always more competitive than you'd predict.
Worst case: It's hard to replace a workhorse like Romero Osby, who was OU's most-used player on offense and also the Sooners' most efficient, posting a 121.6 offensive rating. Chances are, losing him and Steven Pledger proves too much for the Sooners to overcome.
Oklahoma State
Best case: With Marcus Smart back, the Cowboys have their sights set on everything in 2012-13 -- not just a Big 12 title but a legitimate national-title push.
Worst case: With all of the love directed Smart's way, it is easy to forget that he wasn't quite there on offense last season. If his perimeter scoring game improves, then look out; if it doesn't, the Cowboys aren't guaranteed to meet their own lofty expectations.
TCU
Best case: Trent Johnson's fledgling program is headed in the right direction in the macro, but for now the best case is still likely well under .500.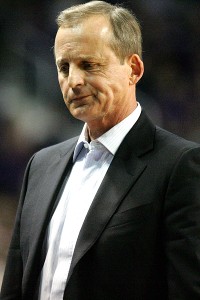 Scott Sewell/USA TODAY SportsRick Barnes had guided the Longhorns to an NCAA tournament berth each year he had been in Austin until last season.
Worst case: Significantly under .500? You get the idea.
Texas
Best case: Last season was a tough one for coach Rick Barnes, in large part thanks to the NCAA suspension that cost point guard Myck Kabongo the lion's share of his season. But the young Longhorns are, as always, talented, and 2012's stacked class could round into a productive place just in time to keep Barnes in his employer's good graces.
Worst case: Kabongo is gone this season too, and it's not known whether freshman Kendal Yancy-Harris is ready to keep the Horns from reverting to their brutally turnover-prone ways in the new season.
Texas Tech
Best case: Considering the Billy Gillispie mess, the fact that Tech managed to win 11 games last season should probably be considered an accomplishment. It's a long road back in Lubbock.
Worst case: Assuming Gillispie doesn't storm into his old office demanding his job back, things in Tubby Smith's debut season probably can't get much worse than the last couple of years.
West Virginia
Best case: Typically, Bob Huggins' teams are so solidly constructed on rebounding and defense they are immune to volatility. The 2012-13 season was not that season. A Huggins-esque bounce-back year could be in order.
Worst case: Aaric Murray might have been the Mountaineers' most talented player. He may also have been their most disruptive. Huggins essentially dismissed him this summer, and while that might do wonders for this fragmented group's chemistry, it will make it hard for WVU to bang the backboards in their usual style.
ESPN Staff Writer
Covers college basketball
Joined ESPN.com in 2009
Graduate of Indiana University
Five Freshmen To Watch

Joel Embiid, Kansas:
Louisville coach Rick Pitino predicts that Embiid will be the No. 2 pick in the 2014 NBA draft -- right behind Andrew Wiggins. Embiid's length, bounce, athleticism and his ability to score with both hands make the praise understandable. The Cameroon native is still learning the game, but he'll be a force by January.
Wayne Selden, Kansas: A 6-foot-5 "power guard," Selden is expected to start at the No. 2 position for the Jayhawks. He's a fierce competitor with a high basketball IQ who can score both from the perimeter and in the paint. He and Wiggins will combine to form one of the nastiest one-two punches in Big 12.

Ishmail Wainwright, Baylor:
Whether he's in the starting lineup or coming off the bench, Wainwright will be an impact player from the get-go. The 6-foot-6 small forward can play any position except center, and his competitive fire and tenaciousness on defense will set the tone for a squad that has been lacking in both areas.
Andrew Wiggins, Kansas: Forget the Big 12. Wiggins will likely be the best freshman -- and maybe the best overall player -- in the entire nation. Some recruiting analysts have dubbed him the next LeBron James, while others predict the 6-foot-7 wing will be the best player the college game has seen since Kevin Durant.

Devin Williams, West Virginia:
The Mountaineers beat out schools like Ohio State and Memphis for Williams, a 6-foot-8 power forward who has a nice midrange game to complement his ability to score in the paint. Williams, who can also put the ball on the floor and slash, will be counted on heavily for a team with a depleted roster.
College basketball writer for ESPN.com
Longtime writer at the Kansas City Star
Author of two books
Most Important Player
Baylor: Kenny Chery

Forward Cory Jefferson and center Isaiah Austin are the most recognizable names on the Bears' roster, but the key to their season will be Chery, the junior college transfer who has the unenviable task of replacing Pierre Jackson at point guard. Jackson guided Baylor to the Elite Eight in 2012 and the NIT title in 2013, when he led the Big 12 in points and assists. Chery is more of a combo guard than Jackson and is known more for his scoring than his passing. Don't be surprised if Baylor ends up using a handful of players to bring the ball up the court and set up the offense.
Iowa State: Melvin Ejim

The underrated 6-foot-6 forward plays much bigger than his size. Ejim averaged 11.3 points and 9.3 rebounds as a junior last season and led the Big 12 with 15 double-doubles. He will likely contend for first-team All-Big 12 honors if he produces similar numbers in 2013-14. Ejim -- who is one of the more respected players in the league because of how hard he competes -- will also need to assume a leadership role as a senior. Iowa State signed four junior college players and two top-100 high school seniors who will be looking for guidance from the Cyclones veteran.
Kansas: Perry Ellis

Lost in the hype surrounding Andrew Wiggins is the significant improvement shown by Ellis toward the end of last season. He averaged just 2.9 points in his first 13 conference games and was all but an afterthought entering KU's most crucial stretch. But then things started to click. Ellis had 12 points in the regular-season finale at Baylor, 23 against Iowa State in the semifinals of the league tournament and 12 the next night in a title-game win over K-State. A sophomore now, he will need to be the "glue guy" for a squad that could play as many as six freshmen.
Kansas State: Shane Southwell

The loss of top players Rodney McGruder and Angel Rodriguez means that Southwell will likely have to carry the offensive load for the Wildcats. He was one of the league's most improved players in 2012-13, when he averaged 8.4 points in 25.3 minutes. He scored 15 or more points in six games. Southwell was mainly used as a "stretch 4" in the Wildcats' offense, which made him a tough matchup for bigger defenders. He and veterans like Thomas Gipson and Will Spradling will need to develop more consistency if KSU hopes to make the NCAA tournament in 2014.
Oklahoma: Buddy Hield

Only a freshman, Hield had become a major factor for Oklahoma before fracturing the fifth metatarsal in his right foot in a Feb. 11 game against TCU. The guard was averaging 8.6 points, 4.5 rebounds and 2.0 assists at the time of the injury, which kept him out of action for a month. The Sooners will need Hield to be in prime form in 2013-14. OU lost senior standouts Romero Osby, Amath M'Baye, Steven Pledger and Andrew Fitzgerald from an NCAA tournament team. Players like Hield, Je'lon Hornbeak and Cameron Clark will try to prevent Oklahoma from taking a significant step back.
Oklahoma State: Le'Bryan Nash

With Marcus Smart, the Cowboys are going to be tough no matter what. But for Oklahoma State to be "special," Travis Ford's squad needs a breakout season from Nash, a wing who has the potential to be a first-round pick in the 2014 NBA draft. Nash had a solid sophomore season with averages of 14 points and 4.1 rebounds. But he also committed 2.6 turnovers per game and shot just 24 percent from 3-point range. Overall, Nash made positive strides last season. Another step forward could result in a Final Four berth for OSU.
TCU: Amric Fields

In 2011-12, Fields was named Sixth Man of the Year in the Mountain West Conference after averaging 9.6 points and 2.5 rebounds. But just three games into his first Big 12 season, Fields crumpled to the floor against SMU with a knee injury that would cost him his entire season. The loss of Fields is one of the reasons the Horned Frogs finished just 2-16 in the Big 12. His return -- coupled with the addition of highly touted freshman forward Karviar Shepherd -- should make TCU fans optimistic about their chances of breaking out of the Big 12 cellar.
Texas: Cameron Ridley

A 6-foot-10, 230-pound forward, Ridley was the eighth-ranked recruit in the Class of 2012. He hardly lived up to that billing as a freshman. Ridley ballooned to 270 pounds and averaged just 4.1 points and 4.3 rebounds for a Texas squad that went 16-18 and missed the NCAA tournament for the first time in Rick Barnes' 14 seasons. Ridley, who has reportedly improved his conditioning, needs to step up in a huge way if the Longhorns want to catapult back into the upper echelon of the Big 12 and return to the postseason. He and forward Jonathan Holmes could form an imposing frontcourt.
Texas Tech: Jordan Tolbert

The death of his father and the messy situation surrounding the Red Raiders' program took a toll on Tolbert during the early portions of last season. Still, any Big 12 coach will tell you this is Texas Tech's best player. He averaged 9.9 points on the season and 11.7 points in his last 15 games. A 6-foot-7 forward, Tolbert is among of a handful of returning players who will give the Red Raiders an outside chance at a postseason berth in Tubby Smith's first season in Lubbock.
West Virginia: Eron Harris

A 6-foot-2 guard, Harris was a rare bright spot in one of the most forgettable seasons of Bob Huggins' career. Harris averaged a team-high 9.8 points as a freshman and scored in double figures in 13 of his final 17 games. Included in that stretch was a 25-point effort against Baylor and a 23-point outburst against Oklahoma. With Jabarie Hinds and Aaric Murray transferring and Deniz Kilicli graduated, Harris will be the focal point of opposing defenses in 2013-14.
Fraschilla: Big 12 Power Rankings
There was a time this spring, after Oklahoma State's Marcus Smart elected to return to school, that it looked as if Kansas' Big 12 title streak would be in serious jeopardy. But after the Jayhawks finished the offseason with another stellar recruiting class, the road to that title will still go through Lawrence.

Bill Self's team is searching for a 10th straight Big 12 championship, but both the Cowboys and the Baylor Bears have the talent to dethrone them this season. Iowa State and Oklahoma are coming off NCAA appearances and their programs have been stabilized by the outstanding coaching of Fred Hoiberg and Lon Kruger. And Bruce Weber is hoping to continue a string of four consecutive appearances by Kansas State in the tournament as well.
At the bottom of the conference, Texas Tech, Texas, TCU and West Virginia are all in various stages of rebuilding.
1. Kansas: While much of the attention this coming season will fall on shoulders of freshman Andrew Wiggins, the nation's No. 1 recruit in 2013, Self has a cadre of outstanding young talent. Perry Ellis, a 6-foot-8 sophomore forward, should pick up where he left off last season, making the Big 12 All-Tournament team. And though freshmen Wayne Selden and Joel Embiid may not be on a one-and-done path, few expect them to be at Kansas all four seasons. They are that talented.
To see how Fraschilla ranks the Big 12 from 2 to 10, read the rest of his Insider predictions here.
Heslip Looks To Regain Form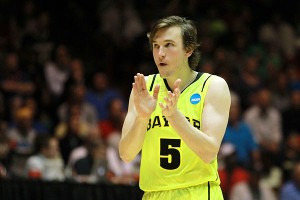 Ronald Martinez/Getty Images
Brady Heslip's importance rose quickly as the spot shooter on a deep Baylor team that reached the Elite Eight two years ago. And if Baylor is going to get back to the NCAA tournament after a year in the NIT, one of the reasons will likely be because Heslip has snapped out of shooting slump.
The Bears had length and size inside but used the 3-point shooting of Heslip to catch teams off guard. His nine 3s in an NCAA tournament third-round win over Colorado were the difference in advancing the Bears.
But the numbers were down last year for him and Baylor. Sure, he started and finished the season strong with eight 3-pointers against St. John's in November and against Long Beach State in the NIT in March. But inconsistency in between led to fewer 3s made (83 compared to 100 the season before), a lower 3-point percentage (.386 compared to .455) and a fewer points per game (8.6 compared to 10.2).
Heslip said the departure of Quincy Acy off the Elite Eight team changed the dynamic of last season's team. He didn't get as many shots off, nor was he featured as much last season. He said the leadership wasn't there as much as the year before.
To read the rest of Andy Katz's story on Heslip, click here.