Top 50 coaches: No. 1 Billy Donovan
Editor's note: Over the past five weeks, we revealed the top 50 coaches in college basketball as decided by our ESPN Forecast panel. Today we unveil No. 2: Kentucky's John Calipari and No. 1: Florida's Billy Donovan.
---
It was the spring of 2007, and Billy Donovan had options.
Donovan had just engineered the first back-to-back national championships in 25 years. He was just 42. In the matter of 10 seasons at Florida, he had put himself in the rarefied coaching stratosphere -- the place where you get to make your own demands and know they'll be met, where any college program will have you, where NBA general managers are bound to come calling.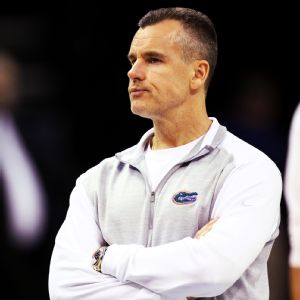 Spruce Derden/USA TODAY SportsBilly Donovan has made Florida basketball matter -- a lot. That's saying something at a place that is clearly focused on football first.
It was all happening for Donovan. Throughout the spring, rumors of Kentucky's interest abounded. Donovan had been an assistant at UK under Rick Pitino; it's where he got his coaching start. Kentucky had just waved farewell to Tubby Smith, and was reportedly eager to reel Donovan in. But Donovan kept the Wildcats at arm's reach, refusing to acknowledge any official contact. Eventually, he demurred. Kentucky hired Billy Gillispie instead.
And then, in late May, the Orlando Magic came calling. The Magic had fired Brian Hill after two losing seasons. After a week of deliberation, Donovan agreed to take the job. On June 1, Donovan was introduced in Orlando. But on June 2, Donovan had changed his mind. The Magic grudgingly released him from his contract and hired Stan Van Gundy instead.
Think of the counterfactuals here. Had Donovan been remotely interested in Kentucky, he'd probably still be there. Gillispie would never have been hired. His successor, John Calipari, who has since turned Kentucky into an annual behemoth, might still be at Memphis. What if Donovan had stayed in Orlando? The Magic won 50-plus games in each of the next four seasons; they went to the NBA Finals in 2008-09, the season Florida slogged its way to a second consecutive NIT.
Instead, Donovan stayed. And seven years later, he's the No. 1 coach in our ESPN Forecast top 50.
In doing so, the Florida coach edged out Calipari, Tom Izzo, Mike Krzyzewski and Pitino. It's hard to think of a better testament to Donovan's current stature in the sport than this one.
In 2013-14, Donovan led the Gators to a 36-3 overall record with an unbeaten record -- an 18-0 regular-season and a conference tournament title -- in the SEC. The craziest thing about Florida's season was how little intrigue there was in a perfect conference record. Sure, the SEC (save, eventually, Kentucky and Tennessee) was bad. But Florida was also devastatingly good. The Gators held conference opponents to .93 points per possession while scoring 1.14. They averaged the league's highest two-point field goal percentage while simultaneously allowing the lowest.
More from ESPN.com
For five weeks, ESPN Forecast has counted down the top 50 coaches in college basketball. Eamonn Brennan takes a look at the final two.
No. 2 Calipari | No. 1: Donovan

How will Kentucky's John Calipari mesh another talented roster of Wildcats this coming season? Seth Greenberg explains how Calipari will do it. Story



• Recruiting: Donovan

Calipari


• Nation blog
The reward was the overall No. 1 seed, a champion's place in an overwhelming number of ESPN Tournament Challenge brackets, and, finally, a trip to the Final Four. When they arrived, they were the clear favorites, because they had everything: size, experience, balance and, most importantly, lockdown perimeter defense. That UConn upended the Gators -- and made us all wonder whether SEC Player of the Year Scottie Wilbekin wasn't badly injured, given how poorly he played on the defensive end -- may have been the biggest surprise in a tournament full of them.
Disappointing finish or not, 2013-14 was Donovan's master class. In October, the Gators were beset by injuries, illnesses and personnel problems. At the start of the season, the Gators had seven scholarship players available to practice. Wilbekin, after nearly being dismissed over the summer, was serving out an indefinite suspension. Eli Carter and Will Yuguete were still recovering from injuries. Michael Frazier II was being tested for mononucleosis. Chris Walker, the Gators' gem recruit, was academically ineligible. The Gators had forward Patric Young, three-year role player Casey Prather, and a whole lot of unknowns.
And then Prather blew up. By December's Jimmy V Classic win over Memphis, the career 3.1 points per game scorer was averaging 18.3, mostly thanks to relentless, angled attacks at the rim. Prather and Young kept Florida humming early. Wilbekin returned, and would come to run the show. Frazier morphed into the nation's best sharpshooting specialist. Dorian Finney-Smith filled a crucial wing-post role.
Within a few months, a team that could have been an abject disaster was instead one of Donovan's best.
And there have been good ones lately. Since those two post-decision NIT seasons, Donovan hasn't missed an NCAA tournament in five years. In the past four, his teams haven't missed the Elite Eight. By the fourth straight trip, this spring, the Gators didn't much feel like talking about that streak; they just wanted to move on. But it was an accomplishment in and of itself -- a measure of the steady hand with which Florida basketball is led.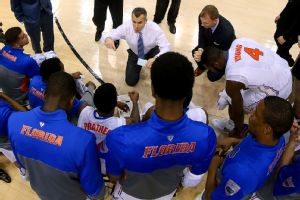 Mike Ehrmann/Getty ImagesEven though Florida didn't win the national title this past season, Billy Donovan might have done a better coaching job with this group than he did with the ones that won the title.
The most impressive thing about all this? The fact that Donovan has done it at Florida. Before Donovan, the Gators' baskteball history was almost nonexistent. In 1932-33, the Gators fielded an SEC basketball team for the first time. For the next 47 years, they finished higher than fourth in the conference standings just four times. The Gators didn't have a full-time coach until 1960, and their only sustained success (under Norm Sloan from 1980 to 1989) led to the Gators' first postseason berths ever, and also a major NCAA scandal.
That was five years before Donovan arrived. Now, 19 years later, Florida is one of the nation's elite college basketball programs. It is a perennial recruiting destination, a near-constant winner. Florida is, and always will be, a football school. Attendance hasn't always been great. But Donovan has been so relentlessly good that even the most stubbornly disinterested alum can't help but sit up and take notice.
There were echoes of 2007 in the air this spring. Donovan has spent a chunk of the early summer explaining that he isn't ever going to close off the possibility of leaving Florida for an NBA job. He's been rumored in connection to a handful of them. At this point, the odds of him leaving seem slim. But the chance is always there.
If Donovan finally does decide to scratch that NBA itch, who knows what series of events might ensue? We can be sure of at least one consequence. We'd finally get an answer to the 20-year-old question: Where would Florida be without Billy Donovan?
-- Eamonn Brennan
---
Previous: Nos. 50-25 » No. 24: McKillop » No. 23: McDermott » No. 22: Amaker »
• No. 21: Brown » No. 20: Matta » No. 19: Wright » No. 18: Fisher » No. 17: Few »
• No. 16: Williams » No. 15: Hoiberg » No. 14: Bennett » No. 13: Smart »
• No. 12: Boeheim » No. 11: Miller » No. 10: Ollie » No. 9: Beilein » No. 8: Marshall »
• No. 7: Ryan » No. 6 Self » No. 5 Pitino » No. 4 Krzyzewski » No. 3 Izzo »
• No. 2 Calipari » No. 1 Donovan »
Full Top 50 Coaches List
No. 50: Tie -- Randy Bennett, Saint Mary's; Scott Drew, Baylor
No. 49: Richard Pitino, Minnesota
No. 48: Stew Morrill, Utah State
No. 47: Bob Hoffman, Mercer
No. 46: John Thompson III, Georgetown
No. 45: Mike Brey, Notre Dame
No. 44: Rick Barnes, Texas
No. 43: Chris Mack, Xavier
No. 42: Josh Pastner, Memphis
No. 41: Ed Cooley, Providence
No. 40: Bruce Weber, Kansas State
No. 39: Tubby Smith, Texas Tech
No. 38: Buzz Williams, Virginia Tech
No. 37: Rick Byrd, Belmont
No. 36: Steve Alford, UCLA
No. 35: Phil Martelli, Saint Joseph's
No. 34: Tad Boyle, Colorado
No. 33: Fran McCaffery, Iowa
No. 32: Tim Miles, Nebraska
No. 31: Lon Kruger, Oklahoma
No. 30: Bob Huggins, West Virginia
No. 29: Jim Crews, Saint Louis
No. 28: Jim Larranaga, Miami
No. 27: Mick Cronin, Cincinnati
No. 26: Archie Miller, Dayton
No. 25: Jamie Dixon, Pittsburgh
No. 24: Bob McKillop, Davidson
No. 23: Greg McDermott, Creighton
No. 22: Tommy Amaker, Harvard
No. 21: Larry Brown, SMU
No. 20: Thad Matta, Ohio State
No. 19: Jay Wright, Villanova
No. 18: Steve Fisher, San Diego State
No. 17: Mark Few, Gonzaga
No. 16: Roy Williams, North Carolina
No. 15: Fred Hoiberg, Iowa State
No. 14: Tony Bennett, Virginia
No. 13: Shaka Smart, VCU
No. 12: Jim Boeheim, Syracuse
No. 11: Sean Miller, Arizona
No. 10: Kevin Ollie, UConn
No. 9: John Beilein, Michigan
No. 8: Gregg Marshall, Wichita State
No. 7: Bo Ryan, Wisconsin
No. 6: Bill Self, Kansas
No. 5: Rick Pitino, Louisville
No. 4: Mike Krzyzewski, Duke
No. 3: Tom Izzo, Michigan State
No. 2: John Calipari, Kentucky
No. 1: Billy Donovan, Florida
COACHES WHO JUST MISSED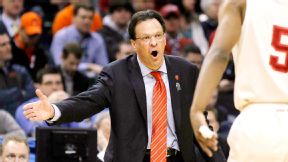 AP Photo/Kiichiro Sato
Some big names missed our list of top 50 coaches. Here are the 25 names who just missed, listed in alphabetical order.
Dana Altman, Oregon
Tim Cluess, Iona
Tom Crean, Indiana
Keith Dambrot, Akron
Johnny Dawkins, Stanford
Fran Dunphy, Temple
Leonard Hamilton, Florida State
Ben Jacobson, Northern Iowa
Derek Kellogg, Massachusetts
Larry Krystkowiak, Utah
Mike Lonergan, George Washington
Cuonzo Martin, California
Chris Mooney, Richmond
Craig Neal, New Mexico
Matt Painter, Purdue
Dave Paulsen, Bucknell
Bruce Pearl, Auburn
Steve Prohm, Murray State
Dave Rose, BYU
Herb Sendek, Arizona State
Kevin Stallings, Vanderbilt
Andy Toole, Robert Morris
Brad Underwood, Stephen F. Austin
Brian Wardle, Wisconsin-Green Bay
Michael White, Louisiana Tech
HOW DOES IT WORK?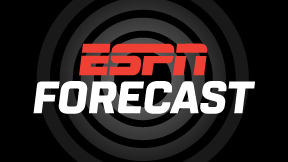 What is ESPN Forecast?
Our engine for creating more accurate sports predictions and opinion.
Does it work?
Yes. This is the future of forecasting, as demonstrated by the 2012 presidential election and Fortune 500 companies.
How does it work?
Our approach, in a nutshell, is to create a diverse panel of people with college basketball expertise and aggregate predictions and opinions. For ESPN Forecast, we have a panel of 45 members that collectively possess vast college basketball experience, knowledge and perspective.
Why does it work?
This panel has a collective intelligence that's greater than any individual member's knowledge and sharper than that of any single statistical system.
Diversity is a key factor in creating accurate predictions and opinion. The wisdom of the crowd comes from having diverse views that emerge from independent thinking.
The ESPN Forecast panel is a diverse mix of contributors from across the spectrum.
The result?
More accurate, insightful forecasts and views.
This is the wisdom of the crowd in action. This is ESPN Forecast.
COACHING CENTRAL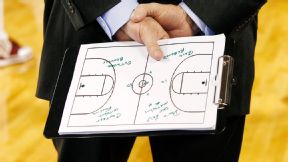 AP Photo/Mel Evans