Top 50 coaches: No. 20 Thad Matta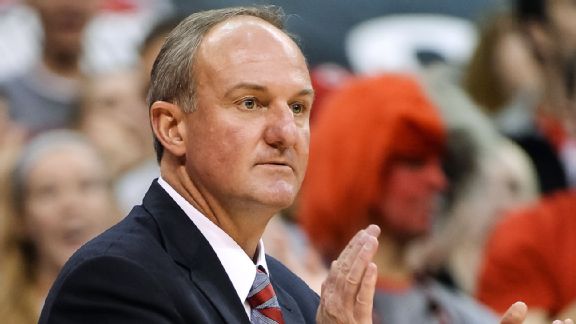 Jamie Sabau/Getty ImagesThad Matta came to Ohio State from Xavier, where he led the Musketeers to an Elite Eight appearance.
Editor's note: Over the next five weeks, we will reveal the top 50 coaches in college basketball as decided by our ESPN Forecast panel. Today we unveil No. 20: Ohio State's Thad Matta. On Tuesday, we release No. 19.
---
Last week, we revealed the first 30 coaches in our ESPN Forecast Top 50 rankings -- a list we devised by asking almost 50 ESPN college hoops writers, editors, broadcasters and analysts to vote on coaches' overall current performance in every facet of their job. And it went pretty well! There were some surprise omissions and a few under- and over-ranked names, but, as the person responsible for presenting the list to the reading public, things weren't so crazy as to be awkward. The wisdom of the crowd has thus far proved, well, wise.
If there is one overriding criterion that has defined the rankings, it is recency. Confusing as that has been for some readers, it was also by design. This isn't a legacy list. We're not ranking coaches on their careers. We're ranking these guys based on how well they're performing right now, and how well they've primed their programs for the season(s) to come.
This preamble bears repeating, if only for purposes of clarification. But it's also especially relevant today, in regard to the No. 20-ranked coach on our list: Ohio State's Thad Matta.
A few years ago, Matta would have been higher. No. 20 is nothing to sniff at, given the names on deck these next four weeks, but there's zero question in this humble author's mind that if we ran this drill back in, oh, spring of 2012, Matta would have cracked the top 10.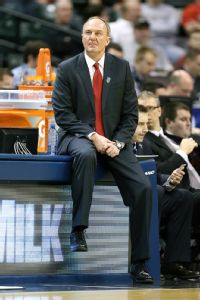 Brian Spurlock/USA TODAY SportsWhile eligible, Matta has missed the NCAA tournament only once since arriving at Ohio State.
The 2013-14 season was not Ohio State's finest hour in recent history. The Buckeyes were dreadful offensively; LaQuinton Ross never broke out the way his 2013 NCAA tournament seemed to portend; Amir Williams' struggles still left Ohio State without a reliable post presence; the Aaron Craft Twitter backlash was in full bloom; and the Buckeyes ended their season, and Craft's career, by giving up a layup to Dayton in the closing moments of their first NCAA tournament game. In the context of Matta's tenure at Ohio State, the 2013-14 season was a disappointment. And the Buckeyes were among the two or three best defensive teams in the country, and won 25 games in the process.
That's how good Matta has been at Ohio State for pretty much his entire tenure -- which began, it should be noted, at a program ineligible for the NCAA tournament thanks to former coach Jim O'Brien's recruiting violations. Within three years, Matta led Greg Oden and Mike Conley to the cusp of a national title. He won the NIT the next season. From 2009-10 to 2012-13 -- as the Evan Turner era gave way to that Jared Sullinger-led 34-3 monster in 2010-11 -- the Buckeyes went 123-27, won three straight Big Ten titles, went to four Sweet 16s, two Elite Eights and one Final Four. The best team, that 2010-11 group, was a Brandon Knight buzzer-beater away from the Elite Eight, because the NCAA tournament is cruel. A year later, Sullinger got back to the Final Four, but had to try to score over Kansas center Jeff Withey. In 2013, Matta coaxed a mostly average Buckeyes team into a destructive defensive force, the kind of late-season surge that defines great college coaches. Unfortunately, it ran into Wichita State in the Elite Eight, because, you guessed it, the NCAA tournament is cruel.
Matta has taken a program from the brink of scandal and made it one of the elite destinations in the country. And he's invigorated a fan base that, let's face it, was only marginally more interested in basketball than Texas fans. Value City Arena is a legitimately difficult place to play now. There are maybe six or seven programs in the country that have been as consistently successful as the Buckeyes under Matta. If we were ranking coaches on the past decade, Matta might be top five.
It's tough to know what next season holds. Craft is gone. So, surprisingly enough, is Ross. Matta has three four-star recruits en route. There are no guarantees he'll rank higher in this list at the end of next season, but it's hard to imagine him falling any lower. Under Matta, the 2013-14 season -- successful by any reasonable measure -- is as close to a down year as the Buckeyes have ever had.
-- Eamonn Brennan
---
Previous: Nos. 50-25 » No. 24: McKillop » No. 23: McDermott » No. 22: Amaker »
• No. 21: Brown » No. 20: Matta »
Full Top 50 Coaches List
No. 50: Tie -- Randy Bennett, Saint Mary's; Scott Drew, Baylor
No. 49: Richard Pitino, Minnesota
No. 48: Stew Morrill, Utah State
No. 47: Bob Hoffman, Mercer
No. 46: John Thompson III, Georgetown
No. 45: Mike Brey, Notre Dame
No. 44: Rick Barnes, Texas
No. 43: Chris Mack, Xavier
No. 42: Josh Pastner, Memphis
No. 41: Ed Cooley, Providence
No. 40: Bruce Weber, Kansas State
No. 39: Tubby Smith, Texas Tech
No. 38: Buzz Williams, Virginia Tech
No. 37: Rick Byrd, Belmont
No. 36: Steve Alford, UCLA
No. 35: Phil Martelli, Saint Joseph's
No. 34: Tad Boyle, Colorado
No. 33: Fran McCaffery, Iowa
No. 32: Tim Miles, Nebraska
No. 31: Lon Kruger, Oklahoma
No. 30: Bob Huggins, West Virginia
No. 29: Jim Crews, Saint Louis
No. 28: Jim Larranaga, Miami
No. 27: Mick Cronin, Cincinnati
No. 26: Archie Miller, Dayton
No. 25: Jamie Dixon, Pittsburgh
No. 24: Bob McKillop, Davidson
No. 23: Greg McDermott, Creighton
No. 22: Tommy Amaker, Harvard
No. 21: Larry Brown, SMU
No. 20: Thad Matta, Ohio State
HOW DOES IT WORK?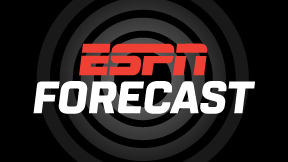 What is ESPN Forecast?
Our engine for creating more accurate sports predictions and opinion.
Does it work?
Yes. This is the future of forecasting, as demonstrated by the 2012 presidential election and Fortune 500 companies.
How does it work?
Our approach, in a nutshell, is to create a diverse panel of people with college basketball expertise and aggregate predictions and opinions. For ESPN Forecast, we have a panel of 45 members that collectively possess vast college basketball experience, knowledge and perspective.
Why does it work?
This panel has a collective intelligence that's greater than any individual member's knowledge and sharper than that of any single statistical system.
Diversity is a key factor in creating accurate predictions and opinion. The wisdom of the crowd comes from having diverse views that emerge from independent thinking.
The ESPN Forecast panel is a diverse mix of contributors from across the spectrum.
The result?
More accurate, insightful forecasts and views.
This is the wisdom of the crowd in action. This is ESPN Forecast.
COACHES WHO JUST MISSED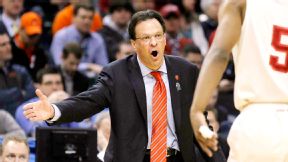 AP Photo/Kiichiro Sato
Some big names missed our list of top 50 coaches. Here are the 25 names who just missed, listed in alphabetical order.
Dana Altman, Oregon
Tim Cluess, Iona
Tom Crean, Indiana
Keith Dambrot, Akron
Johnny Dawkins, Stanford
Fran Dunphy, Temple
Leonard Hamilton, Florida State
Ben Jacobson, Northern Iowa
Derek Kellogg, Massachusetts
Larry Krystkowiak, Utah
Mike Lonergan, George Washington
Cuonzo Martin, California
Chris Mooney, Richmond
Craig Neal, New Mexico
Matt Painter, Purdue
Dave Paulsen, Bucknell
Bruce Pearl, Auburn
Steve Prohm, Murray State
Dave Rose, BYU
Herb Sendek, Arizona State
Kevin Stallings, Vanderbilt
Andy Toole, Robert Morris
Brad Underwood, Stephen F. Austin
Brian Wardle, Wisconsin-Green Bay
Michael White, Louisiana Tech
COACHING CENTRAL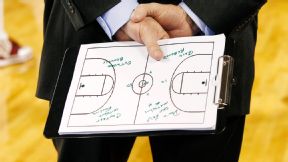 AP Photo/Mel Evans