Villanova goes back to the basics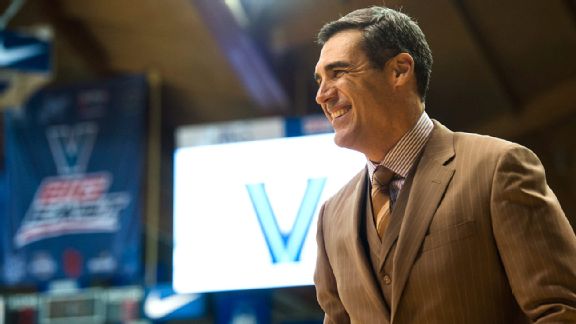 Gavin Baker/Icon SMIThings got away from Jay Wright at Villanova for a while. Now, it's all back under control.
VILLANOVA, Pa. -- A few days before Christmas and a week before a game against No. 2 Syracuse, Jay Wright was mingling at a holiday party when his media relations director, Mike Sheridan, pulled him aside. Sheridan wanted his coach to know that his docket was full for the next day, with a host of media obligations before and after practice.
"And then he said, 'It's all back. We're back at it,'" Wright said, recalling the conversation.
Villanova is, in fact, back -- back in the top 25 and back to national relevance after a four-year run of quick NCAA exits and one sub-.500 season. The Wildcats are a surprising 11-0, with wins over Kansas and Iowa. And they stand No. 8 in the country and tops in the retro new Big East.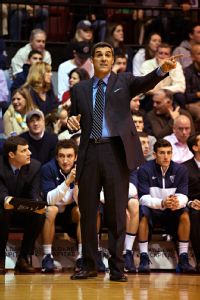 Mitchell Leff/Getty ImagesJay Wright admits he and Villanova had lost their way. Well, they're back on track.
The national media is starting to poke around and, more telling, the Philadelphia newspapers and radio shows are sacrificing a page or some air time from round-the-clock Eagles coverage to make room for the Wildcats. On the surface, everything looks pretty much the same as it did a few years back, when Villanova lived in the top 25 and was a solid bet for a deep NCAA run.
The results, though, are the only similarity.
Dig a little, study the roster, talk to the players and, most of all, talk to Wright and you will discover a man and a program that has changed significantly. The team on the court is more than just a simple return to the program's roots; it's the result of a philosophical shift that came via the hard-earned route of sudden success turned into sudden failure.
A day before his team was set to play Rider, which Villanova summarily drummed by 21 points on Saturday, Wright sat in his office for what was both a fascinating and introspective conversation, offering a rarely seen glimpse of the complications of success and the lessons of failure.
He is a man who has worn every coaching hat a haberdashery can offer -- popular up-and-coming coach out of Hofstra; savvy recruiter after he landed his first class at Villanova; fancy suit with no substance on the backside of two NIT runs; genius and media darling at the Final Four; hot name for bigger jobs.
And now? Now Jay Wright is every bit as hungry to win as he's always been, every bit as motivated and determined, but wiser about what matters en route to winning and more, once you get there.
"The goal is to make decisions that are difficult and may get people upset with you, in recruiting, in the media and with alumni, but to stick to your core values," he said. "And those are the only things that matter -- your players, your coaches and your family."
Somewhere amid all of the winning -- the two Sweet 16s, one Elite Eight and one Final Four in five years -- Wright admits he lost sight of that. Not necessarily in marked, obvious ways but in subtle ways that deeply affected his team.
He's been at Villanova for 12 years now, nearing a lifetime in coaching circles. But when he was hired, he worried if he could do the job himself. Wright grew up not far from campus and served on Rollie Massimino's bench, so he remembered the school's glory years well, but he wondered if he could make it happen again.
More from ESPN.com

Villanova went back to basics after some down times and has returned to the national stage, writes Dana O'Neil. Story
---

Maryland's loss at home against Boston University has Eamonn Brennan asking: What's with the Terps? Story
• Daily Word: 3 big questions
• Goodman: How good is Ohio State?


• Simon: Ranking the frontcourts


• SportsNation: Rank the teams!
• Nation blog
Then in a blink of an eye, it all happened. The Wildcats started winning -- and winning big. With it came the dizzying swirl of media attention and "College GameDay" games and top recruits asking to come and Kentucky looking for an interview.
This was success. This was the top of the ladder. This was what Wright and Villanova dreamed of.
And somewhere in the middle of all of it, this just wasn't fun.
"You get it going. You're so excited and so into it and you think it's never going to get old," Wright said. "And then you keep it going for a while and it does get old. All of the media, the alumni, the attention, you start thinking, 'Oh man, we have to do this again?' You get tired and lazy, but you never think it's going to go away, so you don't worry. And then it goes away."
A crash-and-burn, six-game losing skid to end the 2011 season followed by a 13-19 finish in 2012 and no one wanted to talk to Wright, no one was interested in coming to Villanova, no media needed his time.
Mix in some disillusioned players, angry that they were upperclassmen when they figured they'd be on to the NBA in a hurry, and you had a mess.
Which, ironically enough, is exactly when Wright found some clarity.
"It gives you time to focus on what's real -- your players, your coaches and your family," Wright said. "I think that's what we all learned."
Wright's change, then, is both subtle and systemic. It's what he knows in his gut, but it's his gut also guiding his decisions. With the hot start, the calls are already coming in -- from the media, from the alumni groups and, most critically, from the recruits.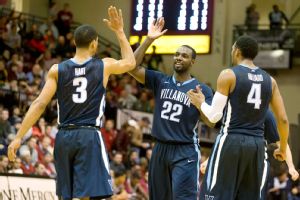 Mitchell Leff/Getty ImagesVillanova is off to a perfect start, with a Saturday showdown with Syracuse looming.
Wright's class for 2014 is already set -- forward Mikal Bridges and point guard Phil Booth, four-star prospects each -- but plenty of players have offered their services, both freshmen and transfers, if Villanova is interested in taking on a few more.
The Wildcats are not. Where once Wright tried to play the game of backing up his roster in case players left early, or taking transfers or hotter commodities that showed interest even though he and his staff hadn't really invested much in return, he's politely declining.
"That's what I mean when I say take care of your guys," he said. "You take these others and it not only affects the guys you have in that class, it affects the guys that are already here. You end up with too many players and you can't take care of everybody."
The players Wright has now are his kind of guys. He talked about people who wanted to be at Villanova. Their tenure might be one year, two or four, but he always had players who actually wanted to be there, not guys who simply picked it out of a pile to serve a purpose.
More, they are workers and scrappers.
Even in Villanova's heyday, the Wildcats were always more blue collar than prima donna. Randy Foye, Kyle Lowry, Scottie Reynolds and Dante Cunningham were all stars but not in the traditional, high-profile, big-number way.
On this season's team, three guys average double figures, but three more aren't terribly far behind. James "Tahj" Bell has gone from a 2.4 points per game scorer as a freshman to 16.1 as a senior.
"It just comes with maturity," Bell said. "I don't think I talked to anyone or anything. It just clicked. We've all been through a season together. We know where we like the ball, what each other is going to do on defense. We know that the little things matter. It's all of that."
As for the peripheral obligations, Wright still cares about them, but even there he's changed. When he was hired, he literally stood on the lunch tables in the campus cafeteria, begging students to come to games. If he didn't personally glad-hand every alum, he surely got close, stumping and speaking at so many engagements he could write a rubber chicken dinner critique.
Now he's turned former bench coach Jason Donnelly into the assistant to the head coach. Among Donnelly's duties are to work with the alumni groups and fundraising, and also serve as a liaison between the university and former players.
"He's connected to me so I'm still in it, but he's daily," Wright said. "I used to do all of that stuff and you'd be on the phone every day and all of that stuff, it takes away from the things that matter -- your players, your coaches, and your family."
Three simple groups, three obvious priorities and, so far, fantastic results.
Villanova is back and back with a vengeance, but back on its own terms.
ESPN Senior Writer
College basketball reporter.
Joined ESPN in 2007.
Graduate of Penn State University.
Andy Katz's Weekly Honors
Monday's Game Plan
Game Plan is our new Monday morning primer, designed to give you everything you need to know about games that were and the games that will be in college hoops this week. Send us feedback and submissions via email and Twitter.

The 2013-14 North Carolina Tar Heels have been so inconsistent and so difficult to analyze that even noting as much has become a running joke. The best strategy is unconditional surrender -- to admit that we can't impose rationale on chaos and, worse yet, that we've already run out of funny ways to say how much the Tar Heels make our brains hurt.
Surrender it is, then. Besides, we have other mysteries to unravel. Such as Maryland.
Thankfully, the 2013-14 Terrapins are not as enigmatic as UNC; their results don't vacillate in quite so wide a range. But they are confusing in their own right, in that their not inconsiderable talent has thus far yielded a downright brutal 7-5 start -- and a very confused head coach.
"I've been trying to fix it ... a little inconsistent ... go and lose at home and then play pretty well in the Paradise Jam and then lose a couple. I don't know. That's the perplexing thing ... can't score 77 at home and lose, so maybe it's on the defensive end. ... no presence at the rim ... just defend better ... trying to do all of this stuff to kick-start us ... fouling too much ... I can keep going, but I don't want to keep you guys here all day ... trying to figure it out ... feeling too much pressure and just need to relax ... and have a little bit more fun, and see if we can play better that way."
That is a significantly shortened version (courtesy of Testudo Times) of Maryland coach Mark Turgeon's answer to a question Saturday after his team's latest -- and easily its worst -- loss of the season. It was less a news conference answer than a disoriented soliloquy, a man reaching out and grasping at any possible explanation for why his ostensibly talented team gave up 83 points in 77 possessions to Boston University at home.
To read all of Monday's Game Plan, complete with ICYMI, state of the week and games you need to see, click here.
Freshman Tracker
Each week we release the Freshman Tracker -- our ranking of the top 10 freshmen in the country -- and each week there is movement on the board, including new names. This week, one of the elite freshmen slips another spot, and a first-year point guard makes his way into the top three for the first time.
We also hand out Christmas presents to each of the top 10 freshmen: What's the one thing (either an attribute or part of the supporting cast) each player could use?
Here is our latest ranking of the best freshmen in college basketball.
(Note: All stats are accurate through Saturday's games.)

1. Jabari Parker, F, Duke Blue Devils 6-foot-8, 235 pounds
Parker has started to put a measure of distance between himself and everyone else. He scored 23 points, grabbed 10 rebounds and had five assists in a win over UCLA in Madison Square Garden on Thursday. The skilled forward also finished with 21 points and six rebounds in a victory against Gardner Webb.
Christmas present: Defensive intensity. Offensively, he continues to excel.
This week: Saturday versus Eastern Michigan (2 p.m. ET, ESPN2)
Stats: 22.1 PPG, 7.8 RPG, 48 percent 3-point shooting | Previous rank: 1

2. Julius Randle, PF, Kentucky Wildcats 6-9, 250 pounds
After seven consecutive double-doubles to begin his career, Randle had struggled a bit of late, registering just one double-double in the past four games. However, he erupted against Belmont with 29 points and 10 boards in the win.
Christmas present: A mature point guard. Right now, his effectiveness is somewhat tied to who is getting him the ball.
This week: Saturday versus Louisville
Stats: 18.2 PPG, 11.3 RPG | Previous rank: 2
To see the entire top 10 in this week's Freshman Tracker, click here.

What To Watch
MONDAY
• Chicago State at Cincinnati, 7 ET, ESPN3
• Norfolk State at Virginia, 7 ET, ESPN3
• Morehead State at Tennessee, 7 ET, ESPN3
TUESDAY
• No games
WEDNESDAY
• No games
THURDSDAY
• No games
FRIDAY
• N. Kentucky at North Carolina, 7 ET, ESPNU
SATURDAY
• Nebraska at Cincinnati, noon ET, ESPN2
• UNC Greensboro at Va. Tech, noon ET, ESPN3
• Jackson State at Memphis, noon ET, ESPNU
• Belmont at Indiana State, 1 ET, ESPN3
• E. Washington at UConn, 1 ET, ESPN3
• PV A&M at Wisconsin, 2 ET, ESPNU
• E. Michigan at Duke, 2ET, ESPN2
• Akron at South Carolina, 4 ET, ESPNU
• UNC Wilm. at UNC Ash., 4:30 ET, ESPN3
• Southeastern at Liberty, 5:30 ET, ESPN3
• Providence at UMass, 6 ET, ESPNU
• Santa Clara at Gonzaga, 8 ET, ESPNU
• Missouri at NC State, 8 ET, ESPN2
• High Point at Arkansas, 8 ET, ESPN3
• Iona at Northern Iowa, 8 ET, ESPN3
• Brescia at W. Kentucky, 8 ET, ESPN3
• McNeese State at LSU, 8 ET, ESPN3
• S. Dakota State at UMKC, 8 ET, ESPN3
• Alabama at UCLA, 10 ET, ESPN2