Duke's struggling defense will be tested
This time last week, No. 4 Duke at No. 6 Louisville bestrode the calendar like a colossus. It had everything. The Blue Devils would likely arrive at the Yum! Center unbeaten. They would bring the nation's best offense (and best offensive player, freshman Jahlil Okafor). They would face a ferocious Cardinals defense in front of a fan base ready to revel in its first chance to host Duke as an ACC rival. Rick Pitino and Mike Krzyzewski would meet for just the fourth time ever, and maybe you recall the first. Oh, and Krzyzewski would be aiming for his 1,000th career win. Does it get any bigger?
Now there is only one question worth asking before Saturday: Is Duke doomed?
That may sound melodramatic, yes, but only if you slept through the past week. On Sunday, the Blue Devils gave up 87 points in 70 possessions to an NC State team that lost at home to Wofford. On Tuesday, Duke went back to Cameron Indoor Stadium for what should have been a routine get-right home date. Instead, Miami poured on 90 points in 74 trips, and the Blue Devils fell at home for the first time since March 2012. The week's final tally: 80 minutes of basketball, 1.23 points per possession allowed, two blowout losses to middling ACC teams.
It wasn't supposed to be this way. Duke's 14-0 start hinted not only at the promise of elite freshman talent and super-efficient offense, but at the idea that the Blue Devils would be a vastly improved defensive team, too. The 2013-14 season -- that Duke team, also one of the nation's best offenses, couldn't get a stop to save its life -- would be long forgotten. In November and December, as Okafor reinforced every last ounce of hype, Coach K's high-pressure man-to-man defense was reborn.
In the matter of a week, that impression has crumbled. The sheer numbers involved look bad enough. Watching the games, and seeing how thoroughly Duke's defense eroded, was even worse.
The problem begins with Tyus Jones and Quinn Cook, who were beaten off the dribble repeatedly both Sunday and Tuesday in simple isolation situations. Duke's perimeter pressure introduces high stakes: If a ball handler blows by, the defense is stuck playing 4-on-5. But the problem is exacerbated by Duke's lack of interior defense. This is the one chip in Okafor's armor: Though he blocks a fair number of shots, he frequently doesn't challenge drivers, likely because he's (rightly) wary of picking up fouls. Okafor is so good offensively he needs to be on the floor. But he's also struggled to effectively guard pick-and-roll plays, which makes Cook's and Jones' and other Duke guards' lives even more difficult. And that's not all! Duke is allowing 1.1 points per trip on transition possessions, according to Synergy scouting data. In its past two games, it gave up nearly 20 points per game after turnovers, as opposed to the 9.8 it yielded in its first 14.
The end result is a mix of poor perimeter ball pressure with nonexistent interior rotations and lots of easy buckets in transition. Which is, um, not effective. To put it lightly.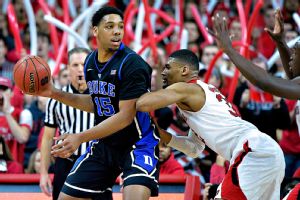 Grant Halverson/Getty ImagesFor Duke to find its footing on defense, Jahlil Okafor needs to defend the post without fouling.
The underlying question is whether this is a real problem or an extreme midseason aberration, or somewhere in the middle. We may have to watch closely Saturday (noon ET, ESPN) to figure that one out. The Cardinals defend like crazy but don't shoot the ball well, and a low-scoring game might trick some into thinking Duke's defense has improved. Louisville's backcourt, Chris Jones and Terry Rozier, is adept at penetrating from the perimeter in, and none of Duke's guards have the size to match Rozier physically. If the Cardinals feast on blow-bys with anything near the regularity of the Blue Devils' two prior opponents, that's how you'll know -- even if the shots don't fall.
After Tuesday's loss, Coach K talked a lot about confidence, about a young team not knowing how to roll with the punches and remain focused when things go wrong. He may be right. A sudden defensive decline is just as likely to have intangible causes as anything else, and maybe more so.
Duke fans should hope that's the case -- that this is something to be snapped out of. The alternative looks far more like 2013-14's version of Duke than anything in Coach K's vintage collection. To win a national title, the Blue Devils have to be light-years better than they were this past week. Whatever this Louisville game might have been before, it is only one thing now: a test.
Other games
No. 8 Utah at No. 10 Arizona, Saturday, 7 p.m. ET
If you're Utah coach Larry Krystkowiak, and you had the chance to change the date of your road trip to Tucson, you might not change a thing. Why? The Utes have arguably had the best month in college basketball. Jordan Loveridge returned from injury, the Utes have pulverized opposing offenses, and Delon Wright emerged as the nation's best two-way player -- an immensely savvy scoring guard who creates shots for teammates, rarely turns it over, rarely takes bad shots, and might be the team's best defender. Since Dec. 3, Krystkowiak's team has risen from 28th in overall adjusted efficiency to No. 5. In October, the Utes were supposed to be Arizona's chief Pac-12 challenger. Now, through no real fault of the Wildcats, it's the other way around.
No. 9 Kansas at No. 11 Iowa State, Saturday, 9 p.m. ET on ESPN & WatchESPN
There is no rest for the Big 12's weary. On Wednesday, Iowa State fought like madmen to erase a 14-point deficit in the final 10 minutes at Baylor ... just before Bears guard Kenny Chery aced a game winner with seven seconds to play. This is the Cyclones' reward. Iowa State is the better -- and certainly the more fluid -- offensive team, but Kansas' size and interior strength could poach from ISU's interior weaknesses just enough to escape Hilton Coliseum with a win. In any case, "College GameDay" will be on hand; something crazy is bound to happen. Every Saturday seems to produce at least one matchup of genuine Big 12 title contenders. This Saturday offers three, and it will save the best for last.
No. 16 West Virginia at No. 20 Texas, Saturday, 6:15 p.m. ET on ESPN & WatchESPN
The above game does not mean West Virginia's trip to Texas won't be a must-watch in its own right. Indeed, you might say that about the Mountaineers generally. Unlike many of the Bob Huggins teams of old, this group plays like its collective shorts are on fire. The Mountaineers are forcing opponents into turnovers on almost a third of their defensive possessions, still the highest mark in the country, a stylistic overhaul that has led to faster basketball, lots of easy transition points, and easily the best WVU team since Da'Sean Butler was on campus. In November, Texas looked like Kansas' likeliest usurper. That crown now resides in Morgantown.
No. 24 Oklahoma State at No. 18 Oklahoma, Saturday, 7 p.m. ET on ESPN2 & WatchESPN
The aforementioned crown could just as easily reside in Norman, too, which is yet another testament to the overwhelming strength of this league. Perhaps a Charlemagne split inheritance is the best bet. Strangely enough, the Sooners are at once a worse offensive team and a better overall squad than last season's team. In 2013-14, Buddy Hield led a top-25 offense that played fast but struggled on the other end of the floor. The 2014-15 version is nowhere near as tidy as last season's, but the Sooners more than make up for it with elite rim protection. Meanwhile, Oklahoma State's early under-the-radar status is under siege after last Saturday's home win over Texas. This team is pretty good, too. Seriously: The Big 12 is insane.
Michigan State at No. 14 Maryland, Saturday, 4 p.m. ET
Can Michigan State make enough 3s to win this game? Travis Trice and Denzel Valentine represent one of the nation's best perimeter shooting duos, and when the Spartans are making shots, they can look far better than anyone expected in the preseason. When they don't make shots, things can get ugly (see Maryland's Dec. 30 win in East Lansing for verification). Mark Turgeon's team has a far more reliable offensive method: It shoots one free throw for every two of its field goal attempts, the ninth-highest ratio in the country. The Terps don't need to be pretty to win. They just need to get to the foul line. And they almost always do.
ESPN Staff Writer
Covers college basketball
Joined ESPN.com in 2009
Graduate of Indiana University
Weekend Watch List
Best chance to beat No. 1
OK, so the Crimson Tide win by default. They are, after all, the only team playing the No. 1-ranked Kentucky Wildcats this weekend. In all likelihood, the Wildcats should handle the matter with relative ease. But if there is a reason for Alabama coach Anthony Grant to be optimistic, it's that his team has played the stingiest defense (in a small sample size) in SEC play to date, and if there's one way to make Kentucky look normal, it's by erasing the easy offense the Wildcats get from all their height around the rim. Texas A&M nearly pulled it off, after all. Alabama is better than the Aggies. Why not, right?
---
Most likely home upset
Miami at No. 12 Notre Dame. Sure, the Hurricanes receive the benefit of the doubt accorded any team that smacks Duke so thoroughly on its own floor, but there are problems in South Bend, too. The Irish have never been a great rebounding team this season. They have, however, been good enough to get by on the defensive end, where they rebound about 70 percent of opponents' misses; and they haven't needed to rebound much on offense because so many of their shots don't hit the rim. This past week, starting center Zach Auguste left the lineup due to an unspecified academic matter. Auguste isn't just Notre Dame's best offensive rebounder; he's frequently the team's only source of second chances. Losing him could be a serious problem.
---
Most likely to put "upset" in air quotes
No. 22 Baylor at Kansas State. On Dec. 28, Kansas State joined Michigan State in the all-exclusive Teams That Lost To Texas Southern At Home Club. That defeat kicked off what looked like a death spiral: K-State coach Bruce Weber benched star sophomore Marcus Foster, Foster openly expressed his distaste for the arrangement on said bench, and the Wildcats plummeted into the bowels of the Big 12. Three weeks later, K-State is 3-1 in conference play with a win at Oklahoma under its belt. A win over a good Baylor team at home Saturday might look like an upset on paper, but it would hardly be surprising.
---
Best early Bracketology special
BYU at Saint Mary's. First, we should apologize to Cougars fans: BYU has spent as much time on the bubble in recent seasons as any team in the country, and Jan. 15 is brutally early to start talking about at-large chances. But every game counts, and after last Thursday's home loss to Pepperdine, Dave Rose's team is already looking as bubblicious as ever. For bubble teams in the West Coast Conference, the goal is less to win than to survive with as few nicks on your résumé as possible. In that context, a road trip against the solid-but-underscheduled Gaels becomes vital.
---
Best no-win scenario
St. John's at DePaul. Contrary to their first three games in conference play -- when they beat Marquette, Xavier and Creighton en route to a 3-0 start -- the DePaul Blue Demons are not a good basketball team. But St. John's has shown its own fair share of flaws in recent weeks; it started Big East play 0-3 before it righted the ship at Providence on Wednesday night. In other words, the Red Storm can't afford to slip up at DePaul. Losing would be crushing. That such a possibility apparently exists -- DePaul beat Xavier, so why not you? -- should terrify every Big East coach.
By The Numbers
• 8: That's how many seasons it's been since Duke lost three games in a row. The Blue Devils last dropped three straight in February 2007, part of a four-game losing streak that included defeats against Virginia, Florida State, North Carolina and Maryland. That team would eventually go on to finish 22-11 and 8-8 in the ACC. That turnover-prone team (featuring promising freshman Jon Scheyer) was the only one since 2002 (when such statistical records were first recorded) to finish outside the top 20 in adjusted offensive efficiency. It was actually pretty good on the defensive end, too. Irony, right?
• .442: Iowa State's winning percentage against Kansas at Hilton Coliseum. The Jayhawks are the only Big 12 team with a remedy for Hilton Magic: No other Big 12 team has a historical winning record against the Cyclones on their own floor. That makes intuitive sense, because Kansas is usually awesome. But given the difficulties of winning on the road, and especially in Ames, it's immensely impressive all the same.
• 16: That's how many wins the Virginia Cavaliers, who look likely to move to 17-0 at Boston College Saturday, have amassed this season. We know, we know: That's not really a statistic. But this is: Since Tony Bennett arrived at Virginia in 2009-10, the Cavaliers have improved their win total every year -- from 15 to 16 to 22 to 23 to 30 a year ago. No other ACC team has done the same. This week, Rick Pitino said Bennett may be the best coach in college basketball. He's not wrong.