Tale of two rivalries closes out the regular season
Editor's note: Rece Davis is the host of "College GameDay," which will be in both Washington, D.C., for Syracuse-Georgetown and Chapel Hill, N.C., for Duke-UNC. His Saturday preview is below. Check out the video above as six of our writers preview six of the weekend's top games.
The most memorable funerals are a celebration of a life well lived. We can only hope the Syracuse-Georgetown game lives up to its illustrious history, because this is most certainly a funeral.
Syracuse's move to the ACC and the demise of the once-mighty Big East combined to bring this passion play to a close, at least in the form we've come to appreciate. The Orange and Hoyas might continue to play. They might even have a curtain call next week in Madison Square Garden, site of so many of their epic clashes. But make no mistake: when the clock strikes zero Saturday afternoon, we're losing something special.
It's the end of a rivalry that built basketball's most mighty conference over the past 30 years. John Thompson the elder said the realignment of the Big East never really bothered him until he heard Syracuse was leaving. The longtime nemesis of the Orange responded to the news by saying, "Et tu Brute."
Therein lies the complexity and the tragedy. These two bitter enemies needed each other. Now they're going their separate ways. At least no one got stabbed.
Look, I'm not one to rail against universities making business decisions. Some call conference realignment necessary progress. Financially, it probably is.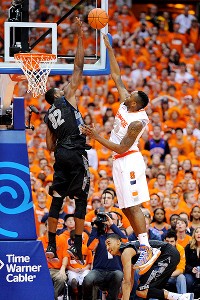 Rich Barnes/USA TODAY SportsGeorgetown's Moses Ayegba and Syracuse's Rakeem Christmas square off in the teams' first meeting in February.
But practically, progress comes with a hefty price tag. Sports aren't special because android X's and O's are adeptly deployed by master strategists. Sports aren't just television contracts and tournament bids. Sports, particularly college basketball, are most meaningful when the games are visceral and vitriolic. Syracuse and Georgetown almost cornered the market on that. Thompson closing Manley Field House or putting his figurative autograph on the dedication of Jim Boeheim Court. Pearl elbowing Ewing. Ewing swinging at Pearl.
Sherman Douglas being clutch. Charles Smith one-upping him. Gerry McNamara's cold-blooded daggers and Perry McDonald playing above his head, by literally half a foot outdueling Rony Seikaly. Melo and Mourning. Hakim and Dikembe. We could fill gigabytes and stymie the most powerful supercomputer server with moments seared into our memories.
But after Saturday, one of the most bitter, hotly contested rivalries will go the way of the two-handed set shot, at least in terms of stakes and intensity. Syracuse can play ACC classics against Carolina or Duke. Georgetown can have revamped Big East barnburners with Butler or Xavier. But it won't be the same. Because the Orange can't hate Duke the way they despise Georgetown. The Hoyas will never detest Butler the way they loathe Syracuse. There's not enough history there for a proper amount of disdain. That's the price of so-called progress.
Progress for the Hoyas would be claiming at least a share of the Big East regular-season title. It has been a while since Georgetown has had to bounce back from a loss. Villanova ended the Hoyas' 11-game winning streak and kept Georgetown from controlling its fate in terms of winning an outright title.
The Orange would love nothing better than to close this chapter of their rivalry with Georgetown by denying them a share of the Big East title. To do that, they'll have to deal with Otto Porter Jr. better than they did in the first meeting. They say it's not a one-man game, but it pretty much was in Georgetown's win at the Dome. All Hoyas not named Otto shot 20 percent and scored 24 points. Otto scored 33, shot better than 60 percent and 50 percent from 3. He dominated the game.
The Orange offense has been sporadic. Michael Carter-Williams and Brandon Triche need to assert themselves on offense. Triche has made only two of his past 18 from 3. Syracuse's offense mustered only 46 points in the first meeting. It was their worst offensive outing at home in nine years. A better showing is needed Saturday in a game that will linger in the memory much longer.
As if Duke and North Carolina needed any more juice, all of a sudden the Devils aren't done in the ACC race. Miami melted at home against Georgia Tech, meaning that should the Canes lose to Clemson, Duke could get a share of the ACC regular-season title. While both Duke and UNC are all about winning championships, beating the other is often reward enough.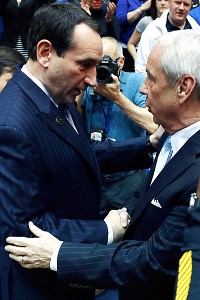 AP Photo/Gerry BroomeMike Krzyzewski and Roy Williams will once again square off as Duke and UNC meet for the 236th time.
For the Tar Heels it would be particularly sweet. Carolina has ripped off six straight wins since its loss at Duke. Only one game was decided by single digits in the span and that was a nine-point win at Clemson.
Roy Williams' decision to downsize his lineup has upgraded his offensive production. It wasn't so much that Williams went smaller, but by adding P.J. Hairston to the starting five, the Heels made every position an offensive threat. The formula will be put to the test against a Duke team flourishing with its own lineup change, the return of Ryan Kelly.
Kelly's impact on the offense is well documented, but his impact defensively could be even more important. In a season in which no one can hold the No. 1 ranking, it's worth noting that Duke is undefeated with Kelly in the lineup.
Those are our two "College GameDay" stops. It will be a day of nirvana for us. But there are other games to watch.
I've mentioned Miami's lack of tournament and big-game experience in the past. How will the Canes react to the disastrous loss to Georgia Tech? Can they handle lowly Clemson and win the first outright conference title in school history?
Rick Pitino and Louisville can get a share of the Big East crown by beating Notre Dame. Marquette can do the same by beating unraveling St. John's. Kansas State can get a share of the Big 12 by beating Oklahoma State.
The tournament is the litmus test of legitimacy in college basketball. But the perseverance and excellence needed to win a regular-season title shouldn't be dismissed regardless of whether a team makes a run or flames out in the tournament, which is now less than two weeks away.
College Basketball and Football studio host; SportsCenter anchor/reporter
Rece Davis joined ESPN in March 1995 and currently serves as studio host for college football and college basketball, including his duties as host of the NCAA Women's Basketball Championship and the college basketball version of College GameDay.
POY chase comes down to the stretch run
This conversation seemed improbable, at best, two months ago when conference play started.
Did the player of the year race look wide open? Sure -- and at the time, it was. The candidates, though, have gone through an almost complete overhaul.
Faded away are Indiana's Cody Zeller and Duke's Mason Plumlee, the preseason player of the year and the leader of the first player of the year straw poll, respectively. Inserted in their place is a group which has risen from almost unknown to part of a five-player free-for-all in the final weeks of the regular season to nab at least one of the four major player of the year awards.
Such is the way of Georgetown's Otto Porter, Gonzaga's Kelly Olynyk and Indiana's Victor Oladipo, none of whom entered the conversation until the beginning of February.
Over the past month, they have joined Michigan's Trey Burke, the leader for the third consecutive poll, and Creighton's Doug McDermott in this five spot of talented and diverse players.
Oladipo made a strong entry into the race in the third poll of the season after three straight standout performances -- including one against Burke and Michigan on Feb. 2 -- from the end of January to early February. Olynyk also received votes for the first time in that poll.
Two weeks later, Olynyk made a move to fifth place; Porter started receiving votes for the first time in the Feb. 21 edition. The past two weeks, though, have seen a surge of attention for Porter, who received two third-place votes in the previous poll.
Two days later, he scored 33 points on national television against Syracuse and followed that up four days later with 22 points and a game winner in double overtime against Connecticut. Porter now sits in second place in the latest poll, behind Burke.
How will this shake out?
Tough to say, in part due to the way this season has gone -- with insanity taking over more often than not. Add in the component of staggered deadlines for the various award votes, and it is anyone's for the taking.
The Robertson Award, given out by the U.S. Basketball Writers Association, requires its ballots be submitted by Sunday evening. The Associated Press wants its ballots on Selection Sunday. The Wooden Award wants ballots by March 25, after the first weekend of NCAA tournament games, and the Naismith Award has the latest deadline -- April 6, the Saturday of Final Four weekend.
What can happen between now and then? A lot. Just look at Porter.
To read how 64 actual POY voters from around the country voted in this week's straw poll, click here.
ESPN Staff Writer
Previously covered University of Michigan for ESPN.com and AnnArbor.com
Also covered Notre Dame for Fort Wayne Journal Gazette
Viewer's Guide
All times ET:
Friday
7 p.m.: Kent State at Akron (ESPN2)
Saturday
12 p.m.: Syracuse at Georgetown (ESPN)
12 p.m.: Atlantic Sun title game (ESPN2)
12 p.m.: Florida at Kentucky (CBS)
1:30 p.m.: Kansas St. at Oklahoma St. (ESPN3)
1:30 p.m.: La Salle at Saint Louis (NBCS)
2 p.m.: Marquette at St. John's (ESPN)
2 p.m.: NC State at Florida State (ESPN2)
2 p.m.: UCLA at Washington (CBS)
2:30 p.m.: Clemson at Miami (ESPN3)
2:30 p.m.: Oregon at Utah (PACN)
3:30 p.m.: San Diego St. at Boise St. (NBCS)
4 p.m.: Notre Dame at Louisville (CBS)
4 p.m.: Missouri at Tennessee (ESPN)
4:30 p.m.: Arizona St. at Arizona (FSN)
6 p.m.: Kansas at Baylor (ESPN)
6:30 p.m.: Xavier at Butler (CBSS)
6 p.m.: New Mexico at Air Force (Altitude)
7 p.m.: Ohio Valley title game (ESPN2)
9 p.m.: Duke at North Carolina (ESPN)
Sunday
12 p.m.: Big South title game (ESPN2)
12 p.m.: VCU at Temple (CBS)
12:30 p.m.: Illinois at Ohio State (ESPN)
2 p.m.: Missouri Valley title game (CBS)
4 p.m.: Indiana at Michigan (CBS)
6 p.m.: Maryland at Virginia (ESPNU)
I Can't Wait To See …
Eamonn Brennan

I can't wait to see the Big Ten title race play out. Indiana fans may not be thrilled with the fact this has turned into a very exciting closing weekend of Big Ten basketball, but everyone else should be. Ohio State's win in Bloomington, Ind., Tuesday night ripped the Big Ten title race open in time for the final weekend of the season, and when Michigan held on at Purdue on Wednesday it offered the possibility of a four-way split for the Big Ten title -- provided Michigan beats Indiana in Ann Arbor as a baseline. The Buckeyes, Michigan State and Wisconsin are all in action Sunday, too, and this Big Ten season probably couldn't end any other way.
Andy Katz

What happens in the Missouri Valley Conference tournament and whether there is yet another Saint Mary's-Gonzaga final in the WCC tournament or if BYU upsets the Gaels. The Valley final should be Wichita State-Creighton, but this league has produced plenty of wild cards. I wouldn't be shocked to see two bid-stealers playing for the final Sunday. If the seeds hold, the Valley could get Wichita-Creighton III and another potential marquee event for Doug McDermott. This may be McDermott's final Valley appearance if he decides to leave for the NBA draft. In the WCC, Saint Mary's needs to beat BYU to set up a likely meeting with the Zags. Can the Gaels get a bid by playing the Zags tight but losing? I'm not sure. I know this: Saint Mary's won't be afraid to challenge Gonzaga in a title game because the Gaels have done it before and won.
Jason King

I can't wait to see if Kansas wins a ninth straight Big 12 title. If the Jayhawks beat struggling Baylor in Waco and Kansas State wins at Oklahoma State, the schools will have to share the championship. But a KU victory and a K-State loss would give Bill Self's squad the trophy outright. Either way, Kansas will be looking to extend one of the most impressive streaks in all of sports. The Jayhawks' eight consecutive league titles are the most by a major conference school since UCLA won 13 in a row from 1967 to 1979. In this day and age of players leaving school after one or two seasons, it's more difficult than ever to sustain this type of success. That's what will make this feat so remarkable. It doesn't receive nearly the attention it deserves.
Myron Medcalf

I can't wait to see what happens when Louisville and Notre Dame meet again. The first time the two squads clashed, we were treated to a five-overtime matchup that's currently the undisputed game of the year in college basketball. The Fighting Irish were down late and then Jerian Grant completed that ridiculous barrage in the last minute. Garrick Sherman went from bench-warmer to hero. Russ Smith did what Russ Smith does in the longest game in Big East history (regular season). It will be almost impossible for Round 2 to feature the same action and drama. But the stakes are even higher now. Louisville is in a three-way tie with Marquette and Georgetown for first place in the Big East. The Cardinals are at home this time. But thrillers tend to be the norm when these two squads meet, regardless of the venue. Will we see another classic? I hope so.
Dana O'Neil

I can't wait to see who punches the first tickets to the NCAA tournament. By the end of the weekend, at least four -- and potentially five depending on how the Ivy League race finishes -- teams could be on the bracket. On Saturday, the Atlantic Sun and Ohio Valley will crown conference winners and on Sunday, the Big South and unpredictable Missouri Valley will celebrate their winners. The big schools and the big leagues preoccupy our thoughts for most of the season and understandably so, but Champ Week is about the little guy and the would-be Cinderella, the ones who know there is only one route to the ball. That's what makes college basketball so great and what makes this weekend the best weekend of them all, the official beginning of the madness.
Robbi Pickeral

Ryan Kelly. Was the Duke forward really out for two months with a foot injury? He certainly hasn't looked like it in the two games since his return, following a career-high 36 points against then-No. 5 Miami with 18 points at Virginia Tech. When the Blue Devils beat North Carolina last month, the 6-foot-11 Kelly watched from the bench in street clothes. Saturday night at the Smith Center, he'll probably be matched up (at least part of the time) with 6-5 P.J. Hairston, whose insertion into UNC's now-four-guard lineup has been the catalyst for the Tar Heels' six-game winning streak. Will Kelly's return -- and the Blue Devils' adaptation to his return -- continue to look seamless? Duke, by the way, has yet to lose a game this season with Kelly in the lineup.