Wooden Watch: Analyzing Kaminsky's season
Well, this is awkward.
Last Thursday, we wrapped up the Wooden Award race, declared Wisconsin forward Frank Kaminsky the winner and looked back on a season in which Kaminsky has been the POY favorite -- or co-favorite -- from start to finish. After some research and a brief consultation with a crack team of lawyers, it turns out we don't actually decide who wins the Wooden Award. Apparently, there's something called a "vote," we guess? We're not good with legal jargon.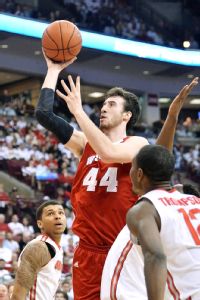 Jamie Sabau/Getty ImagesThe advanced stats clearly show Wisconsin's Frank Kaminsky has been the best player in college basketball this season.
So, no, the Wooden race isn't officially over. But Kaminsky is going to win, so with the bestowing of the honors a mere a formality, we decided to drop the ranking conceit we've used all season and see what some of the more obscure, advanced analytics have to say about Kaminsky's 2014-15 campaign.
Hey, maybe we missed something. Maybe there's still time for Jahlil Okafor, or someone else, to make their case to Wooden Award voters. Maybe we'll break this whole thing wide open!
Yeah … not so much.
Advanced analytic systems -- like John Hollinger's Player Efficiency Rating or College Basketball Reference's Win Shares -- can occasionally be the unwitting victims of informational cherry-picking. Different ratings are built from different inputs, and it's not unusual to see them disagree. While arguments about statistical output versus intangible overall contribution became tired years ago, we are sympathetic to the idea that, in college basketball, even advanced statistical contraptions don't always tell you the whole story.
Then again, we've spent the entire season telling you the whole story. And anyway, it doesn't matter: In pretty much every advanced individual player rating system we trust -- PER, win shares and Ken Pomeroy's kPOY formula -- Kaminsky rates out as the nation's very best.
PER will be most familiar to fans of the NBA, but Hollinger also maintains a college player database, and this season's top five is a who's who of Wooden Watch contenders, with the classic wacky, low-minutes PER exception (Notre Dame's Bonzie Colson, who comes in at No. 2!): Karl-Anthony Towns at No. 5, Okafor at No. 4, Seth Tuttle at No. 3 and, of course, Kaminsky at No. 1.
The kPOY is a little more straightforward (read Ken's full explanation here). Not only is Kaminsky No. 1 -- where he's been for almost the entire season -- but his rating (2.690) is relative miles ahead of No. 2 Towns (1.827) and the rest of the top 10.
And then there are win shares. You can read about the system's detailed underpinnings here, but it is pretty straightforward: Win shares are an estimate of the number of wins produced by a player's individual performance, or: How much do you contribute to victory? Kaminsky's 5.2 offensive win shares rank first in the country on offense, his 2.6 defensive win shares rank 12th and his combined number -- 7.9 -- is No. 1 overall.
Perhaps most impressive is Kaminsky's win shares per 40 minutes, in which he edges No. 2-ranked Towns … despite averaging 12 more minutes than Towns per game. To be honest, before we checked, we thought Towns would blow Kaminsky away in the per-40 numbers. Not so.
Indeed, aggregating these metrics puts Towns in a serious conversation with Okafor as Kaminsky's closest competition. Towns' 20 minutes per game might well hold him back in the eyes of All-American voters, but his production in limited minutes is not totally unlike that of former Wildcats star DeMarcus Cousins (whose minutes were limited by foul trouble, as opposed to talented teammates). Towns shows up in the top five in per-40 win shares. He's No. 2 in the kPOY. Only PER rates Okafor's contributions more highly, though -- considering his higher minutes, much greater offensive load and pristine efficiency -- that's a noteworthy distinction.
Thing is, "Who's No. 2?" is the only conversation still worth having. Looking for alternate ways to evaluate the 2014-15 player of the year race really just means finding alternate reasons Kaminsky will win the Wooden Award. The numbers disagree about many things. The Tank isn't one of them.
ESPN Staff Writer
Covers college basketball
Joined ESPN.com in 2009
Graduate of Indiana University
John R. Wooden Award
The John R. Wooden Award is presented annually to the most outstanding men's college basketball player.


Top 15 List
Here are the 15 players who made the latest cutdown list Wooden Award. Is this the final list? No. Can a player not on the list still win the award? Yes.

• Ron Baker, Wichita State
• Malcolm Brogdon, Virginia
• Willie Cauley-Stein, Kentucky
• Rakeem Christmas, Syracuse
• Jerian Grant, Notre Dame
• Tyler Haws, BYU
• Buddy Hield, Oklahoma
• Frank Kaminsky, Wisconsin
• Georges Niang, Iowa State
• Jahlil Okafor, Duke
• Bobby Portis, Arkansas
• D'Angelo Russell, Ohio State
• Seth Tuttle, Northern Iowa
• Kyle Wiltjer, Gonzaga
• Delon Wright, Utah