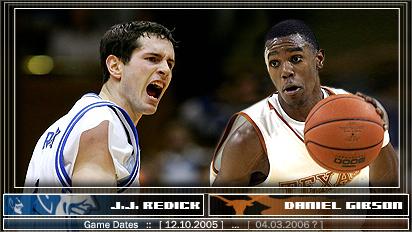 Ins And Outs
Yup, Duke and Texas are both 1-seeds in the season's first Bracketology, but check out who's missing.
Story

Katz: Right on schedule
Who does the better jobs at scheduling? Andy Katz examines four case studies of similar programs.



Shelman: The Valley secret
The MVC has received multiple bids to seven straight NCAAs. What is it doing that other mid-majors aren't?



Katz: Morrill right
Stew Morrill gambled and left the WAC seven years ago. Now he's returning with a better program.



Katz: Ohio's 'It'
Our second annual "It" team is Ohio, a MAC team that could be around for a while in March.



Gottlieb: Time to produce


Doug Gottlieb identifies 11 schools that, for one reason or another, have a lot to prove this season.



Katz: Man of Steele
There are a lot of excellent sophomore point guards, but the least dispensable of the bunch may be Alabama's Ronald Steele.


End text -------------------------