Five burning questions
By Paul Biancardi
ESPN Recruiting
The late signing period begins Wednesday and runs until May 19. Here's a look at some of the most pressing questions as one of the most vital weeks on the basketball recruiting calendar approaches.
1. Will Kentucky have any problems filling out its roster?
[+] Enlarge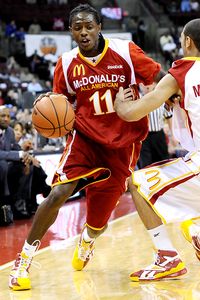 Jim Rinaldi/Icon SMICould Brandon Knight replace John Wall in Lexington?
Potentially losing five players early to the NBA draft would be difficult for any program to overcome, but John Calipari is one of the few coaches in the country who has the connections and star power to pull it off. The Wildcats are in good position with almost all the remaining elite unsigned players. Kentucky already has one of the top players in the 2010 class in Enes Kanter (Turkey/Stoneridge Prep) to go with athletic wing Stacey Poole (Jacksonville, Fla./The Providence School) and is near the top of the list for Brandon Knight (Coral Springs, Fla./Pinecrest), who is set to announce Wednesday. If Cal and his staff can find a way to sign two or three of those unsigned stars, the Wildcats will be back in business. Because instant playing time is available and Calipari has a history of producing one-and-dones and winning, the top remaining players have a strong interest in UK.
2. Is there an unsigned player flying under the radar?
With the number of media outlets covering college basketball recruiting and nonstop stream of information that is now available, it seems almost impossible for a player to fall between the cracks and go unnoticed. Sometimes a player improves greatly during the high school season and bursts onto the recruiting scene in the late signing period. One player who could see his recruitment level elevate is Flora MacDonald (N.C.) power forward Derrick Martin. The Montgomery, Ala., native teases you; he is athletic enough and looks the part of a high-major player but has not consistently produced to get the evaluators to commit to putting the high-major label on him.
If SEC and ACC programs miss their primary targets in the late period, Martin's stock could rise with teams scrambling and willing to take a chance on the young post player. With a year in a solid strength program, he could find a way to contribute.
3. Which new coach has the most work to do on the trail?
New DePaul coach Oliver Purnell has one of the toughest rebuilding jobs in the country ahead of him. Not only does he need to be able to go out and upgrade the program's talent level to be competitive in the Big East, he also needs to work hard to develop strong ties from a skeptical base of local high school and AAU coaches. The program may be at its low point, but if Purnell can attract a few key local players -- the 2011 class in Chicago is absolutely loaded -- to stay home and represent the city, DePaul will have a chance to improve rapidly. Purnell is a master at building programs and getting them to the NCAA tournament. He faces a tough task, but he is the right man for the mission.
[+] Enlarge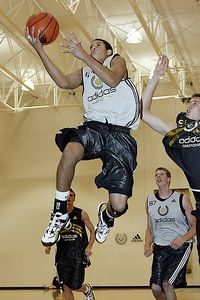 Adidas Ray McCallum might end up playing for his father at Detroit.
4. Which unsigned player will make the biggest impact next season?
The impact a player makes depends largely on where he chooses to go. With seven 2010 McDonald's All-Americans still on the board, it is natural to lean in the direction of one of these players. Because of their position and their ability to score, I believe that Knight, Josh Selby (Baltimore/Lake Clifton), Cory Joseph (Toronto/Findlay Prep) or Ray McCallum (Detroit/Country Day) will have the biggest impact on his team next season. In choosing one of these players based on where he'll attend school, McCallum Jr. could have the biggest impact if he decides to play for his father (Ray McCallum Sr.) at Detroit. While playing for the Titans, McCallum would have the potential to have a Stephen Curry-type impact on a midlevel program.
5. Outside of Kentucky, which programs do you expect to close this recruiting cycle strongest?
Kansas looks as if it has a great chance to contend with Kentucky for the top remaining players in the late signing period. The dominoes will start to fall as players start to commit. Some potential scenarios that could occur would be Knight to Kentucky, Selby to Kansas, Terrence Ross (Portland, Ore./Jefferson) to Kentucky, Doron Lamb (New York/Oak Hill) to Kansas, etc. If Cory Joseph joins teammate Tristan Thompson at Texas, it would give the Longhorns two top-25 players in much-needed positions. Also, if NC State can close the borders and keep C.J. Leslie (Holly Springs, N.C./Word of God) away from Kentucky, the Wolfpack's class would be considered among the better ones in the nation.
ESPNU's special
With the late signing period set to begin Wednesday, ESPNU is the place to be for all your recruiting coverage. The most significant announcement of the spring will come during Wednesday's "Signing Day Special," when Brandon Knight, the nation's top uncommitted recruit, is slated to pick his school.
"Signing Day Special," Wed., 4 ET
Where will they go?

Lamb
Undecided prospect Doron Lamb is scheduled to announce his college decision at Saturday's Jordan Brand Classic (ESPN, 8 p.m. ET). Check out the pros and cons of each option for Lamb and other top uncommitted recruits.
• J. Selby | C. Leslie | T. Jones
• C. Joseph | D. Lamb | R. McCallum
• T. Ross | T. Zeigler | B. Knight
Class rankings

Much can and will change. Still, Ohio State's 2010 class, which features two McDonald's All-Americans, is the nation's finest after this past high school season. Who else made the cut?
Final ESPNU 100

Barnes
Harrison Barnes (Ames, Iowa) has been the top-rated prospect in the nation since we expanded our 2010 prospect list to 100 players at summer's end. He has done nothing but prove himself worthy of such a distinction with his play this past season. When you achieve the No. 1 spot as a team or player and sustain that ranking for an extended period of time, you've accomplished the toughest challenge in sports.