Over a two-week span, we're answering the following question for college basketball's 10 best conferences: Which venue in each conference is the toughest place to play? A number of factors, not just capacity and attendance, could affect a venue's place in the order. Where does your school fall? 
Old versus new, NBA arena versus bandbox, the Big East's arenas run the gamut. But as the conference proves, a building -- no matter how legendary -- is only as intimidating as the team on its court.
10. DePaul Blue Demons: AllState Arena, opened in 1980
Former No. 1 overall NBA draft pick Mark Aguirre isn't walking through that door. And neither is anyone else. Back when DePaul played at Alumni Hall and Ray Meyer patrolled the sidelines, games against the Blue Demons were an event in Chicago. Now? It's like walking into a library. Here's all you need to know about playing at DePaul: In the last 10 years, the Blue Demons have drawn more than 8,000 fans (still 10,000 shy of capacity) only four times. DePaul will get a new arena, the McCormick Place Event Center in 2017, complete with an overhanging student section to be dubbed the Demon Deck. We'll see if the place will be demonic or docile.
Fun fact: The first WWE pay-per-view event was held at the arena (then called the Rosemont Horizon) in 1985. The Junkyard Dog topped Randy Savage to win the wrestling classic, and a fan won a contest to win a car -- a Rolls-Royce, to be exact.
9. St. John's Red Storm: Madison Square Garden, opened in 1968
This ranking ought to come with an asterisk because, needless to say, Madison Square Garden is the most famous arena in college hoops. What should be the biggest advantage in all of sports never really plays out that way for the Red Storm. In 37 Big East seasons, St. John's has won only three Big East titles. Worse in recent seasons, the Red Storm have devolved into irrelevancy, and the New York market, dying for a good basketball team to root for, simply doesn't care much about the team. Visiting teams, especially those within a drive or train, are apt to find more of their own fans than the home team's.
Fun fact: There have been three Madison Square Gardens. Before the Vanderbilt family reclaimed its property -- located near Madison Square Park -- and renamed it, the original Garden was the baby of promoter P.T. Barnum. It was called Barnum's Monster Classical and Geological Hippodrome, which is kind of hard to fit on a marquee.
8. Seton Hall Pirates: Prudential Center, opened in 2007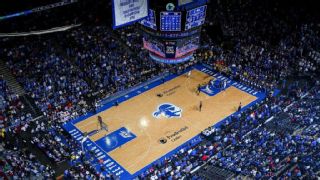 Seton Hall's arena is too nice. The Rock is easy to get to, right near the Newark Airport, and it has nice locker rooms and a pro-style look to it, all making it a nice place for opposing teams to visit. With an average of 7,000 fans filling the cavernous 18,000-seat arena, it's not exactly a tough environment. Maybe as the Pirates, winners of the Big East tournament title this year, improve, that will change.
Fun fact: City planners wanted the arena after fear arose that the New Jersey Devils would relocate to Nashville. Even as they won the Stanley Cup, the Devils failed to attract a crowd to the Continental Airlines Arena (now the Izod Center) in East Rutherford. When the Devils moved to the new building, so did Seton Hall.
7. Georgetown Hoyas: Verizon Center, opened in 1997
It's tempting to rank the Verizon Center on what it was, and its potential, because when the Hoyas were really good, and when the place is full, it's a really, really hard place to play. That just hasn't been the case lately, as Georgetown has lacked consistent success. In fact, fans of nearby opponents -- think Villanova -- can come up with tickets way too easily, their chants drowning out the home crowd's.
Fun fact: On March 26, 2006, playing in front of an extremely partisan crowd at the Verizon Center, George Mason upset UConn in the Elite Eight to become only the second double-digit seed to reach the Final Four.
6. Marquette Golden Eagles: BMO Harris Bradley Center, opened in 1988
Frankly you could take Nos. 5-7, draw them out of a hat and any order would be fine. Marquette, like Seton Hall and Georgetown, is stuck in the same place, an NBA arena that can be a great place to play or it can be antiseptic depending on the quality of the team in any given season. The Bradley Center is fine for Marquette's purposes (though not for Adam Silver's. The NBA commissioner has deemed it unworthy of an NBA team, and the Bucks are financing a new spot) but nothing about it screams exceptional. Fans are generally devoted to the team, but aside from Milwaukee weather outside in the winter, it's not exactly a scary place to visit.
Fun fact: The Bradley Center was constructed in the hopes that the city could attract an NHL team. That never happened, largely because benefactors feared relying solely on an expansion draft would produce a lousy team.

5. Villanova Wildcats: The Pavilion, opened in 1986
Accurately dubbed the Ski Lodge by Philadelphia Daily News columnist Dick Jerardi, the multipurpose Pavilion isn't much to look at and not exactly what pops in your mind when you think "home of the national champions." The weird layout -- too high ceilings for good acoustics, (officially called a hyperbolic paraboloid roofline), an empty space used for indoor baseball training that sits behind the student section -- plus the wine-and-brie season ticket-holding fan base don't exactly add up to an intimidating atmosphere. To their credit, the Villanova students who fill the seats behind one basket do their best to make it noisy. The intimate atmosphere, it holds only 6,500, can make it a tough place to play.
Fun fact: Maybe fun isn't the right word here, but the building was originally called du Pont Pavilion, named after John du Pont, a wealthy philanthropist and heir to the du Pont family fortune. His name was removed in 1997 after du Pont was convicted of murdering Olympic wrestler Dave Schultz.
4. Creighton Bluejays: CenturyLink Center, opened in 2003
Let's start with travel. Omaha is not exactly in the traditional Big East footprint, and getting there isn't easy for anybody. The travel alone can put opponents at a disadvantage. Add to it the Creighton faithful, who helped the Bluejays rank 10th nationally in attendance last season. The only disadvantage? Nebraskans aren't mean like East Coasters. Creighton's most famous fan was the late Mary Ann Filippi, known as "The Dancing Grandma." Doesn't exactly inject terror, does it?
Fun fact: The arena hosted the U.S. Olympic swimming trials in 2008, 2012 and 2016 despite not having a pool. Pool specialists converted the space into a temporary pool, and the Omaha Fire Department did the rest, spending upwards of 12 hours to fill the 1.7 million gallon pools using a nozzle attached to ladder trucks and nearby fire hydrants.
3. Providence Friars: Dunkin' Donuts Center, opened in 1972
The Dunk is not going to win any awards for aesthetics. Even with its 2008 renovations, it remains something of a dump, a bare-bones venue of 1970s origins. But Providence fans are not only faithful; they are pretty creative. In the 1990s, two fans dressed up for each game as The Blues Brothers (one eventually married the sister of the other, making them brothers-in-law). They're also pretty rough, spewing some creative things at opposing players. "Playing up there is one of the roughest environments in our conference," Villanova coach Jay Wright has said. If that's not enough, the shiver-inducing, haunting Friar mascot is always looming on the sidelines.
Fun fact: In 1979, mayor Buddy Cianci canceled a scheduled concert featuring The Who after 11 fans were trampled to death at an earlier Who concert in Cincinnati. "I got plenty of hate mail over it,'' Cianci later said of the decision. "But do I regret it? Not at all." For 33 years, the band never performed in Rhode Island until finally agreeing to appear at The Dunk in 2013. Anyone holding a ticket from the canceled show in '79 was allowed to attend. Thirty-two people, holding tickets at the 1979 price of $11.50, were given seats priced at $129.50.
2. Butler Bulldogs: Hinkle Fieldhouse, opened in 1928
One of the cathedrals of the game, Hinkle remains one of the toughest places to play because of the one-two punch of history and present day relevance. You can practically feel the history of the place when you walk in, or at least see Gene Hackman measuring the hoop from "Hoosiers." Plenty of old buildings lose both their charm and their intimidation as the home team loses its oomph (see St. John's above). That's not the case at Butler. The Bulldogs are still really good, their fans are still really smart and dedicated, and Hinkle is still really awesome.
Fun fact: When Hinkle first opened, the court ran east to west but architects quickly changed the direction, realizing they could add more seats with a north-south configuration.
1. Xavier Musketeers: Cintas Center, opened in 2000
One of the nicer and newer facilities in the league, Cintas Center somehow incorporates all of the trappings for today's fans -- luxury boxes, a VIP bar -- without sacrificing atmosphere. Xavier home games are always rocking and almost always full. This year, in fact, Musketeers fans quite literally overfilled the venue, averaging 10,281 fans or 100.3 percent of the place's capacity. No surprise, Xavier was 15-1 at home this past season and is 43-6 in the past three years. It's also worth noting that the Crosstown Shootout brawl between Cincinnati and Xavier happened at the Cintas Center.
Fun fact: Technically the Cleveland Cavaliers began their march to the NBA championship, and eradicating the city's sports misery, at Cintas Center. That's where, after all, the Cavs played their first preseason game of last season, on Oct. 7.