Arizona officials said Friday their ongoing investigation has yet to find any evidence backing Arizona State star Torian Graham's claims that a Wildcats fan called him a racial slur before Thursday's game.
Prior to the Sun Devils' loss to the rival Wildcats in Tucson, Graham extended both middle fingers toward fans as he walked to the locker room. A video tweeted by Shane Dale of ABC 15 in Phoenix captured the incident.
After the game, Graham tweeted an apology but cited "racial slurs" as the catalysts for his actions. The tweet has since been deleted.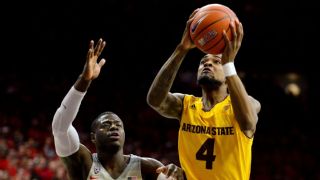 "We continue to look into the accusation made by Arizona State's Torian Graham," Arizona said in a statement. "At this time, we have not heard from anyone, including students, staff and security in proximity of the incident, who can confirm Graham's claim. While we can't say with certainty that it did not occur, we were told by people in that area that they did not hear words or language of that nature prior to, during and after the time of the incident, as well as during the game. We pride ourselves on our sportsmanship, take these matters very seriously and strive to deliver an appropriate environment for visiting teams and patrons."
On Friday, Graham released a new statement that made no mention of his original claim.
"I am truly sorry for my actions to everyone associated with the game last night and for losing focus after the early part of warm-ups," Graham said in the statement released by Arizona State. "What I did should never happen, and there is no excuse. I apologize for all of this, and other concerns I had I will handle the right way internally and with proper guidance."
Graham was not made available to ESPN.com on Friday. When asked if Graham had retracted his original statement, Arizona State spokesman Doug Tammaro said Graham will deal with the next steps in-house.
"He will work with our upper administration internally in relaying what happened at Arizona," Tammaro said. "That will be between us and them."
Graham, a transfer who sat out last season after following Arizona State coach Bobby Hurley from Buffalo, scored 18 points in his team's 91-75 loss at Arizona on Thursday.