When it became evident the two would soon divorce, after the early bliss of their union had wilted, Memphis and Josh Pastner agreed on a popular exchange utilized by unhappy couples seeking to expedite the separation: cash.
Memphis gave Pastner $1.2 million as part of a contract settlement. The Tigers would have owed Pastner a $10.6 million buyout had it decided to fire him after he'd amassed a 167-73 record and 2-4 tally in the NCAA tournament that never equaled John Calipari's reign.
So Pastner left for Georgia Tech, where he's now a serious candidate for ACC Coach of the Year after last week's wins over Florida State and Notre Dame.
"I loved my time at Memphis. Seven years," Pastner told reporters during his introductory news conference at Georgia Tech last year. "We won a lot of games. I followed Coach Calipari. I was on his staff for a year and following him, he had the greatest run in the history of college basketball in terms of most wins, and when I got the job, I was 31 [years old].
"So I was able to be at that level, probably in one of the most intense jobs -- if not the most intense job and tense situation there is. And I grew. I continued to get better as a coach. I loved my time. I had a great experience there and really looking forward now to taking what I learned from there moving into here at Georgia Tech."
Pastner's new post seemed like an appropriate respite from the brood of Memphis fans who'd futilely anticipated a return to the Rodney Carney, Chris Douglas-Roberts, Derrick Rose and Tyreke Evans years, a dream Pastner did not fulfill because he never reached the second weekend of the NCAA tournament with the Tigers. In Atlanta, however, he can build at a Georgia Tech school that has failed to reach the NCAA tournament since 2010 without facing the frenzy he endured at Memphis.
Few projected this debut, though.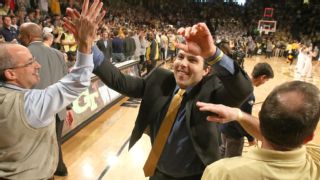 Freshman Josh Okogie's fast-break, game-winning layup against Notre Dame on Saturday sealed Georgia Tech's third win over a top-25 opponent in Pastner's first season. The Yellow Jackets possess a 5-4 record in ACC play and an unlikely slot in Joe Lunardi's "Next Four Out." And yes, Pastner should enter February as the top contender for ACC Coach of the Year and a worthy mention in the national coach of the year conversation.
Just 10 months ago, Pastner appeared to be a prodigy who'd peaked too soon, a coach who'd accepted a job at Memphis he could not handle. And now he's sailing at Georgia Tech.
Perhaps this ride will stop soon. But he's already a success story.
That's how fast the perceptions of coaches -- for better or worse -- can change.
Here's some of the other coaches on the rise and others who've fallen from their former saintly perches.
Coaches rising
Bruce Pearl: In his third season at Auburn, Pearl's Tigers continue to improve. Saturday's win at TCU in the SEC/Big 12 Challenge was Auburn's fourth this season over a team ranked in KenPom.com's top 75. Auburn had three such victories in 2015-16. It's difficult for any coach to accrue momentum at a football school. But Pearl has created a foundation for future success at Auburn. Four of his best players -- Mustapha Heron, Austin Wiley, Danjel Purifoy and Jared Harper -- are all freshmen. With the help of a fresh $89 million arena and practice facility, built prior to the 2010-11 season, Pearl added top-50 recruit Chuma Okeke to his 2017 recruiting class. Auburn's future under Pearl is intriguing. This program could evolve into an SEC contender as early as next season.
Scott Drew: He's an easy target. "Baylor'ing" has trended in tough times under Drew. But "top overall seed" could be the label for a Baylor team that has assembled the nation's sexiest résumé via nonconference wins over Michigan State, VCU, Louisville, Xavier and Oregon. The Bears, who've reached the Elite Eight twice under Drew, could secure sole possession of first place in the Big 12 with a win at Kansas on Wednesday night. Yes, Baylor has lost in the first round of the NCAA tournament in consecutive seasons. Yes, the Bears lost three of their last four Big 12 games in 2015-16 after a previous strong start. But this is also a program that featured just two former top-100 players in its starting lineup at Ole Miss on Saturday. This is also a program that has redshirted multiple players and turned them into stars. "Baylor'ing" is a good thing in 2016-17 because of Drew.
Dan Muller: In three of the four previous seasons, Illinois State's coach led the Redbirds to 18 wins -- a sum he has matched this season with Sunday's 10-point road win over Evansville. Illinois State leads the Missouri Valley Conference with a 10-0 record that includes a 14-point win over Wichita State on Jan. 14. The Redbirds haven't lost since Dec. 23, as Deontae Hawkins leads four Redbirds who are averaging double figures. Muller, just 40 years old, could lead Illinois State to a Missouri Valley Conference tournament title and the school's first NCAA appearance since 1998.
Chris Collins: If you lead a team to the NCAA tournament for the first time, you're probably a good candidate for national coach of the year. Under Collins, Northwestern is 7-2 in league play at the midway point of its Big Ten slate. Only a total collapse would stop the Wildcats from earning their first trip to the NCAA tournament. Following last year's 20-win season, the Wildcats already have 18 victories and a résumé worthy of an at-large berth. If the team earns inclusion on Selection Sunday, Northwestern will build a statue of Collins. Beyond that, he's now the trendiest of the trendy candidates to succeed Mike Krzyzewski whenever the Duke coach decides to retire. Collins talked a big game when Northwestern lured him from his post as an assistant under Krzyzewski. Now it appears he'll make history in his fourth season.
Frank Martin: Much of the coverage of Frank Martin centers on his glares and sideline mannerisms, but we should focus on his coaching in 2016-17. Because Frank Martin can coach. This season's South Carolina squad is ranked first in adjusted defensive efficiency on KenPom.com despite losing three key seniors from last season. Plus, Martin has had to overcome personnel issues throughout the year. South Carolina was 3-3 when Sindarius Thornwell, who leads the team with 19.3 PPG, missed six games due to a suspension. Against Kentucky earlier this month, NBA prospect PJ Dozier, second on the squad at 13.6 PPG, did not play due to back spasms. Martin's squad has not lost this season with Dozier and Thornwell both available. This South Carolina team, barring a major meltdown, should find a spot in the NCAA tournament field. Martin deserves more praise for his gradual elevation of this program.
Coaches falling

Shaka Smart: Now we get to the messy stuff. Smart is like the anti-Pastner right now. He's in this slot because this is what happens when a successful, young coach leads a VCU team to the Final Four, rejects offers from multiple suitors before picking Texas, takes the Longhorns to the NCAA tournament in his first season and enters 2016-17 amid lofty projections. Now, those projections weren't fair for a team ranked No. 343 in experience on KenPom.com. Those projections were probably a year early. Maybe more. But when you have a five-star talent such as Jarrett Allen and a bunch of top-100 kids in the one-and-done era -- yes, we know leading scorer Tevin Mack is suspended indefinitely -- you can't excuse an 8-13 start. You can't excuse a home loss to Kent State. The good news for Smart? Four-star point guard Matt Coleman leads a 2017 Longhorns recruiting class ranked eighth on ESPN.com. At this time next year, we could look back and view this rocky Texas season as an anomaly. Right now, however, it's just ugly.
Kevin Stallings: Remember all of those Pitt fans who wanted Jamie Dixon fired? Well, he's the new leader of a TCU squad that might go to the NCAA tournament in his first season. After last week's 55-point home loss to Louisville, the deafening boom of a six-game losing streak, it's only fair to ask: Where they at, tho? Stallings just turned Dixon's defensively astute Panthers into a squad that's ranked 180th in adjusted defensive efficiency on KenPom.com. Pitt has a loss to Duquesne, too. Supporters may blame the schedule for these woes -- Pitt has faced Louisville twice during its six-game losing streak. But Stallings has Michael Young and Jamel Artis, the most effective offensive duo in the ACC, and he's still 1-7 in league play. Last year's one-and-done NCAA tournament experience ain't looking all that bad now, huh?
Tom Crean: The recent injuries to key players on this Hoosiers roster could make life even worse for Indiana fans. James Blackmon Jr. is out indefinitely with a lower leg injury. And OG Anunoby will miss the rest of the year with a knee injury. But Crean's problems commenced long before two of his best players were sidelined by injuries. The Indiana team that failed to squash Fort Wayne in a nonconference loss never put together the balanced attack to neutralize quality teams. Yes, the Hoosiers look great when their offense soars. But when it stalls, the vulnerabilities of its weak defense emerge. Michigan beat the Hoosiers by 30 points last week. 30. After years of hot-seat talk, Crean quieted the speculation in recent seasons. But if this season gets darker -- and it might -- all of the drama Crean had extinguished in previous years will return.
Lorenzo Romar: Marquese Chriss. Dejounte Murray. C.J. Wilcox. That's the list of first-round picks produced by Romar's Washington Huskies since the 2013-14 season. Markelle Fultz (23.3 PPG), a projected No. 1 pick, will join that list this summer. And he'll have something in common with the three previous first-rounders at Washington. They all failed to win 20 games and missed the NCAA tournament during that stretch under Romar. Can't use youth as an excuse when coaches relying on one-and-done stars throughout the country have found success. The Huskies are 9-12 overall and 2-7 in the Pac-12 with a top-three pick on their roster. That's not helping Washington or the perception of Romar.
Wayne Tinkle: As Kanye West once said, "It was all good just a week ago." That could apply to Tinkle's trajectory at Oregon State. He was hired in 2014, a year after leading Montana to the NCAA tournament. In 2015, he added a nationally ranked recruiting class that featured his son, Tres Tinkle. Then, the Beavers reached the NCAA tournament last year, the first trip for the program since 1990. Things fell apart in 2016-17, though. Gary Payton Jr. is gone, and Tres Tinkle has missed most of the season with a broken right wrist. Both significant losses. But Tinkle played well, and Oregon State still got off to a 2-4 start, which included losses to Lamar and Fresno State. Still a mess three months later. Has this Oregon State squad, 0-9 in the Pac-12, quit on Tinkle? Maybe. Even though they're shorthanded, you can't disregard a home loss to Savannah State and double-digit loss to Washington State. A year after making history, Oregon State is now one of America's worst teams. That's unexpected.