It's no secret -- particularly after Duke's Wednesday night win at Virginia, a good team posing a hostile environment -- that the Blue Devils have, like the mythical Stella, gotten their groove back.   ESPN's Dana O'Neil provided a window into the nation's single most interesting team, and the injuries, controversies and behind-the-scenes team meetings that have earned it so much fascination in the first place. Yet even before Wednesday night's win, it already appeared that the Blue Devils, having won five in a row, had figured things out; mostly they regarded their troubles in the past tense. In Charlottesville, Jayson Tatum's 28-point 3-point barrage only confirmed it.
More than that, though, it carved out one more twist in   the 2016-17 ACC's giddy, borderline nonsensical plot: The Blue Devils, overwhelming favorites left for dead, just might win this thing after all.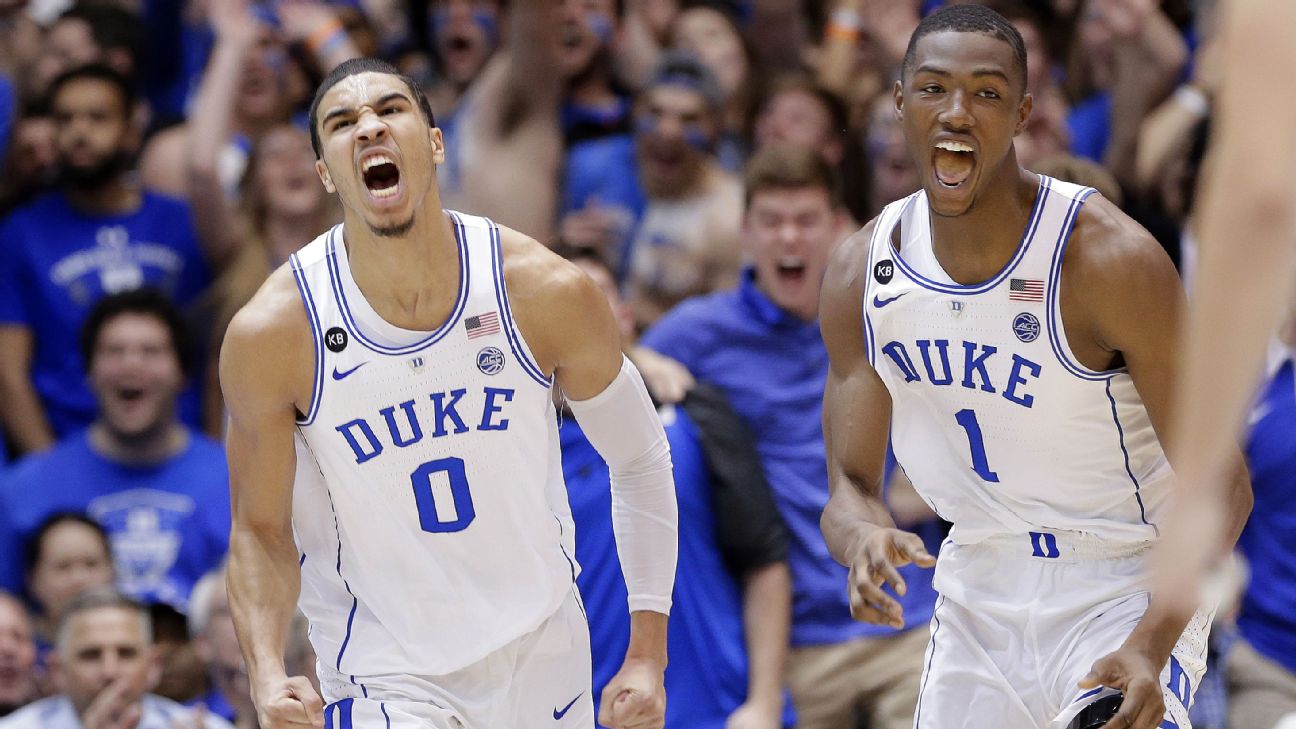 At the very least, they've rejoined the top of the cast billing. Duke's six-game winning streak has them tied at second place with two other, vastly more consistent, league contenders: Louisville and Florida State. All three trail North Carolina (10-3 ACC) by one game.
Notre Dame is a game and a half behind at 9-5. Virginia, having lost four of its past six, is 8-5. One of the two wins in that stretch was the Cavaliers' second of the season over Louisville, for whom Tony Bennett's Cavs are basically krpytonian. One of those four losses came to Syracuse -- the same Syracuse team, technically, that gave up 96 points to Boston College in its ACC opener on Jan. 1. The same Syracuse, technically, that lost to St. John's by 33 at the Carrier Dome in December. The Orange are 8-6.
From there, four more teams (Miami, Virginia Tech, Georgia Tech [!] and Wake Forest) have at least six wins apiece. Clemson, which is arguably as good as any of those four on a given night, is 4-9, with six of their ACC losses coming by five or fewer points (and, of those, four were one-possession and/or overtime affairs).
As early as mid-January, this league looked like a bizarre and glorious mess. A month later, not much has changed.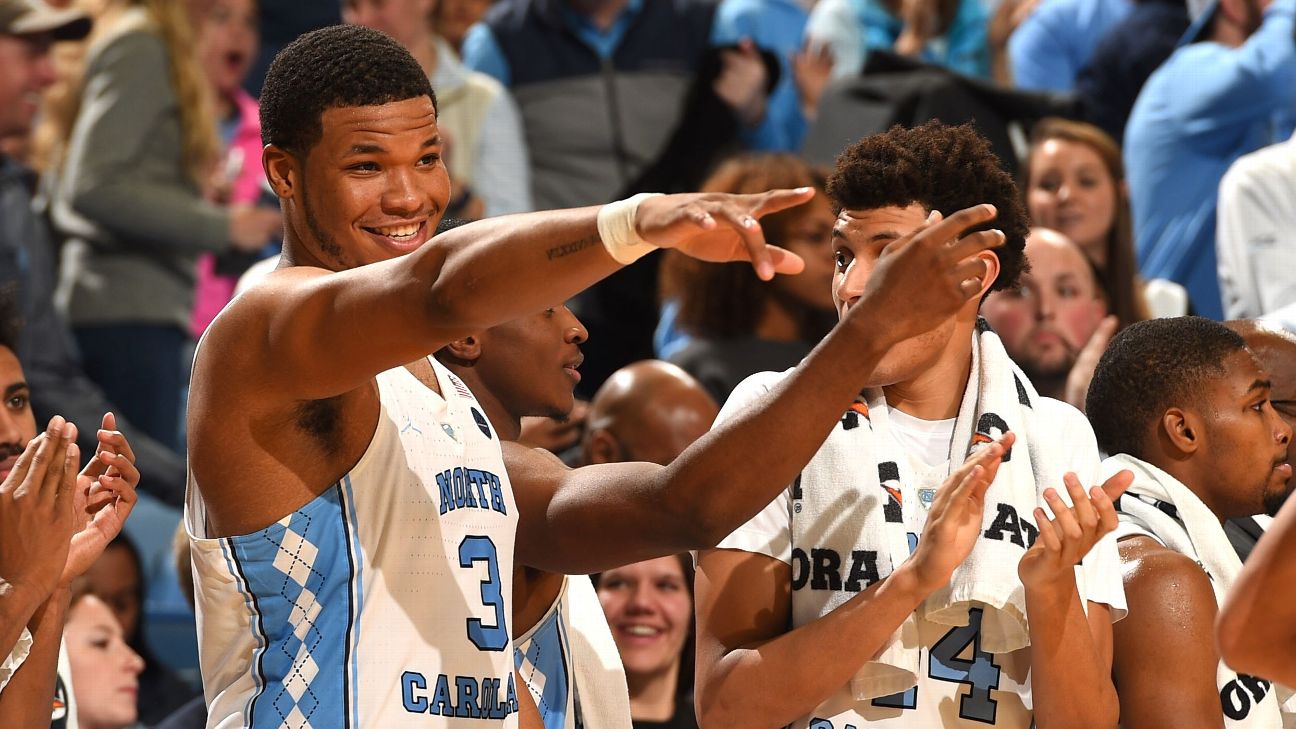 Meanwhile, that scant one-game separation the Tar Heels have at the top of the league looks destined to dwindle before the season is done. UNC's remaining schedule is brutal, and that might be putting it kindly: On Saturday, the Tar Heels host Virginia (8:15 p.m. ET, ESPN/ESPN App). On Wednesday, Louisville comes to town. Next Saturday, the Heels travel to Pittsburgh, and then, two nights later, go to Virginia. On March 4, they host surging Duke, which played the best game of its season in the first matchup at Cameron Indoor Stadium last week.
Duke's schedule is far more forgiving: Wake Forest, at Syracuse, at Miami, Florida State, at UNC. Florida State's is too: at Pitt, Boston College, at Clemson, at Duke, Miami. Louisville's isn't so bad: Virginia Tech, at UNC, Syracuse, at Wake, Notre Dame. Virginia's three non-UNC fixtures come against Miami, crumbling NC State and Pitt. Notre Dame has emerged from the roughest stretch of its schedule -- Jan. 18-Feb. 5, when the Irish played Florida State, Virginia, Duke and UNC in a matter of six games -- and closes with: at NC State, Georgia Tech, Boston College, at Louisville. Even Syracuse gets Georgia Tech twice in its last four outings.
The Tar Heels' closing slate is, without question, the hardest of any team in striking distance of the ACC title. And the sheer number of teams on their, um, trail (phew) widens the scope of possibility: Roy Williams' team doesn't need to worry about just one team getting hot. It needs to worry about, like, five.
For a healthy portion of the 2016-17 season, it appeared that Duke -- the overwhelming ACC and national title favorite in October -- wouldn't be joining in the hunt. Instead, the Blue Devils' triumphant return adds yet another would-be champion to the mix, and one with as much talent, and one currently playing as good a brand of basketball, as any.
It's yet one more thread in the ACC's hilarious, baffling tapestry. Duke is back, and this conference keeps getting crazier.
---
No. 3 Kansas at No. 4 Baylor, 1 p.m. ET Saturday, CBS
Speaking of crazy conference title races. Or ostensibly crazy title races, anyway. The Big 12 title means more than any other, because no other conference title carries with it the weight of a 12-year championship streak, not to mention the chance to tie UCLA for 13 straight, the most in men's hoops history. And here the Jayhawks are again, 11-2 and two games ahead of their closest competition with four to play, making the whole thing seem casual, routine, preordained.
It hasn't been -- or at least it shouldn't have been -- for two reasons.
The current Big 12 isn't merely the strongest top-to-bottom league in the country: It's one of the better conferences in recent history, period. Meanwhile, the first-place Jayhawks have actually been outscored on a per-possession basis -- and not just by one team, but by two.
Instead, Kansas -- as it proved in its most dramatic fashion yet Monday night in a comeback overtime win over West Virginia -- is winning almost every game it plays by remarkably narrow margins. Eventually, you're supposed to lose some of those games; things are supposed to even out. Maybe they will Saturday at Baylor, which boasts the league's toughest defense and best efficiency margin. Baylor nearly knocked off the Jayhawks Feb. 1 at Allen Fieldhouse. But if Kansas escapes Waco with a narrow win, would anyone be surprised? Oh, and even if the Bears do get it done, they'll still be a game behind -- left to the mercy of a Jayhawks team to whom the normal laws of the universe don't seem to apply.

No. 23 Maryland at No. 11 Wisconsin, 1 p.m. ET Sunday, CBS
How good was Maryland guard Melo Trimble on Wednesday night? It was supposed to be Northwestern's night: The Wildcats, coming off the biggest win in program history at Wisconsin, were looking to tie a school record for wins (which, unbelievably, sits at 20) and remove all reasonable doubt about their odds of receiving the program's first-ever NCAA tournament bid. And then Trimble arrived, planted his flag, and laid claim to everything in and around Welsh-Ryan Arena forever. He scored 32 points, shot 8-of-12 on 2s and 4-of-5 on 3s, added four rebounds and three assists, and looked as good as at any point in his career, let alone since his breakout freshman season.
Even more impressive was the sheer swagger on display. As Maryland coach Mark Turgeon said afterward, he admitted he wanted Trimble to be "borderline cocky" on the court. Trimble wound defenders around and between screens. He pulled them back and forth between extended perimeter defense and the threat of penetration. And when he inevitably finished, he would turn to Northwestern's fired-up crowd and talk a whole mess right back to them. It was Khalif Wyatt-esque. If Trimble brings that with him to Madison on Sunday -- if this is, like, a thing now -- that's downright terrifying for the Badgers.