Michigan State forward Ben Carter was granted a sixth year of eligibility Monday as the NCAA approved a medical hardship waiver submitted by the school.
Carter, who was a graduate transfer to Michigan State from UNLV last year, underwent knee surgery that ended his season last October after landing awkwardly in practice. It was Carter's second knee surgery last year as his final season at UNLV ended abruptly due to a surgery he had last January.
Carter said in a statement that he feels "blessed" after the NCAA's decision.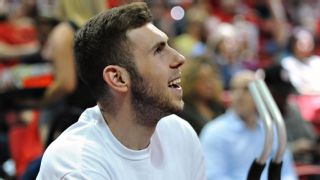 "When I first decided to transfer to MSU, I thought it would be just a quick eight-month stop. I never imagined I would form the strong bonds with my teammates that I have. Everyone embraced me as part of the family, even after my injury, and that only makes me more excited for next year. I look forward to finishing my master's, and helping the team in any way I can," Carter said.
The 6-foot-9 Carter was averaging 8.6 points and six rebounds for the Rebels before the knee injury ended his season. He spent the first two seasons of his college career at Oregon.
"Despite being injured all of last season, he was a positive addition to our team. Ben was a great teammate and looked for any way he could to contribute, never missing a practice. He's worked extremely hard on his rehab, and still has a lot more work to do, but I'm happy that he'll get a chance to take the court with us next season while also being able to finish his master's degree," Spartans coach Tom Izzo said in the statement.
"After two knee injuries there are never any guarantees, but I'm hoping that he'll be able to contribute a little bit on the court and a lot off it."