COLUMBUS, Ohio -- New Ohio State basketball coach Chris Holtmann's $3 million annual contract includes incentives for making the NCAA tournament and ensuring his players get good grades.
Ohio State signed the former Butler coach to an eight-year deal to replace Thad Matta, who was fired June 5. The contract still has to be approved by university trustees, but Ohio State released the terms Wednesday.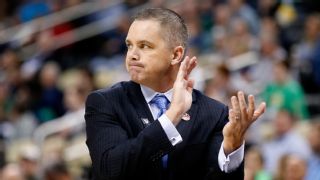 The contract contains bonuses for winning, including $40,000 for making the NCAA tournament and $100,000 for winning the national championship. Plus, Holtmann gets $50,000 if his players can maintain an average cumulative grade-point average of 3.0. If the players can manage a cumulative 3.5 average, he'll make $150,000.
The contract also includes football tickets and a golf club membership.
He'll be eligible for a raise beginning next year.
Ohio State was 17-15 last season and 7-11 in the Big Ten, and missed the NCAA tournament in 2016 and 2017. All five of Matta's 2015 recruits have transferred or quit the program, most recently star guard JaQuan Lyle. Starting center Trevor Thompson left for the NBA.
"We have tremendous work ahead of us," Holtmann said in his introductory news conference, declining to put a timetable on when the Buckeyes will return to the NCAA tournament.
Information from the Associated Press was used in this report.