Teams slotted in the Way-Too-Early Top 25 are generally in good shape for the upcoming college basketball season, whether they're true national championship contenders or simply squads that can win a game or two in the NCAA tournament.
But July isn't about the upcoming season. It's about recruiting. It's about the longer-term future.
Where do next season's best teams sit moving forward? Several have already made splashes in 2018, while others are waiting to see more targets during the next few weeks of the live period.
Here's a brief look at what each top-25 team needs in the 2018 class:
1. Arizona Wildcats
Sean Miller has been busy with the 2018 class, landing five-star power forward Shareef O'Neal (No. 18) and talented point guard Brandon Williams (No. 42). The Wildcats also picked up Emmanuel Akot, but he reclassified in the spring into the 2017 class. They also have Duke transfer Chase Jeter sitting out the upcoming season. Arizona has four seniors on this year's roster, and DeAndre Ayton, Allonzo Trier and Rawle Alkins could all leave after this season for the NBA draft. As a result, Arizona still has a lot of work left to do in 2018. The Wildcats want another point guard, with Jahvon Quinerly (No. 15), Tre Jones (No. 19), Quentin Grimes (No. 29), Elijah Weaver (No. 46) on the list. They want a scoring wing, as well as another big man or two. Other top targets include No. 1 Marvin Bagley III, Bol Bol (No. 4), Nazreon Reid (No. 7), Gerald Liddell (No. 31) and four-star center Bryan Penn-Johnson.
2. Kansas Jayhawks
It wasn't a vintage transfer class in the spring, but Bill Self might have landed the top three names on the market. He brought in Dedric Lawson and K.J. Lawson from Memphis and then also picked up California transfer Charlie Moore. That puts the Jayhawks in a good position moving forward, regardless of whom they eventually get in the 2018 class. Longtime contributors Devonte Graham and Svi Mykhailiuk will be gone after this season, meaning the Jayhawks need perimeter reinforcements. Moreover, despite the versatility of the Lawson twins and incoming freshman Billy Preston, Kansas wants more frontcourt help. They're recruiting seemingly the entire top 10, led by Bagley, Zion Williamson (No. 2), Bol, Moses Brown (No. 6) and Jordan Brown (No. 8). On the perimeter, Grimes, Devon Dotson (No. 33) and Ayo Dosunmu (No. 39) are on Kansas' target list, and the Jayhawks recently made an offer to Nassir Little (No. 36).
3. Michigan State Spartans
Tom Izzo enters July with most of his 2018 business already finished. Michigan State has four commitments in the 2018 class, with all four players from the state of Michigan. Three of them are ESPN 100 prospects: Foster Loyer (No. 66), Gabe Brown (No. 86) and Marcus Bingham (No. 98), while Thomas Kithier is a four-star prospect. The Spartans are losing Tum Tum Nairn, as well as forwards Ben Carter and Gavin Schilling. The four commits should replace those departures, but Izzo will likely have one scholarship remaining when Miles Bridges inevitably leaves for the NBA after his sophomore season. Don't think the Spartans are necessarily done yet, as they are still recruiting Joey Hauser (No. 49), Luguentz Dort (No. 24) and Kaden Archie.

4. Kentucky Wildcats
In most years, we could project the Wildcats to lose just about their entire starting five plus a couple of other promising players. That might not be the case next spring, with fewer clear-cut one-and-done options entering the program. Hamidou Diallo is likely gone, with Jarred Vanderbilt, Nick Richards and Kevin Knox as potential departures. John Calipari is going after his usual assortment of elite prospects, including Bagley, Williamson, Bol, Cameron Reddish (No. 3) and Romeo Langford (No. 5). Five-star point guard Immanuel Quickley (No. 14) is a Kentucky lean right now, and the Wildcats are also on the lists of Moses Brown and Reid.
5. Duke Blue Devils
Much like Kentucky, the Blue Devils could see several guys leave next spring. Grayson Allen will be a senior next season, so Mike Krzyzewski will need a scoring guard to replace him. Trevon Duval is the best guard entering college basketball next season, so he's likely gone -- and Duke is pursuing point guard replacements. Then there's Marques Bolden, Wendell Carter and Gary Trent Jr. At least one or two of them could depart Durham, North Carolina, next spring. The Blue Devils are going after Bagley, Williamson, Reddish, Langford and Moses Brown, with Bagley expected to visit this month. Darius Garland (No. 11) and Tre Jones (No. 19) are the top two options at point guard. Other options include David McCormack (No. 34), Emmitt Williams (No. 12) and Jairus Hamilton (No. 41).

6. Wichita State Shockers
It's a year of change for the Shockers, one that will continue into 2018. Wichita State is moving into the American Athletic Conference, which could mean Gregg Marshall possibly gets involved with a higher level of player than in previous classes. For recruiting purposes, the Shockers are losing six seniors from this season's team -- so expect a huge first class for Wichita State in the AAC. Marshall has already landed two prospects -- shooting guard Erik Stevenson and small forward Rodgerick Brown -- who committed on back-to-back days a couple of weeks back. The biggest key for Marshall for the 2018-19 season could be making sure Markis McDuffie and Landry Shamet don't leave school early.
7. North Carolina Tar Heels
With the early draft entries of Justin Jackson and Tony Bradley, the Tar Heels won't see a mass exodus after the upcoming season. That said, Joel Berry III and Theo Pinson are out of eligibility, which will mean a changing of the guard in the backcourt in 2018. Fortunately for Roy Williams, the Tar Heels already have their backcourt of the future tied up in Coby White (No. 26) and Rechon Black (No. 64). Those two have been committed for a while, easing some of the pressure entering the summer. Hamilton and Williamson are the two biggest targets left on the board for the Tar Heels.
8. Florida Gators
Mike White did one of the best coaching jobs in college basketball last season, and the Gators are hoping to carry some of that momentum over to the 2018 class. Chris Chiozza and John Egbunu are gone, as is Rice graduate transfer Egor Koulechov. Florida seems to be looking heavily on the perimeter for 2018, with a point guard, shooting guard and another wing on the board. Among the top targets are Michael Devoe (No. 89), Nassir Little (No. 36), Devon Dotson (No. 33), Khavon Moore (No. 45), Darius Days (No. 79), David Duke (No. 54), Saddiq Bey, Kaden Archie and Noah Locke (No. 80).
9. West Virginia Mountaineers
It's always difficult to handicap a Bob Huggins recruiting class, given the Mountaineers have done a great job with local prospects and under-the-radar players. Guards Jevon Carter and Daxter Miles Jr. are gone after this season, and West Virginia is clearly focusing on the backcourt for the 2018 class. The Mountaineers are already working toward fully replacing both players with ESPN 100 point guard Jordan McCabe (No. 100) committed. They still want one more guard with their last remaining scholarship.
10. Louisville Cardinals
We haven't quite seen how the dust will settle from the NCAA investigation into Louisville's program, but the Cardinals continue to roll on the court and on the recruiting front. Rick Pitino already has ESPN 100 guards Anfernee Simons (No. 21) and Courtney Ramey (No. 35) in the fold for the 2018 class, which will help replace Quentin Snider and also add some shooting and dynamic offensive ability to the backcourt. Connecticut transfer Steven Enoch is also sitting out the upcoming season. Snider and Anas Mahmoud are the only seniors on the roster, but Deng Adel, Ray Spalding, Brian Bowen and V.J. King could all have breakout seasons and try their hand at the NBA draft. As a result, the biggest target left for Louisville is Langford. The Cardinals are in a good position with him, but they still have to beat out Kentucky, Duke and the rest of the country's bluebloods for him. The rest of the target board includes Moses Brown, Ian Steere, Reid and Louis King (No. 16).

11. Villanova Wildcats
Jay Wright received some good news before the July period last week, when ESPN 100 Cole Swider (No. 48) chose the Wildcats over Duke, Syracuse and Xavier. Swider is Villanova's second 2018 commit, joining Brandon Slater (No. 73). Next spring we could see Jalen Brunson or Mikal Bridges leave early for the NBA draft, and Wright is looking for a point guard to be the next piece in 2018. Quinerly is atop the list, with Weaver and David Duke (No. 54) also on the board, while elite wing Reddish is the subject of a tough recruiting battle involving Villanova, Duke, Kentucky and more.
12. Miami Hurricanes
The Hurricanes are poised for a big season in 2017-18, and they've also seen more success on the recruiting trail with five-star Lonnie Walker and a top-10 recruiting class entering the fold this season. For the 2018 class, Jim Larranaga will look to the perimeter. Ja'Quan Newton is a senior, while Walker and Bruce Brown could both leave early for the NBA draft. The Hurricanes made the recent lists for Reddish, Quickley, Dotson and Jalen Carey (No. 55), though it will be an uphill battle for those guys. Emmitt Williams (No. 12) is an in-state option, while Miami is also recruiting Dort (No. 24), Little, Jermaine Harris (No. 91) and others.

13. USC Trojans
No team in America had a better week than USC, as the Trojans landed three ESPN 100 prospects in a seven-day span. It started with power forward J'Raan Brooks (No. 72), followed up by five-star forward Taeshon Cherry (No. 20) and then wrapped up with a come-from-behind win for Kevin Porter Jr. (No. 81). Andy Enfield is now well positioned moving forward in 2018, where the Trojans are going to make runs at Tre Jones and Bagley. Jordan McLaughlin and Elijah Stewart in the backcourt are both seniors, while Bennie Boatwright and Chimezie Metu are likely to leave early for the NBA draft.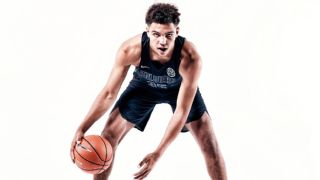 14. UCLA Bruins
Can Steve Alford get another elite recruiting class to Westwood? The Bruins have one player committed so far, ESPN 100 guard David Singleton III (No. 58). UCLA will have to replace Thomas Welsh as he will be a senior next season, while Aaron Holiday is a candidate to leave early for the NBA. LiAngelo Ball is also likely to leave early, as his father has said many times. They're going after four more players: two guards, a forward and a big. The Bruins are in pursuit of Bagley and fellow top-10 bigs Bol, Jordan Brown, Moses Brown and Reid. Reddish has been to campus, and they're recruiting five-star Keldon Johnson. Jules Bernard (No. 57) and four-star small forward Timmy Allen are two of their other forward targets. They recently offered Penn-Johnson and Little, as well. At point guard, Tre Jones is the top target -- but they'll have to beat out Duke for him. Garland and Quinerly are two more targets. The Bruins recently became involved with Will Richardson (No. 82).
15. Minnesota Golden Gophers
Richard Pitino is focusing on in-state prospects for most of the Golden Gophers' 2018 board, with ESPN 100 center Daniel Oturu (No. 51) already committed and five-star point guard Tre Jones leading a quality crop of local options. They will have to beat out Duke, UCLA, and others for Jones, but the other in-state options could be more realistic. Race Thompson saw his stock rise in the spring, while Jarvis Thomas and Gabe Kalscheur both visited campus recently. Jake Forrester, Souleymane Koureissi, Brendan Adams and Marcus Zegarowski are among the other 2018 prospects with Minnesota interest. Pitino will have to replace do-it-all point guard Nate Mason, as well as three other seniors, though incoming freshman Isaiah Washington is going to be the playmaking guard for Pitino for years to come.
16. Cincinnati Bearcats
The Bearcats' departures after next season are going to most weaken the frontcourt, with mainstays Kyle Washington and Gary Clark leaving, as well as Quadri Moore. So Mick Cronin will look for a 4-man to replace some of the offense leaving, but he'll also focus on the backcourt, primarily a point guard and a combo. Alex Lomax (No. 78) and Jaelin Llewellyn are the top names at the point guard spot, with Maryland native Wynston Tabbs another target in the backcourt. Darius Days and Nassir Little are the primary options up front. Saddiq Bey is also on the board.
17. Xavier Musketeers
Chris Mack and the Musketeers have been recruiting at a higher level in each of the past few years, with a top-15 incoming class in 2017. Can they continue the trend in 2018? Potential Big East Player of the Year Trevon Bluiett will be gone after next season, as well as J.P. Macura, Kerem Kanter and Sean O'Mara, meaning the Musketeers can target pretty much every position. Dosunmu is the top point guard target, while Isaiah Mucius (No. 67), Noah Locke (No. 80), Will Richardson (No. 82), Montez Mathis (No. 98), Eric Hunter and Luther Muhammad are among the names on the wing. Up front, Darius Days (No. 79), Jermaine Harris (No. 91), Talen Horton-Tucker, Jarvis Thomas and Trevion Williams are the options.
18. Seton Hall Pirates
The Class of 2018 is shaping up to be a pivotal one for Kevin Willard and the Pirates, with the triumvirate of Khadeen Carrington, Desi Rodriguez and Angel Delgado all leaving after next season. Willard has started the process of replacing them, with Sacred Heart transfer Quincy McKnight sitting out the upcoming season. But Seton Hall will have at least four scholarships available and have a long list of targets. In the New Jersey area, 2018 is a good class with guys like Reid, Quinerly and Carey all including the Pirates on their final lists. Seton Hall offered point guards Marcus Zegarowski and Anthony Nelson in the past few weeks, as well as power forward Ian Steere.
19. Gonzaga Bulldogs
After reaching the national championship game, Mark Few had to bid an early farewell to Nigel Williams-Goss and Zach Collins, which means the Bulldogs will take a step back for the upcoming season. Moving forward, Few will have to replace Silas Melson and Johnathan Williams III in what should be a big 2018 class, with up to five scholarships available. The Zags actually already have two 2019 commitments but zero in 2018 so far after missing out on Taeshon Cherry. Some of the main targets include Kamaka Hepa (No. 62) and four-star Tevian Jones, but we should know by now that Gonzaga operates heavily with transfers and overseas players.
20. Northwestern Wildcats
Chris Collins clearly has the Wildcats on the upswing, after leading them to the NCAA tournament last season. It is carrying over to the recruiting trail, as they just landed ESPN 100 Pete Nance (No. 68) after beating out Michigan and Ohio State. Nance was the second 2018 commitment for Northwestern, joining point guard Jordan Lathon. That should help ease the burden of having to replace Bryant McIntosh and Scottie Lindsey after next season, along with big man Gavin Skelly. The Wildcats are still eyeing more perimeter punch as well as frontcourt depth, with Dosunmu, Dwayne Cohill (No. 93), Miller Kopp and Riley Battin on the board.
21. Notre Dame Fighting Irish
The Fighting Irish had a strong spring in terms of positioning themselves for 2018, landing ESPN 100 guards Prentiss Hubb (No. 76) and Robby Carmody (No. 74), as well as UConn transfer Juwan Durham, a former ESPN 100 prospect. They struck again on Wednesday night, getting a third ESPN 100 commitment, from Dane Goodwin. Despite Matt Farrell and Bonzie Colson both leaving after next season, along with Martinas Geben and Austin Torres, Mike Brey is already well ahead of the game in terms of replacements. The last piece is a stretch-4. Joey Hauser is a main option, while Simi Shittu (No. 9) would be a home run commitment.
22. Saint Mary's Gaels
Randy Bennett will have a lot of work to do in the 2018 class, as Jock Landale, Calvin Hermanson and Emmett Naar are all seniors, while graduate transfer Cullen Neal will also be gone. Jordan Ford and Kristers Zoriks should help in the backcourt, but the Gaels will need reinforcements there, as well as a post player to help replace Landale. Point guard Logan Johnson is one of their targets, and the Gaels just made an offer to four-star forward Kristian Sjolund.
23. Butler Bulldogs
Once again Butler had to make a coaching change right before the July period, though at least LaVall Jordan had a little more time than Brandon Miller did in 2013. Chris Holtmann had the Bulldogs in the mix for a long list of high-quality options, and it remains to be seen whether Jordan will keep it going. He will have to replace Kelan Martin and Tyler Wideman after next season, and former ESPN 100 forward Kyle Young recently departed for Ohio State. Since Jordan took over, Butler has made offers to Jaxson Hayes, Miller Kopp and Aaron Henry.

24. Texas Longhorns
After Shaka Smart's five-man 2017 class and the pickup of Mount St. Mary's transfer Elijah Long, Texas technically has only one scholarship available in 2018. But that will definitely change next spring, when Mohamed Bamba and Andrew Jones likely leave early for the NBA draft. So the Longhorns can recruit a number of players. Five-star wing Keldon Johnson (No. 13) is near the top of the board, while they have a good shot at Grimes if he stays in the state. Kamaka Hepa recently visited Austin, as did ESPN 100 point guard Jared Butler (No. 94). Other top targets include Gerald Liddell (No. 31), Kaden Archie and Brock Cunningham (No. 88).

25. Missouri Tigers
Cuonzo Martin and the Tigers landed the top-ranked player in 2017, with No. 1 Michael Porter Jr. And entering the live period, Missouri has the highest-ranked 2018 player committed, with Porter Jr.'s brother, Jontay Porter (No. 10). Of course, there's a good chance Porter reclassifies into the 2017 class sometime this summer. Martin will have to enter the 2018 class assuming he will lose Porter Jr. after next season, as well as guard Kassius Robertson and forward Jordan Barnett. Former Illinois commit Javon Pickett is already in the 2018 fold, as he recently decided to take a post-graduate year. The Tigers are on the list of Torrence Watson (No. 56), Jaedon LeDee (No. 60), Lomax (No. 78), Mathis (No. 98) and others.