LAWRENCE, Kan. -- Kansas basketball coach Bill Self said Friday that he's more concerned about his sport than potential problems for the Jayhawks, in regard to the ongoing federal investigation into bribery in college basketball.
"I don't think our fans, at this point, have anything to worry about," Self said.
The Kansas program came under public suspicion after the Sept. 26 arrests of assistant coaches at Arizona, USC, Auburn and Oklahoma State. They are among a group of 10 people charged with fraud and corruption.
The FBI probe has focused on large payments made to coaches to steer NBA-bound prospects toward sports agents, financial advisers and apparel companies. Louisville coach Rick Pitino lost his job because of his program's alleged illegal involvement with an elite prospect.
Adidas executive Jim Gatto and Merl Code Jr., a former Clemson star employed by the apparel company, were among those arrested. Kansas announced last month that it had reached a 12-year contract extension with Adidas to pay the school an additional $191 million in sponsorship and apparel.
Self said Friday that he knows Gatto but that they have not communicated since news of the scandal broke. The Hall of Fame coach, entering his 15th season at Kansas, said he was surprised by FBI findings of six-figure payments made to coaches and prospects.
"What's not surprising is third-party involvement in recruiting," Self said at Kansas' preseason media day. "Everybody should know that. That's prevalent everywhere. It hasn't been illegal. There's nothing illegal about agents talking to kids and their families in ninth and 10th grade. There's nothing illegal about shoe companies funding AAU programs.
"That's what's been encouraged and that's what's been done. It shouldn't come as a total surprise that you could have influence coming from third parties when those things are prevalent."
Self said the model must change.
"And hopefully what has transpired will create some positive things moving forward that will not only be better for our sport but better for all collegiate athletics," Self said.
It's not as simple, he said, as opting to pay salaries to college football and basketball players. Or allowing them to sign as amateurs with agents. Or to let them again go to the NBA out of high school. Or for college basketball to adopt the rule from college baseball that largely prevents players from leaving for the professional game before their 21st birthday.
"People say they have all the answers," Self said. "These things all sound very simple in theory. I'm not saying some of them or all of them couldn't work, but this has to be a long, vetted-out process to determine what we want amateurism to be."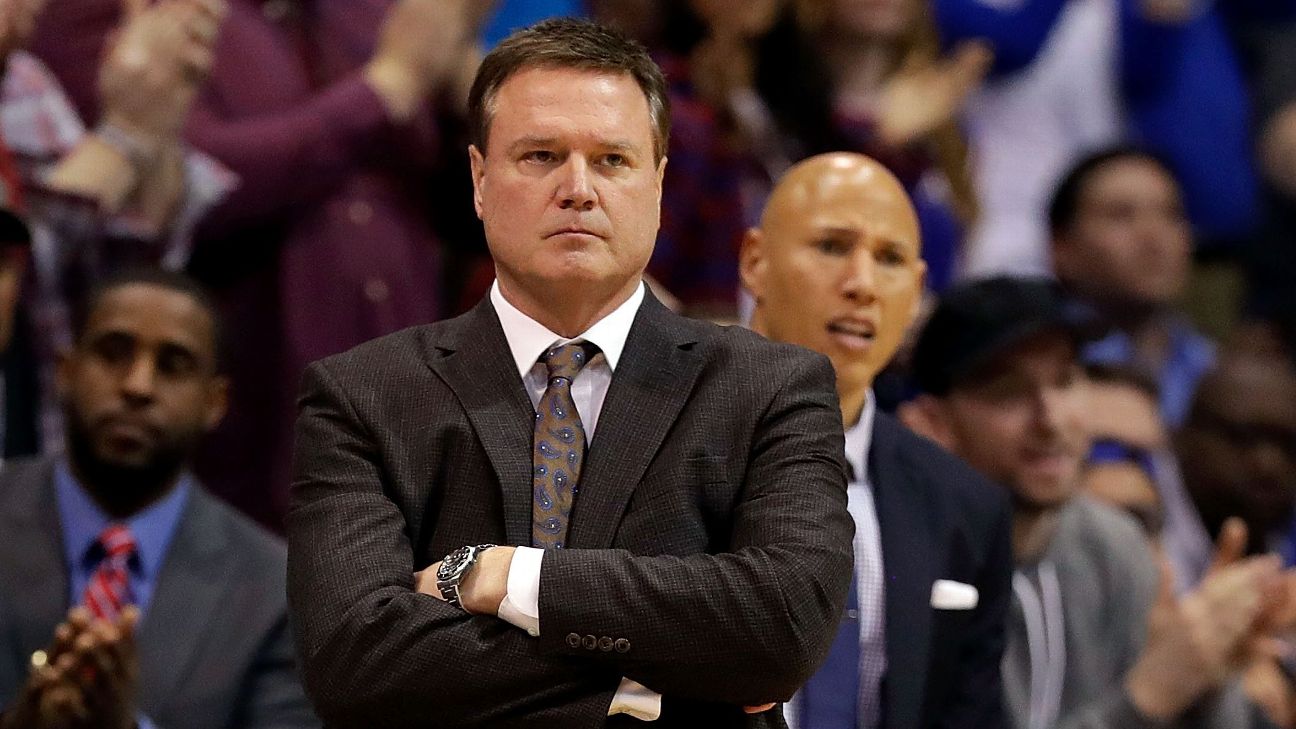 The NCAA announced this week that it has created the Commission on College Basketball to reform and cleanse the sport. The group will be led by Condoleezza Rice, former U.S. secretary of state, and it includes NCAA president Mark Emmert.
"I think the model where we see it now will not exist in the near future," Self said. "It may be tweaks, but I also think there could potentially be some major changes."
The University Daily Kansan reported this week that the FBI, in response to a Freedom of Information Act request, said it possesses documents related to KU and its Adidas deal.
The FBI declined to release the documents because of the ongoing investigation. On Friday, Self cautioned against attaching any negative connotations to the FBI's response; he said the FBI would have responded that way to any such request in the wake of the national scandal.
"It was very clear that it was a standard answer," he said.
Kansas players on Friday offered little when asked how the environment in the sport may impact the Jayhawks this season.
"The only thing I can say is that it's crazy," sophomore guard Malik Newman said. "Just programs getting hurt, that's all I see coming out of it."
Newman said none of the Jayhawks are thinking about ramifications at Kansas.
KU is scheduled to open its exhibition season Oct. 22 in Kansas City against Missouri. Self's team was eliminated in the Elite Eight round of the NCAA tournament in each of the past two seasons.