A year ago, point guards were all the rage. UCLA's Lonzo Ball had captivated the nation, De'Aaron Fox was the guy blowing up in Lexington when it mattered most, Kansas' Frank Mason was the best player in the country, and Markelle Fultz wound up being the No. 1 pick.
Not this year. This will be the Year of the Big Man.
No, the traditional low-post center isn't making a comeback in college basketball -- not unless you count Patrick Ewing coming back to coach Georgetown. But long and versatile forwards will be abundant throughout college hoops this season.
Mike Krzyzewski told ESPN.com he has never had a team like this one in his nearly 40 years as the coach at Duke. In a day and age when the Golden State Warriors have helped turn small ball from a sensation into a way of life at every level, Coach K could wind up tossing out a front line of 6-foot-10 Wendell Carter Jr., 6-foot-11 Marvin Bagley III and 6-foot-11 Marques Bolden.
"We'll definitely have that group out there at times," Krzyzewski said. "For us, it's the biggest team we've ever had. It's not like the big guys we have are plodders. They're athletic and can really run."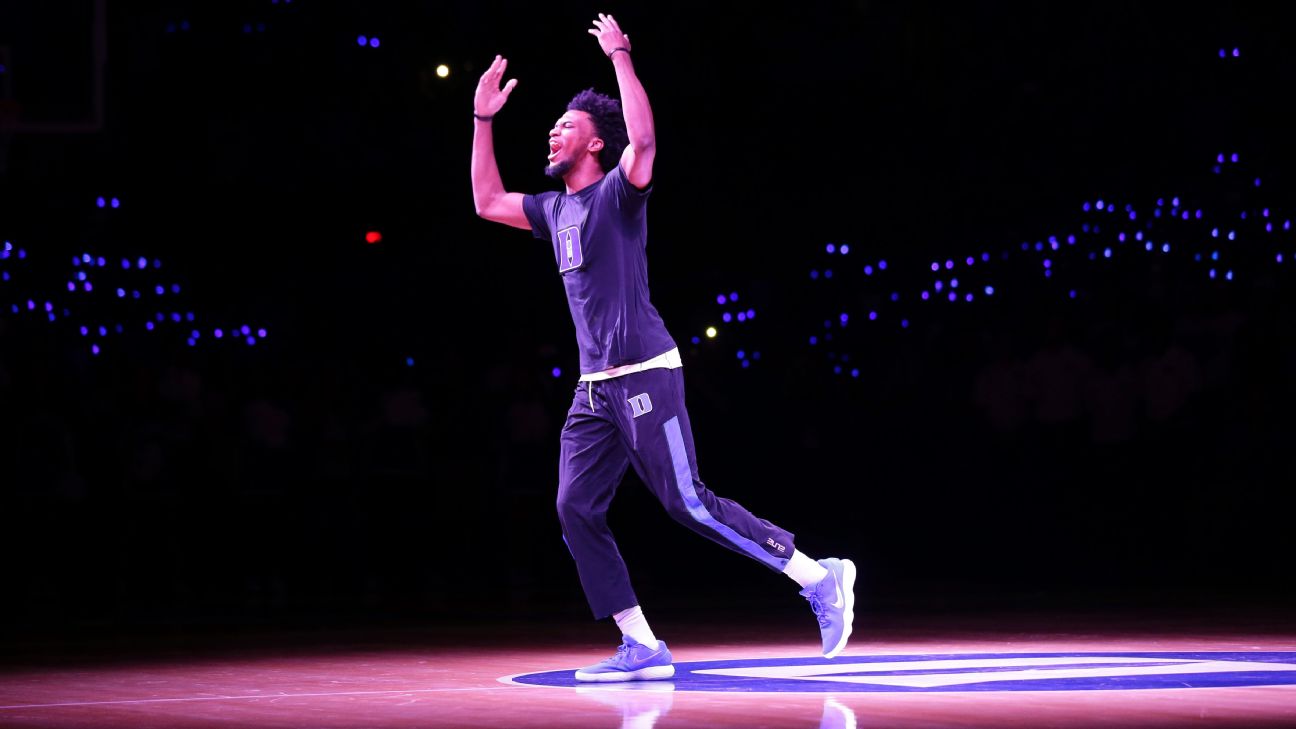 If Duke wasn't favored to cut down the nets come April, that label would belong to Michigan State. Coach Tom Izzo has a half-dozen players he'll be able to rotate in and out of the 4 and 5 spots. Combo forward Miles Bridges is the cornerstone, but there's a chance 6-foot-11 Jaren Jackson could be drafted ahead of his teammate come June. Seniors Ben Carter (6-9) and Gavin Schilling (6-9) are both back and healthy for the Spartans, and sophomore Nick Ward (6-8) and freshman Xavier Tillman (6-9) are talented and should see plenty of playing time.
It's not just the elite teams that boast size, either. If it feels as though all the best players measure up, it's probably because it's true.
"I've been to about 20 college practices, and one thing is clear," one high-ranking NBA executive said. "The draft is going to be stacked with big guys this year. If you need size, especially guys that are multifaceted, this is the year you want to have a lottery pick. There's just so many bigs in college basketball right now."
Bagley is one of three college freshmen in play for the No. 1 overall pick, according to multiple NBA executives. He's skilled enough to step away from the basket and handle the ball, but at 235 pounds, he's more of a strong, athletic forward who can run the floor and impose his will in the paint.
Missouri's Michael Porter Jr. might be the slight favorite to be selected numero uno on June 21. The 6-foot-10, 215-pound forward is long, skilled, versatile and smooth -- attributes the new-age NBA fawns over. Porter will try to bring Missouri back to relevance with the help of his younger brother, Jontay, who checks in at 6-foot-11, 240 pounds.
If there's someone who is overlooked in the race to be No. 1, it's Arizona freshman and Bahamian 7-footer Deandre Ayton. He has been the Wildcats' most dominant player in the preseason and is able to do things -- skill-wise and athletically -- that few players his size have been able to do in the past. He'll have some help up front in Tucson with the return of 7-foot, 245-pound Serbian Dusan Ristic.
"He's incredibly skilled, has a very high basketball IQ and is an amazing athlete -- especially for someone 7 feet and 260 pounds," Arizona coach Sean Miller told ESPN of Ayton. "I've never coached anyone like him."
While he might not be drafted in the top three come June, the consensus favorite to win National Player of the Year in 2017-18 is Bridges, who, along with Texas A&M's Robert Williams, returned to college despite being a lock first-rounder and likely lottery pick. Bridges does it all, exposing mismatches by virtue of his ability to score both in the paint and on the perimeter. Williams is a 6-foot-10, 240-pound athletic power forward who will team with 6-foot-10, 260-pound Tyler Davis and 6-foot-9 DJ Hogg on an Aggies front line that will also likely have 6-foot-10 Tonny Trocha-Morelos coming off the bench.
While Kentucky might not have an anointed superstar, coach John Calipari's team has no shortage of length. In fact, you can make a case that his top three pro prospects are all 6-foot-8 or taller -- Kevin Knox (6-9), Nick Richards (6-11) and Jarred Vanderbilt (6-8). That doesn't even include 6-foot-9 Wenyen Gabriel and 6-foot-11 Sacha Killeya-Jones.
USC tosses out the front-line duo of 6-foot-11 Chimezie Metu and 6-foot-10 Bennie Boatwright. Louisville's interim coach David Padgett is likely to go with 7-foot Anas Mahmoud and 6-foot-10 Ray Spalding up front. Texas brought in 7-foot frosh Mo Bamba, who could crack the top five in the NBA draft due to his seemingly endless length and ability to run the floor and alter shots on the defensive end. Wisconsin may wind up with the most productive player in the country in 6-foot-10 Ethan Happ; opposing teams will have to form a game plan around 6-foot-11 Saint Mary's Aussie Jock Landale; and Notre Dame's Mike Brey will focus his team around Bonzie Colson, who may be just 6-foot-5 but has a near 7-foot wing span. We haven't even mentioned Seton Hall's Angel Delgado, Georgia's Yante Maten, Michigan's Moe Wagner, Stanford's Reid Travis or Purdue's mammoth 7-footer Isaac Haas.
While there will be some quality guards -- like veterans Joel Berry II of North Carolina, Villanova's Jalen Brunson and Duke's Grayson Allen and youngsters like Alabama's Collin Sexton -- this season will be all about size.
The big man is back.