John Wooden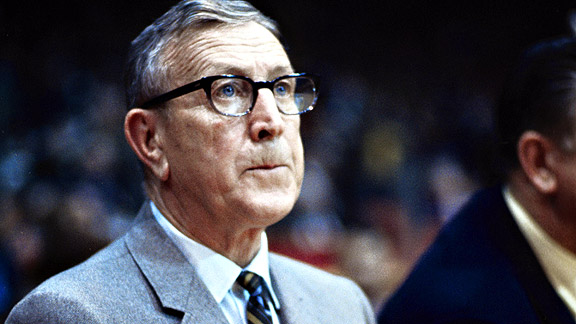 John Robert Wooden was a college basketball coach widely considered to be one of the greatest coaches of all time. He is best known for his tenure as the men's basketball head coach of the UCLA Bruins, where he coached the team to 10 NCAA national championships in 12 years. Wooden is also one of just three men, along with Bill Sharman and Lenny Wilkens, to be inducted into the Naismith Memorial Basketball Hall of Fame as a player and coach.
John Robert Wooden was born in Martinsville, Ind., on Oct. 14, 1910. Wooden attended Martinsville High and won all-state prep honors in basketball three straight years while leading his team to the state finals in 1926, 1927 and 1928. His team won the tournament in 1927.
Wooden opted to attend Purdue University and continued his winning ways as a player. Wooden, a guard, earned All-American honors from 1930 to 1932. In 1932, Purdue won the national championship. At the time, the honor was the result of a vote rather than a tournament.
In addition to his standout play on the court, Wooden was also a member of Purdue's academic honor roll and graduated in 1932 with a degree in English.
Professional basketball in Wooden's era was not all that glamorous or lucrative. Although he spent several years playing for various teams in the National Basketball League that were based in Indiana, Wooden took up teaching and coaching to make a living.
High school
After two years at Dayton High School in Kentucky, Wooden spent the next nine years as the basketball, baseball and tennis coach at South Bend Central High in Indiana while also teaching English. His overall record as a basketball coach during this stretch was 218-42.
When World War II broke out, Wooden interrupted his career to serve his country as a member of the U.S. Navy. He was a full lieutenant until his discharge in 1946.
Indiana State ('46 to '48)
With the war over, Wooden was able to resume his intended career path. He was hired at Indiana State Teachers College (what is now called Indiana State) as athletic director, basketball and baseball coach. At the same time, Wooden was working on his master's degree in education from the school, and he earned it during his time there.
In 1947, Wooden's team won its conference and was invited to play in the National Association of Intercollegiate Basketball tournament. Wooden declined the invitation because African-American players were not allowed to participate.
The following season, when the NAIB reversed its policy, Wooden brought his team, and African-American Clarence Walker, to the competition. Indiana State lost to Louisville in the final.
UCLA ('48 to '75)
After declining to accept an assistant position at Purdue that promised him the head-coaching job when Mel Taube's contract expired, Wooden was courted by UCLA.
Immediately, the program became relevant, going from a 12-13 squad the year before Wooden's arrival to a 22-7 record -- the most wins in school history at the time. In his first four seasons with the school, Wooden won four straight Pacific Coast Conference Southern Division titles.
In 1963-64, led by Gail Goodrich and Walt Hazzard, the Bruins won their first NCAA Championship, defeating Duke 93-83 in the title game. The win capped off a perfect 30-0 season. The next season, Goodrich scored 42 points against Michigan, as UCLA (28-2) won its second straight national championship.
The team struggled in 1965-66, going only 18-8, but that would be the last disappointing season for Wooden and UCLA for quite some time. Wooden's teams won the next seven NCAA tournaments in a row, including perfect 30-0 seasons in 1966-67, 1971-72 and 1972-73.
In 1968, UCLA's 47-game winning streak was broken when Houston and Elvin Hayes defeated the Bruins 71-69 in front of a 52,693 crowd at the Astrodome. However, UCLA avenged that loss -- its only defeat of the season -- in the national semifinals, defeating Houston 101-69 in the rematch.
In 1974, the Bill Walton-led squad that had won 88 consecutive games finally tasted defeat at the hands of Notre Dame 71-70. Although the team did make it to the Final Four, it was defeated by eventual champion North Carolina State in double overtime 80-77.
Also that year, Wooden was inducted into the Naismith Memorial Basketball Hall of Fame as a coach to go with his prior induction in 1960 for his career as a player.
By the time the 1974-75 season was nearing its end, Wooden had coached at UCLA for 27 years and had decided it was time to call it quits. After defeating Louisville 75-74 to get to the national championship game, Wooden announced his next game would be his last.
UCLA responded and gave Wooden his 10th title as a going-away present. The Bruins topped Kentucky 92-85. Wooden's final record as UCLA coach was 620-147.
As Wooden approached 100 years old, he was hospitalized multiple times for varying health issues. In 2006, Wooden spent three days in a Los Angeles hospital receiving treatment for diverticulitis. The next year, he was hospitalized for bleeding in the colon. Wooden returned to the hospital on March 1, 2008, after suffering a broken left wrist and collarbone in a fall at his home. In 2009, he suffered from pneumonia for four weeks.
On May 26, 2010, Wooden was admitted to UCLA Medical Center for dehydration. On June 3, 2010, reports surfaced that Wooden was in grave condition. He died on June 4, 2010.
The court at Pauley Pavilion at UCLA was renamed the Nell and John Wooden Court in 2003, after the coach and his wife, who had passed away in 1985 after 53 years of marriage. During his career at UCLA, Wooden's teams went 149-2 at home.
In addition, the award given to the most outstanding player in college basketball, the equivalent of football's Heisman Trophy, now bears Wooden's name.
In 2003, Wooden was awarded the U.S. Medal of Freedom by President George W. Bush. It is the highest civilian award in the United States. In 2006, he was named the fifth most influential student-athlete in NCAA history as part of the NCAA's centennial celebration.
Pyramid of Success
Coach Wooden's philosophy of life, which he refined in 1948, was what he called the Pyramid of Success. Wooden defined success as "peace of mind which is a direct result of self-satisfaction in knowing you made the effort to become the best of which you are capable."
The tenets of his teachings incorporates concepts such as loyalty, cooperation, self-control, initiative, poise and confidence -- all working together to build a foundation upon which success can be built and leaders can be groomed.
Wooden's Pyramid has proved not only successful in terms of building a winning team on the basketball court but also an invaluable tool to this day as a business model for successful companies to manage their workforce to help them achieve at the highest possible level of their abilities.
QUICK FACTS
Birth Date
Oct. 14, 1910
Death Date
June 4, 2010 (age 99)
Hometown
Martinsville, IN
College
Purdue
Career Record
HS: 218-42
NCAA: 664-162
NCAA Championships
10
COLLEGE COACHING RECORD
| Season | Team | W-L | Postseason |
| --- | --- | --- | --- |
| 1946-47 | Indiana State | 17-8 | -- |
| 1947-48 | Indiana State | 27-7 | NAIB National Finalist |
| 1948-49 | UCLA | 22-7 | -- |
| 1949-50 | UCLA | 24-7 | NCAA Regional |
| 1950-51 | UCLA | 19-10 | -- |
| 1951-52 | UCLA | 19-12 | NCAA Regional |
| 1952-53 | UCLA | 16-8 | -- |
| 1953-54 | UCLA | 18-7 | -- |
| 1954-55 | UCLA | 21-5 | -- |
| 1955-56 | UCLA | 22-6 | NCAA Regional |
| 1956-57 | UCLA | 22-4 | -- |
| 1957-58 | UCLA | 16-10 | -- |
| 1958-59 | UCLA | 16-9 | -- |
| 1959-60 | UCLA | 14-12 | -- |
| 1960-61 | UCLA | 18-8 | -- |
| 1961-62 | UCLA | 18-11 | NCAA Final Four |
| 1962-63 | UCLA | 20-9 | NCAA Regional |
| 1963-64 | UCLA | 30-0 | NCAA Champions |
| 1964-65 | UCLA | 28-2 | NCAA Champions |
| 195-66 | UCLA | 18-8 | -- |
| 1963-64 | UCLA | 30-0 | NCAA Champions |
| 1964-65 | UCLA | 28-2 | NCAA Champions |
| 1965-66 | UCLA | 18-8 | -- |
| 1966-67 | UCLA | 30-0 | NCAA Champions |
| 1967-68 | UCLA | 29-1 | NCAA Champions |
| 1968-69 | UCLA | 29-1 | NCAA Champions |
| 1969-70 | UCLA | 28-2 | NCAA Champions |
| 1970-71 | UCLA | 29-1 | NCAA Champions |
| 1971-72 | UCLA | 30-0 | NCAA Champions |
| 1972-73 | UCLA | 30-0 | NCAA Champions |
| 1973-74 | UCLA | 26-4 | NCAA Final Four |
| 1974-75 | UCLA | 28-3 | NCAA Champions |
| | TOTAL | 664-147 | 10 NCAA titles |