EA SPORTS Maui Invitational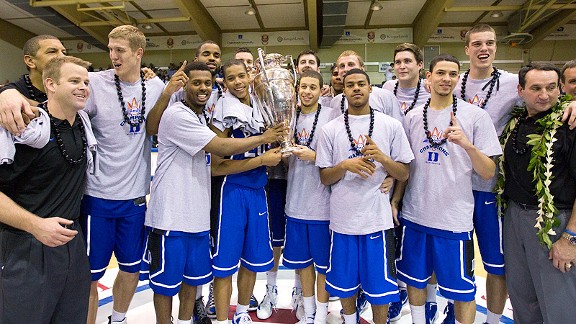 The Maui Invitational is an in-season college basketball tournament, one of the most prestigious early tournaments in the sport. The tournament has been held in Lahaina, Maui, every year since 1984. Eight teams participate in the tournament in Hawaii each year. In 2011, the field was expanded to include 11 mainland games featuring the seven teams headed to Hawaii and four teams playing a regional tournament in Murfreesboro, Tenn.
Illinois is the reigning champion of the Maui Invitational, having won the event in 2012.
The beginnings of the Maui Classic date back to 1982 and a game considered by many to be the greatest upset in college basketball history. On Dec. 23, NAIA school Chaminade defeated the top-ranked Virginia squad led by Ralph Sampson, 77-72. Then-Virginia coach Terry Holland told Chaminade that the win, which put the tiny, Hawaii-based squad on the map, could provide an opportunity for a Maui-based tournament every year in college basketball.
The tournament started two years later in 1984. Four teams competed for the title, with host Chaminade eventually losing to Providence. In 1986, the field was expanded from four teams to eight, the only change the tournament made to its format in 36 years.
Teams are invited to the tournament once every five years. Only Chaminade -- the host school -- plays in the tournament every year. Usually, each major basketball conference is represented by at least one participant, such as traditionally successful programs like North Carolina or Kentucky and other, smaller schools. The tournament provides some of the best nonconference matchups in the college basketball season. Twenty-one conferences, 38 states and 85 schools have participated in the tournament.
Four times, the winner of the Maui Invitational has gone on to win the NCAA tournament that season: Michigan in 1988-89, North Carolina in 2004-05 and 2008-09, and Connecticut in 2010-11. Duke has won the tournament a record five times and has never lost a game in Maui. North Carolina has won three titles (in 10 years).
In 2011, four more teams were added to the Maui field. Those teams will take on the seven teams that will travel to Hawaii in an opening round on the mainland. The four added teams then will participate in a doubleheader at one school before the other seven squads head to Maui for the championship round. That tournament will remain in the same format as in previous years.
The 2011 championship round field was Michigan, Memphis, Tennessee, Duke, UCLA, Georgetown and Kansas. In addition, Towson, North Carolina-Greensboro, Middle Tennessee State and Belmont participated in opening and regional games on the mainland before the championship round. Duke won the title, improving to 15-0 all-time in Maui.
Venue
The event is held every year at the Lahaina Civic Center, a small sports and entertainment complex on the island of Maui. Although the center is best-known for hosting the Maui Invitational, it also hosts the World Youth Basketball Tournament each year as well as concerts and other events.
The Civic Center Gymnasium seats 2,400. The stadium has undergone more than $1 million in renovations over the years to make the center more appropriate for the event, including putting in a new playing floor, updated (retractable) bleachers and new scoreboards and lighting. Air conditioning was also installed in the center in 2003.
The event brings in millions of dollars to the Maui economy, drawing more than 4,500 visitors each year. The event brings in an estimated $8 million each year and increases the island's visibility by airing on ESPN. Since the first tournament in 1984, the tournament has brought in more than $140 million.
Year-by-Year Maui Invitational Results
Year
Champion
Runner-up
Score
MVP
2011
Duke
Kansas
68-61
Ryan Kelly, Duke
2010
Connecticut
Kentucky
84-67
Kemba Walker, Connecticut
2009
Gonzaga
Cincinnati
61-59
Matt Bouldin, Gonzaga
Steven Gray, Gonzaga
2008
North Carolina
Notre Dame
102-87
Ty Lawson, North Carolina
2007
Duke
Marquette
77-73
Kyle Singler, Duke
2006
UCLA
Georgia Tech
88-73
Darren Collison, UCLA
2005
Connecticut
Gonzaga
65-63
Adam Morrison, Gonzaga
2004
North Carolina
Iowa
106-92
Raymond Felton, North Carolina
2003
Dayton
Hawaii
82-72
Keith Waleskowski, Dayton
2002
Indiana
Virginia
70-63
Bracey Wright, Indiana
2001
Duke
Ball State
83-71
Mike Dunleavy Jr., Duke
2000
Arizona
Illinois
79-76
Michael Wright, Arizona
1999
North Carolina
Purdue
90-75
Joseph Forte, North Carolina
1998
Syracuse
Indiana
76-63
Jason Hart, Syracuse
1997
Duke
Arizona
95-87
Steve Wojciechowski, Duke
1996
Kansas
Virginia
80-63
Raef LaFrentz, Kansas
1995
Villanova
North Carolina
77-75
Kerry Kittles, Villanova
1994
Arizona State
Maryland
97-90
Mario Bennett, Arizona State
1993
Kentucky
Arizona
93-92
Travis Ford, Kentucky
1992
Duke
BYU
89-66
Bobby Hurley, Duke
Anfernee Hardaway, Memphis State
1991
Michigan State
Arkansas
86-61
George Gilmore, Chaminade
1990
Syracuse
Indiana
77-74
Billy Owens, Syracuse
1989
Missouri
North Carolina
80-73
Doug Smith, Missouri
1988
Michigan
Oklahoma
91-81
Glen Rice, Michigan
1987
Iowa
Villanova
97-74
Entire Iowa Team
1986
Vanderbilt
New Mexico
87-71
Will Perdue, Vanderbilt
1985
Michigan
Kansas State
80-58
Dell Curry, Virginia Tech
1984
Providence
Chaminade
60-58
Patrick Langlois, Chaminade
TOP STORY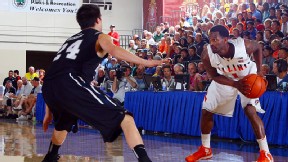 Illinois wins Maui Invitational
Illinois completed its third consecutive wire-to-wire win, beating Butler to take home its first Maui Invitational title. Story »
SOCIAL MEDIA

The Maui Invitational is on Facebook and Twitter. Connect with social media to get all the latest updates direct from the game.
COLLEGE BASKETBALL TOURNAMENT TOPICS
Charleston Classic pres. by Foster Grant
Nov. 15-18, 2012
TD Arena
Charleston, South Carolina
Puerto Rico Tip-Off
Nov. 15-18, 2012
Coliseo Ruben Rodriquez
Bayamon, Puerto Rico

Maui Invitational
Nov. 19-21, 2012
Lahaina Civic Center
Maui, Hawaii
Wooden Legacy
Nov. 22-25, 2012
Anaheim Convention Center
Anaheim, California

Old Spice Classic
Nov. 22-25, 2012
HP Field House
Orlando, Florida