Monday's must-see
Upton stunned after Dyson robs him of grand slam
Justin Upton crushes a long fly ball that looks to be a grand slam, but Jarrod Dyson rises up to makes a spectacular catch to rob him at the wall.
Astros walk off, match franchise record with 12th straight win
Alex Bregman's 2-run double in the ninth ties a franchise-record 12-game winning streak to propel Houston past Tampa Bay 5-4.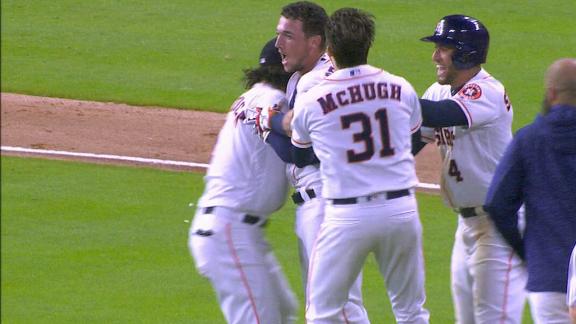 Soto mashes tater to top of second deck
Juan Soto, who hadn't made his major league debut when the suspended game started, pummels a 2-run shot to right-center field.
Judge covers serious ground to make sliding grab
Aaron Judge's relentless effort takes him 124 feet into foul territory to make a sliding catch.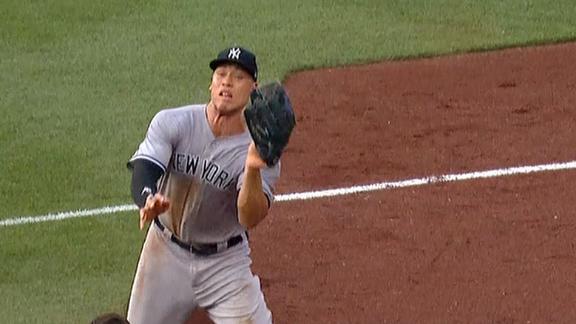 Nimmo hustles for inside-the-park home run
Brandon Nimmo smacks a ball off the wall in right field and speeds around the bases for an inside-the-park home run.
Williams' face bloodied after ball ricochets off wall
Matt Carpenter hits one off the wall that catches Nick Williams in the nose forcing him to leave the game after the blood starts pouring out.
Trout can't bring home run back
Nick Ahmed cranks a long fly ball that bounces off of Mike Trout's glove and over the wall for a home run.
Phillies walk off after Ozuna's risky dive fails
Aaron Altherr smacks a liner to left field that Marcell Ozuna dives for but can't catch allowing two runs to score for the Phillies in the 10th.
Customize ESPN

It's not too late to play!
Keith Law's Top 100 Prospects
Photo by Cliff Welch/Icon Sportswire

Between minor leaguers with major league bloodlines and future stars who have been involved in major trades, there are plenty of familiar names on this year's list. Where did your team's top young players land?
Tracking Ohtani's progress
Sean M. Haffey/Getty Images

Los Angeles' pitching/hitting sensation is turning heads with every step. Follow along for the major moments from Ohtani's big league journey.
Rafa Alvarez

From setting the mood to celebrating a win, these are the players responsible for keeping their teams on beat.
Mahoney Studio

Here's a radical idea: no more games that don't matter, or teams that can't pretend to contend. We imagine a way hope can stay alive all season.