Martinez's single gives Red Sox lead
J.D. Martinez singles with the bases loaded to drive in two runs to give Boston the lead.
Bogaerts injures finger on slide
Xander Bogaerts injures a finger on his left hand while sliding into second and would leave the game.
Martinez socks 23rd HR of season
J.D. Martinez cranks one out to straightaway center for his 23rd dinger of the season to draw the Red Sox closer.
Cruz demolishes pair of 3-run HRs
Nelson Cruz crushes a pair of Steven Wright pitches for 3-run homers.
Mariners hit over 900 feet of homers off Wright in 1st
Nelson Cruz bashes a 465-foot dinger off Steven Wright, and Ryon Healy adds a 441-foot shot of his own in the first inning.
Giancarlo Stanton shows off the glove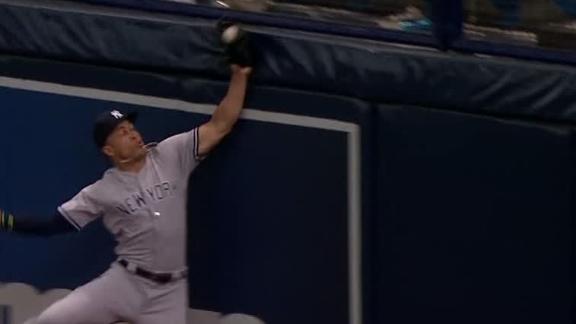 Bellinger blasts grand slam in Dodgers' win
Cody Bellinger gives the Dodgers a huge lift with a sixth-inning grand slam against the Mets.
Corbin matches career-high 12 strikeouts
Patrick Corbin tosses seven scoreless innings with 12 strikeouts, but settles for the no-decision.
Suarez powers one out to center
Eugenio Suarez gets all of Jose Quintana's offering and smacks a 2-run shot out to center field.
Schwarber smashes 15th homer
Kyle Schwarber sends one out to center field for the 2-run deep ball in the fourth inning.
Customize ESPN

It's not too late to play!
Keith Law's Top 100 Prospects
Photo by Cliff Welch/Icon Sportswire

Between minor leaguers with major league bloodlines and future stars who have been involved in major trades, there are plenty of familiar names on this year's list. Where did your team's top young players land?
Tracking Ohtani's progress
Sean M. Haffey/Getty Images

Los Angeles' pitching/hitting sensation is turning heads with every step. Follow along for the major moments from Ohtani's big league journey.
Rafa Alvarez

From setting the mood to celebrating a win, these are the players responsible for keeping their teams on beat.
Mahoney Studio

Here's a radical idea: no more games that don't matter, or teams that can't pretend to contend. We imagine a way hope can stay alive all season.