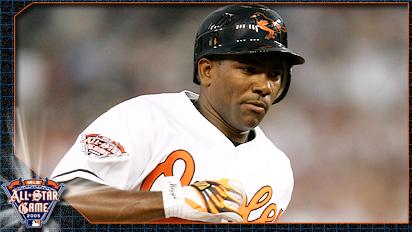 Starry Night
The AL's supremacy over the NL continued Tuesday with a 7-5 victory. A big reason why was MVP Miguel Tejada, who delivered on a grand stage, Jerry Crasnick writes.
Story

Crasnick: Snub to Star
Morgan Ensberg's plan for some R&R quickly turned into a mad scramble to become an All-Star, Jerry Crasnick says.



Stark: Turmoil to continue
Kenny Rogers spoke diplomatically Monday, but still faces a long road back to normalcy, writes Jayson Stark.



Crasnick: Show time?
Devil Rays prospect Delmon Young appears ready, writes Jerry Crasnick. So why's he still a Montgomery Biscuit?



Stark: The centerpiece
If Daric Barton turns into the OBP machine he appears to be, A's GM Billy Beane gets another check in the genius column for the Mark Mulder deal.


GENERAL INFORMATION
WHAT
76th All-Star Game (AL All-Stars vs. NL All-Stars)
WHERE
Comerica Park, Detroit, Mich.
WHEN
Tuesday, July 12
RECORD
NL leads 41-32-2 (Past All-Star results)
ALL-STAR NEWS
• Stark: Selig addresses various topics in press conference
• Buehrle, Carpenter named All-Star starting pitchers
• 'Stubborn' Rogers remains an All-Star
• Rolen skipping All-Star Game; Ensberg takes his place
• Halladay out month with bone break; Clement in
• Pedro skipping All-Star Game; Phils' Wagner named
• Fans give final roster spots to Oswalt, Podsednik
• 11 first-time starters on All-Star rosters
ALL-STAR ROSTERS
AMERICAN LEAGUE
NATIONAL LEAGUE
Starting Lineup
Starting Lineup
1. Johnny Damon, BOS, CF
1. Bobby Abreu, PHI, RF
2. Alex Rodriguez, NYY, 3B
2. Carlos Beltran, NYM, CF
3. David Ortiz, BOS, DH
3. Albert Pujols, STL, DH
4. Manny Ramirez, BOS, LF
4. Derrek Lee, CHC, 1B
5. Miguel Tejada, BAL, SS
5. Jim Edmonds, STL, CF
6. Vladimir Guerrero, LAA, RF
6. Aramis Ramirez, CHC, 3B
7. Mark Teixeira, TEX, 1B
7. Mike Piazza, NYM, C
8. Jason Varitek, BOS, C
8. Jeff Kent, LAD, 2B
9. Brian Roberts, BAL, 2B
9. David Eckstein, STL, SS
SP: Mark Buehrle, CHW
SP: Chris Carpenter, STL
Complete AL roster
Complete NL roster