Last week, the Supreme Court struck down key elements of the Voting Rights Act. If only the justices would have ruled on the All-Star Game voting process, too.
The All-Star vote ends Thursday, the Fourth of July. And 11 score and 17 years after our forefathers declared their independence from the tyranny of King George and guaranteed every American a voice in who is elected to the Mid-Summer Classic, it's clear that the voting system is rife with abuse. Thomas Jefferson and George Washington surely are hanging their heads so low in shame that it's a wonder they don't trip during the Washington Nationals presidents race.
For instance …
At a recent Seattle Mariners game, the P.A. announcer encouraged fans to visit a special booth where they could vote multiple times for the All-Star team. Further, if they voted at least 10 times for an exclusively Mariners slate of candidates, they would receive a special gift.
This combines the worst of modern politics -- hard-core, extreme partisanship with the corruption of vote buying. Not that it has had any noticeable effect; not a single Seattle player is among the top six vote-getters at any position. The Mariners are sort of the Whig Party of All-Star politics -- they haven't been relevant on the ballot for a while.
But the Mariners are merely one example of attempted voter influencing. The Chicago Cubs sent out a text recently informing fans that they could vote 35 times for the All-Star team in just five minutes. Thirty-five times? Not even dead Cook County citizens vote that many times in an election.
And that's nothing compared to the campaigns to elect David Wright at third base. WFAN radio hosts Boomer Esiason and Craig Carton are offering one free ticket to a New York Mets game (plus bus transportation) to fans who can prove they voted at least one thousand times for Wright. They also have set up a "sweatshop" at the radio studio, with 25 women attempting to punch the ballot for Wright 70,000 times.
The Mets also briefly reached out to CougarLife.com, a dating website dedicated to older women seeking younger men, to solicit even more votes for Wright. I'm surprised the Mets didn't combine forces with Esiason and Carton by having them hire Annie Savoy to supervise their sweatshop.
Hey, Wright is a great player, and I hope he makes the team. But whatever happened to the concept of "one man, one vote"?
In the old days, you had to earn the right to vote. You couldn't just repeatedly and endlessly vote for your favorite player by setting up so many email accounts on so many systems (your office computer, plus your laptop, smart phone and tablet, along with your spouse's laptop, smart phone and tablet) that not even the National Security Agency could keep track of them all.
Back in those days, if you wanted to stuff the ballot box, you had to literally stuff it. You had to track down ballots -- and if you didn't live near a major league ballpark, that could be a real chore -- then methodically punch out your selections one by one. It was slow and tedious and all the punched-out chads covering your body made it look like you had the world's worst case of dandruff. But the effort showed you cared.
Now, it's just too easy to vote. Worse, it's too easy to abuse the vote.
The first fix for this is to reduce the times a fan can vote on-line. Thirty-five times? That's unnecessarily high. This doesn't increase participation; it just increases the number of total votes for Greg Dobbs.
Next, limit "Sweatshop" voting practices. It's not only wrong, but the sweat makes the ballots droopy and hard to read.
Third, teams must stop encouraging fans to submit a partisan slate of ballots by offering free merchandise and making constant appeals. It's bad enough that we have partisan media outlets telling Americans what political candidate they should elect. We shouldn't be extending that practice to our country's Midsummer Classic. Fans should vote their conscience, not what their local team tells them. (Especially if that team has a losing record.)
After all, it's the All-Star Game, not the Only-The-Stars-(And-Many-Non-Stars)-From-My-Team Game.
And finally, here is the best way to discourage ballot abuse: If someone can prove you voted 1,000 times for David Wright or any other player, then the NSA will hunt you down and make you take free tickets to TWO Mets games.
CSI: Box Score
Each week, I provide a fragment from an old box score and challenge you to determine what game it is from and why it's significant. I give this one a difficulty rating of 8. Answer below:
Baseball Card of the Week
In honor of our nation's birthday, here's a card of one of our finest presidents, Teddy Roosevelt (2013 Topps, Memorable Moments), winning for the first time in the Nationals mascot race.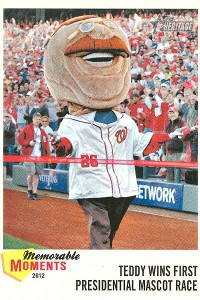 If only the Nationals had fared this well against the Cardinals in the division series last year.
Box Score Line of the Week
Pittsburgh's Vin Mazzaro pitched five perfect innings of relief on Sunday (5 IP, 0 H, 0 R, 0 ER, 0 BB, 1 K), the first reliever to do so since Jake Westbrook in 2004. Meanwhile, Cleveland's Trevor Bauer threw 49 pitches on Friday, allowed five runs, didn't get out of the first inning (2/3 IP, 6 H, 5 R, 5 ER, 1 BB, 0 K, 1 HBP) and still didn't get the loss when his team came back to the beat the White Sox 19-10 in the first game of a doubleheader. The two games of that twinbill lasted a combined 7:53, the longest double-header (with no extra innings) in major league history.
Then there was Seattle pitcher Joe Saunders, who wound up pinch-hitting and making the final out on Saturday when injuries and a too-thin and too-limited bench cost the Mariners the DH (1 AB, 0 R, 0 H, 0 RBI). On the flip side, White Sox outfielder Casper Wells pitched a scoreless inning of relief in that 19-10 loss to Cleveland (1 IP, 0 H, 0 R, 0 ER, 1 BB, 1 K), the only Chicago player who took the mound that game and did not allow a run.
But of course, this week's award goes to Homer Bailey, who pitched the first no-hitter of the season Tuesday. His line:
9 IP, 0 H, 0 R, 0 ER, 1 BB, 9 K
Bailey threw the last no-hitter of 2012, making him the first pitcher to throw a no-hitter and then throw another before anyone else did since Nolan Ryan in 1974-75. Bailey also has the highest career ERA (4.36) of any pitcher who threw at least two no-hitters.
Yeah, Well, That's Like, That's Just Your Opinion, Man
"Sure, Winning The World Series Was Great, But This Champagne Is A Little Dry And Has Poor Legs."If a baseball team wins a championship and it intends to actually drink some of the champagne rather than spray all of it around the clubhouse, Brian McClintic recommends Pierre Peters or Diebolt-Vallois. McClintic knows what's he's talking about. He's one of four aspiring master sommeliers featured in the superb new documentary, "Somm." He also played baseball at Concordia College in southern California and compares the intense, suffocating pressure of taking the master sommelier test to batting in the bottom of the ninth. "When I first started in this, I asked someone: 'What is it like taking that exam?' He said, 'I was in the Persian Gulf War. I jumped out of helicopters. I fought on the front lines. And this is way more nerve wracking.' And I thought, 'OK, this guy is high.'" But McClintic found out the man was telling the truth. There are less than 200 master sommeliers and more than 90 percent of the candidates fail the test each year. "I could only really liken [the test] to that out-of-body feeling when you're at the plate," McClintic says. "It's weird."
"Somm" is engaging, enlightening, gripping and often very, very funny. I laughed more at some its scenes than I do at an entire Judd Apatow movie. It also is painful watching some of the candidates get the bad news that they didn't pass and so will have to go through it all over again. I won't spoil things by telling you whether McClintic passes. Just go see the movie yourself or download it on iTunes if it isn't playing in your city.
Let's Hope There Is No Sweatshop Of Voters Writing In Papelbon's Name. Jonathan Papelbon might have a point about Los Angeles rookie Yasiel Puig not having played enough games to justify selection to the All-Star team. But where does a closer get off saying someone else doesn't merit an All-Star selection? Closers have the easiest role in baseball aside from selling beer to Cubs fans. They "save'' games merely by protecting three-run leads for no more than one inning when no one is on base and the opponent may be at any point in the lineup. Compared to that, I'll take Puig's .443 average and eight home runs in one month. Overall though, I prefer to see All-Stars prove themselves for longer than a month.
And That Includes Tweets. Will someone tell A-Rod to just shut up and play? No, on second thought, tell him just to shut up.
CSI: Box Score Answer
There were a couple clues in this segment. First, the nearly unrecognizable names in the New York Yankees' lineup should have been an indication this game was played in that nearly forgotten stretch of New York history, the early '70s, when the team was far out of contention each year (what many fans call the Golden Age of baseball). The other major clue was the name Gowell, for Larry Gowell. He was the last pitcher to bat in the American League (final day of the 1972 season) before the introduction of the designated hitter the next year.
But as the Mariners showed Saturday, sometimes teams still let pitchers bat, even when they are playing in an American League city.