Here are my all-time bests in a bunch of different categories from All-Star Game history: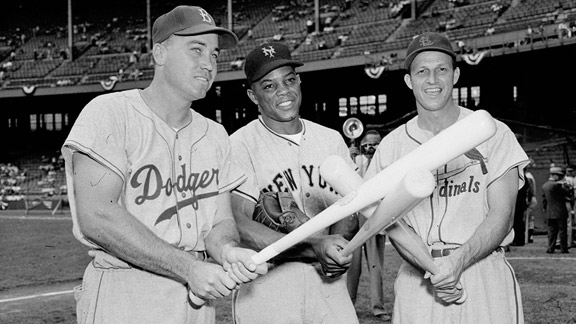 BEST PLAYER, ALL-TIME: Willie Mays
As much as Mays struggled in October -- in 25 postseason games, he batted .247 and homered just once -- he thrived in Midsummer Classics … and he played in a lot of them: 24 All-Star Games, which ties him with Stan Musial and Hank Aaron for the record. All by himself, Mays holds the All-Star records for stolen bases, hits and runs (he scored 20 times; Musial's next on the list with just 11). Other players have more dramatic hits, and others were more effective in fewer games. But for sheer weight of All-Star accomplishments, nobody beats Willie Mays.
---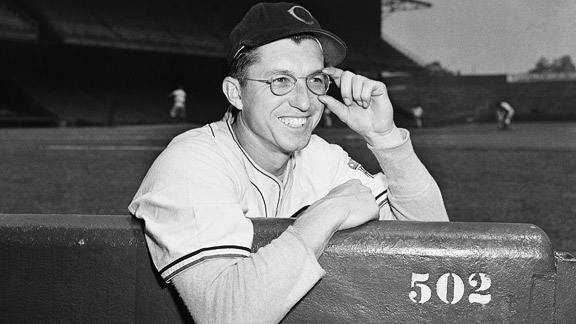 BEST PITCHER, ALL-TIME: Mel Harder
For pure results, there's just no topping Cleveland's Mel Harder: In four All-Star Games (1934-37) Harder pitched 13 innings and didn't give up a single run. He also earned a victory (with five shutout innings in '34) and two saves. Harder was undoubtedly lucky, but he was also really good. Before a shoulder injury suffered shortly after the '36 All-Star Game, Harder's sinker and curveball made him one of the best pitchers in the American League.
---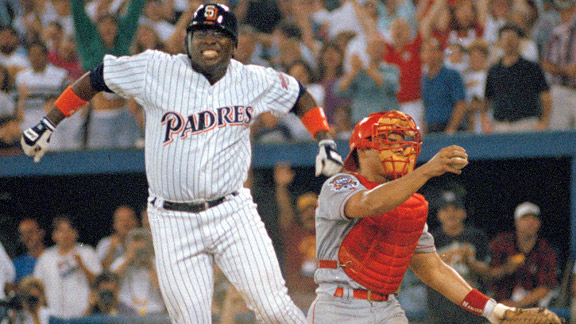 BEST GAME: 1994
It's hard to pick just one, but this Classic gets bonus points for being major league baseball's only appearance on the national stage in '94; a month later the players walked off the job, forcing the cancellation of the rest of the season and the World Series.
The American Leaguers, reversing a trend that spanned decades, entered the Classic riding a six-game winning streak. After falling behind 4-1 early, they battled back with three runs in the sixth and three more in the seventh, and went to the bottom of the ninth with a 7-5 lead. Following a walk and a fielder's choice, Fred McGriff drove Lee Smith's fastball deep into the Pittsburgh night to tie the game. In the top of the 10th, Doug Jones escaped a jam. And in the bottom of the 10th, Tony Gwynn led off with a single, and moments later, on Moises Alou's double, Gwynn slid home safely with the winning run.
---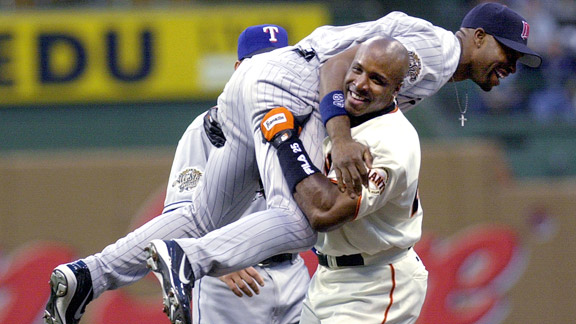 BEST DEFENSIVE PLAY: Torii Hunter, 2002
The 2002 All-Star Game will always be remembered for two things.
The Bad: The game ended after 11 innings in a 7-7 tie.
The Good: In the first inning, Hunter -- playing in his first All-Star Game, but already well-known around the American League for his acrobatic catches -- sprinted to the wall in center field, leaped high and stole a home run from Barry Bonds, then the game's most famous home run hitter. Upon Hunter's return to the dugout, Bonds embraced him in a bear hug; after the game, Sammy Sosa gave Hunter a nickname: "Spider-Man."
---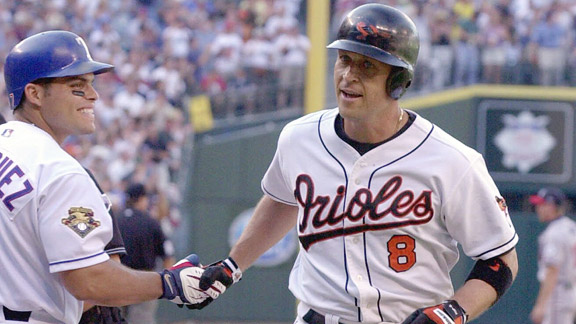 BEST SENTIMENTAL MOMENT: Cal Ripken, 2001
It's practically impossible to choose just one, so we'll go with something most of us can remember. In 2001, 40-year-old Cal Ripken was voted to his 19th All-Star team. And a starting spot, no less (even though Ripken was obviously on his last legs). But he was not chosen to start at shortstop -- the position at which he became a Hall of Famer -- but rather at third base, where he'd been playing since 1997.
Starting shortstop Alex Rodriguez would fix that, though. With the approval of manager Joe Torre, Rodriguez went over to Ripken just before the game's first pitch and pushed him toward the shortstop's position. When the fans in Seattle realized what was happening, they rose for a standing ovation. (In the second inning, Ripken and Rodriguez switched back. In the third inning, Ripken hit a home run, and ultimately was elected the All-Star Game MVP for the second time in his career.)
---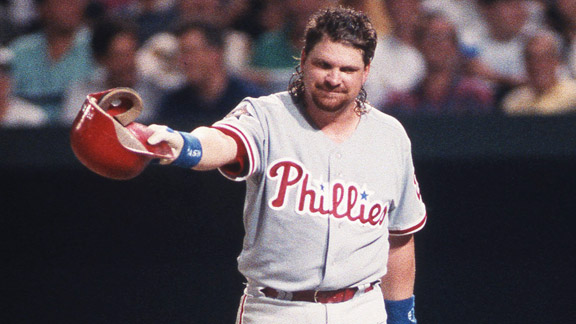 BEST MATCHUP: Randy Johnson vs. John Kruk, 1993
Before the All-Star Game counted, there was occasionally room for a bit of clowning. Randy Johnson, nearly 7 feet tall and throwing somewhere between three-quarters and sidearm, was notoriously tough against left-handed hitters. In the third inning, left-handed-hitting John Kruk stepped in to face Johnson with two outs and nobody on. Johnson's first pitch was a fastball that sailed a few feet over Kruk's head. Kruk, perhaps already preparing for his TV career, tugged on his jersey to suggest that Johnson had his heart pounding. Kruk bailed out on the next pitch, a called strike. He did swing at the next two pitches, but was bailing each time and seemed happy to escape the at-bat with a strikeout and his lovely face still intact.
---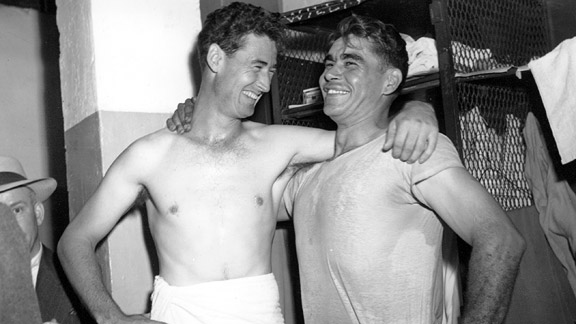 BEST OFFENSIVE PERFORMANCE: Ted Williams, 1946
When Williams returned to the Red Sox after three years as a naval aviator during World War II, nobody was quite sure what would happen. Well, at the end of that '46 season, Williams won his first Most Valuable Player award. And before that, he played all nine innings of the All-Star Game -- a 12-0 victory for the American Leaguers -- and went 4-for-4 with two home runs and five runs batted in. He also scored four runs, and collected 10 total bases (still the record). Williams' second home run, in the ninth inning off Rip Sewell, might be the most famous home run in All-Star history, as it came off Sewell's famous "eephus" pitch.
---
BEST PITCHING PERFORMANCE: Larry Jansen, 1950
In what might have the most-exciting All-Star Game to that point -- and the first one the National League won as the road team -- Giants right-hander Jansen pitched five innings from the seventh frame to the 11th; he was allowed to pitch more than three innings only because the game went into extras. Jansen held the American League scoreless throughout, gave up just one hit and tied the All-Star record with six strikeouts. (The National League tied the game in the top of the ninth on Ralph Kiner's leadoff homer, and scored the decisive run in the 14th on Red Schoendienst's leadoff homer.)
---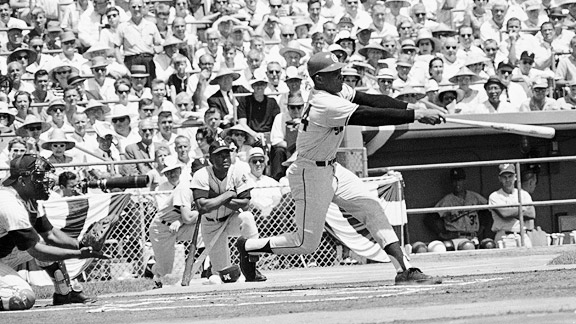 BEST TEAM: 1965 National League
How good was the National League's lineup in '65? It was loaded with players who are either in the Hall of Fame (Willie Mays, Hank Aaron, Willie Stargell, Ernie Banks) or have a great argument (Pete Rose, Dick Allen, Joe Torre). The NL's starting shortstop was Maury Wills, widely regarded as the best shortstop in the majors during much of the 1960s. And then there was the bench, which included Roberto Clemente, Frank Robinson, Ron Santo and Billy Williams. Oh, and the pitching staff included future Hall of Famers Juan Marichal, Sandy Koufax, Bob Gibson and Don Drysdale … all of them at the height of their considerable powers. Compare this squad to the American League's, and you'll have a good idea why the National League won 11 All-Star Games in the '60s.
---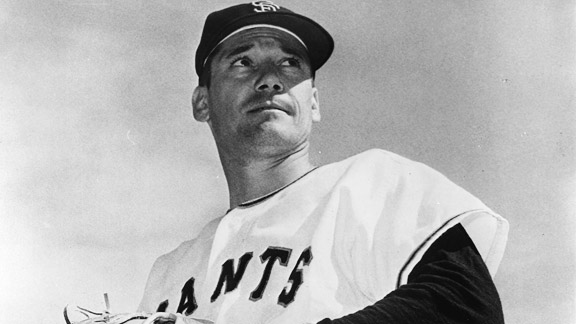 BEST BALK: Stu Miller, 1961
For the third straight year, there were two All-Star Games. The first was played in San Francisco's Candlestick Park, already infamous around the National League for its gusty winds and frigid summer nights. In the ninth inning, with the NL trying to protect a 3-1 lead, those winds picked up (which was a relief from the afternoon heat that led to 95 spectators being treated for prostration). The American League scored a run. Sandy Koufax came in, gave up a single to Roger Maris, and was replaced by the Giants' Stu Miller, acknowledged master of the changeup. With slugger Rocky Colavito at the plate, a sudden super-gust knocked Miller out of his pitching delivery, and the umpires had no choice but to rule a balk and wave the runners to second and third. When third baseman Ken Boyer booted Colavito's grounder, the American League tied the game.
That balk is the single moment for which Miller is most often remembered. But he escaped a bases-loaded jam later in the inning and, despite giving up an unearned in the 10th, was awarded the victory after the NL rallied for two runs in the bottom of the 10th. And three weeks later in 1961's second All-Star Game -- which ended 1-1 after nine innings because of heavy rain at Fenway Park -- Miller pitched three scoreless innings, giving up just one hit while striking out six American Leaguers.
---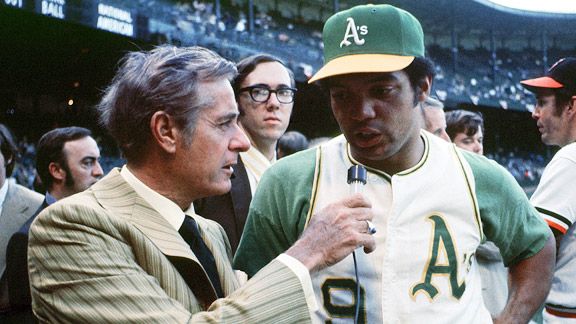 BEST MOON SHOT: Reggie Jackson, 1971
The first time the All-Star Game was played in Detroit, in 1941, Ted Williams beat the National League in the bottom of the ninth with a three-run homer. The second time the All-Star Game was played in Detroit, in 1951, the teams combined for six home runs. And the third time, in 1971? More fireworks. Again there were six home runs, but none more impressive than Reggie Jackson's. Pinch-hitting for A's teammate Vida Blue in the third inning, Jackson blasted a Dock Ellis pitch high into the night. Witnesses swear the ball was still heading up before it struck a light tower atop the roof in right-center field. Of course that's impossible, but Reggie can reasonably lay claim to the hardest-hit ball in All-Star history.
---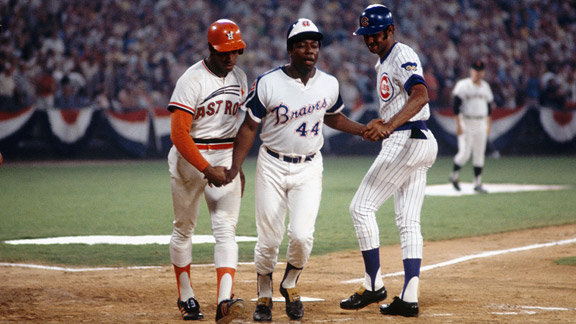 BEST PLAYER WHO REALLY STRUGGLED IN ASGs: Hank Aaron
Like Mays, Aaron played in 24 All-Star Games. Unlike Mays, though, Aaron had very little luck against the American League's best pitchers. Aaron finished his career with a .194 batting average in All-Star Games, and the longtime home run king didn't hit his first All-Star homer until 1971, when he was 37 years old and playing in his 20th Classic.