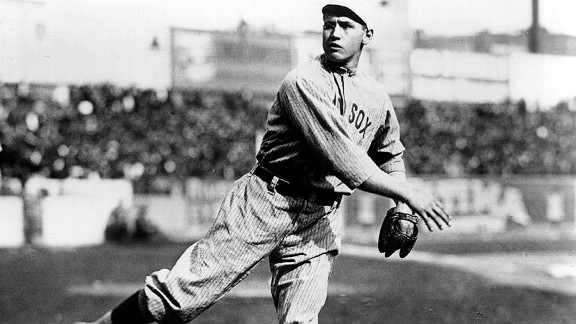 Mark Rucker/Transcendental Graphics/Getty Images
Boston (AL) 4, New York (NL) 3
Game Scores:
BOS 4, NYG 3 @ NYG
NYG 6, BOS 6 @ BOS
NYG 2, BOS 1 @ BOS
BOS 3, NYG 1 @ NYG
BOS 2, NYG 1 @ BOS
NYG 5, BOS 2 @ NYG
NYG 11, BOS 4 @ BOS
BOS 3, NYG 2 @ BOS

Why the Red Sox won: The Giants outscored the Red Sox by six runs, but Boston won its four games by a total of five runs.
Why the Giants lost: Ace Christy Mathewson allowed just three earned runs (11 overall) in three starts, but went 0-2.
Memorable moment: Game 8 was one of the greatest in World Series history. The Giants scored in the top of the 10th, but Fred Snodgrass' dropped fly ball led to two Boston runs.
Key Stat: 3. The number of games won by "Smoky" Joe Wood, Boston's 34-game winner, including Game 8 in relief.