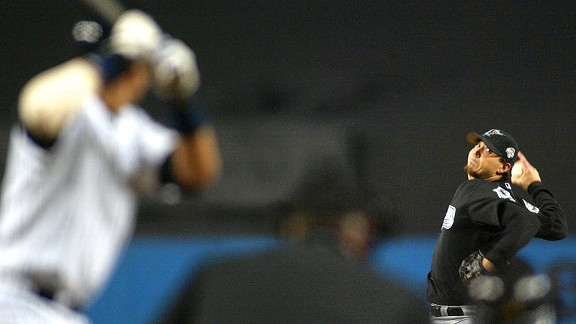 Gary Hershorn/Getty Images
Florida (NL) 4, New York (AL) 2
Game Scores:
FLA 3, NYY 2 @ NYY
NYY 6, FLA 1 @ NYY
NYY 6, FLA 1 @ FLA
FLA 4, NYY 3 @ FLA
FLA 6, NYY 4 @ FLA
FLA 2, NYY 0 @ NYY
MVP:
Josh Beckett
Why the Marlins won: Josh Beckett, the Series MVP, and Brad Penny allowed only five earned runs in 28.2 innings of four starts.
Why the Yankees lost: The Yankees outhit the Marlins 54-47 but could not convert often enough.
Memorable moment: Beckett and the Marlins celebrating in a hushed Yankee Stadium after Game 6.
Key stat: 3. Number of days' rest for the 23-year-old Beckett heading into his Game 6 start.