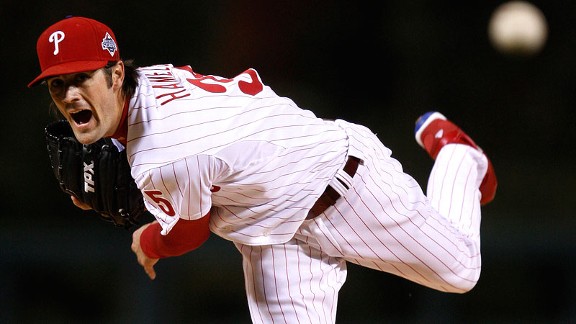 AP Photo/Chris O'Meara
Philadelphia (NL) 4, Tampa Bay (AL) 1
Game Scores:
PHI 3, TB 2 @ TB
TB 4, PHI 2 @ TB
PHI 5, TB 4 @ PHI
PHI 10, TB 2 @ PHI
PHI 4, TB 3 @ PHI
MVP:
Cole Hamels
Why the Phillies won: The Phillies rode the remarkable playoffs of Series MVP Cole Hamels, who finished off a 5-0 postseason.
Why the Rays lost: The Rays couldn't stop the Phillies early. In the four Tampa losses, the Phillies scored in the first inning.
Memorable moment: Game 5 was suspended on a Monday and didn't resume until Wednesday.
Key stat: 1. Total hits by the Rays' Evan Longoria in 20 at-bats in the Series.