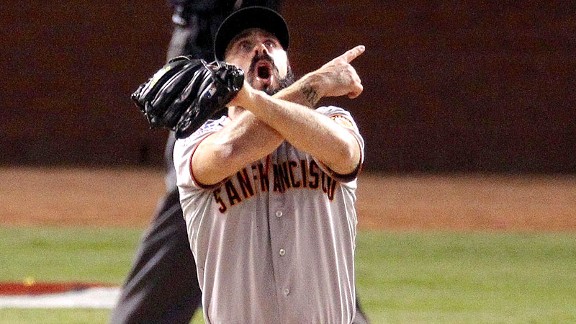 Christian Petersen/Getty Images
San Francisco (NL) 4, Texas (AL) 1
Game Scores:
SF 11, TEX 7 @ SF
SF 9, TEX 0 @ SF
TEX 4, SF 2 @ TEX
SF 4, TEX 0 @ TEX
SF 3, TEX 1 @ TEX
MVP:
Edgar Renteria
Why the Giants won: Well, of course, the pitching, with the group posting a 2.45 ERA. Tim Lincecum, Matt Cain and Madison Bumgarner gave up five earned runs in 22 innings.
Why the Rangers lost: Because Cliff Lee and company couldn't stop the typically light-hitting Giants, who scored 20 runs and banged out 22 hits in the first two games.
Memorable moment: Brian Wilson's beard, which appeared in three of the Giants' victories.
Key stat: .412. The batting average for Series MVP Edgar Renteria, who had six RBIs and two homers.