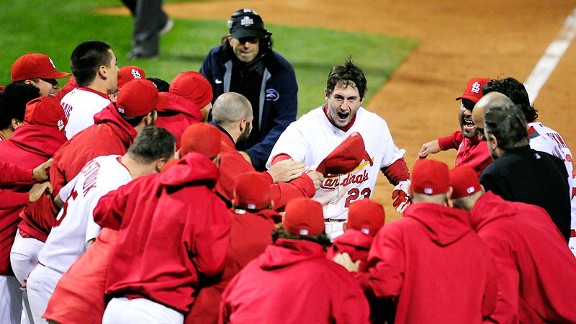 Jeff Curry/US Presswire
St. Louis (NL) 4, Texas (AL) 3
Game Scores:
STL 3, TEX 2 @ STL
TEX 2, STL 1 @ STL
STL 16, TEX 7 @ TEX
TEX 4, STL 0 @ TEX
TEX 4, STL 2 @ TEX
STL 10, TEX 9 @ STL
STL 6, TEX 2 @ STL
MVP:
David Freese
Why the Cardinals won: Tony La Russa's Game 5 bullpen phone mishap nearly cost them the series, but they won behind clutch hitting from David Freese, Lance Berkman, Allen Craig and Yadier Molina.
Why the Rangers lost: In Game 6, they were one strike from winning the Series twice and had leads in both the ninth and 10th innings, but couldn't put the Cardinals away.
Memorable moment: Freese's walk-off home run in the 11th to win Game 6, one of the greatest games ever.
Key stat: 14. The record number of total bases for Albert Pujols in Game 3, when he hit three HRs and had five hits and six RBIs, argubly the top single-game performance in World Series history.