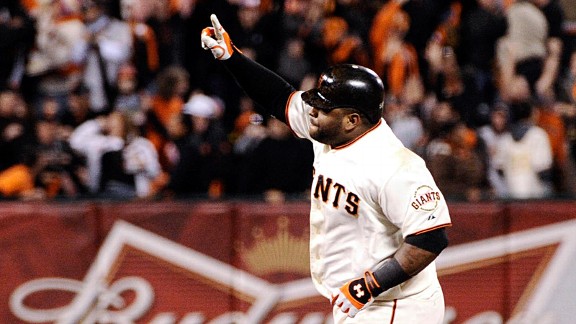 Robert Hanashiro/US Presswire
San Francisco (NL) 4, Detroit (AL) 0
Game Scores:
SFO 8, DET 3 @ SFO
SFO 2, DET 0 @ SFO
SFO 2, DET 0 @ DET
SFO 4, DET 3 @ DET
MVP:
Pablo Sandoval
Why the Giants won: Their starting pitching dominated the Tigers, with Barry Zito, Madison Bumgarner and Ryan Vogelsong combining to yield one earned run over the first three games.
Why the Tigers lost: They failed to capitalize on scoring opportunities, and Triple Crown winner Miguel Cabrera and Prince Fielder went a combined 4-for-27 (.148) over the four games.
Memorable moment: In Game 1, Pablo Sandoval hit home runs in his first three World Series at-bats and had an opportunity for a record fourth. He singled instead.
Key stat: 29. The number of consecutive innings that the Giants led in the Series before the Tigers took the lead in the third inning of Game 4.