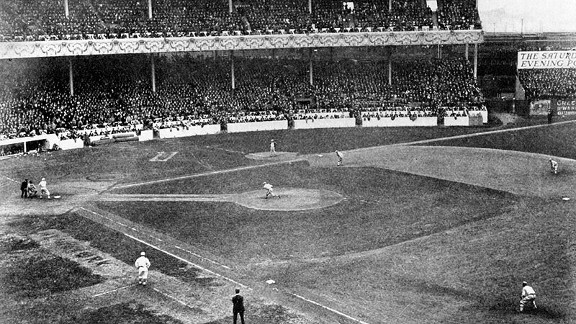 Mark Rucker/Transcendental Graphics/Getty Images
Philadelphia (AL) 4, New York (NL) 1
Game Scores:
PHI 6, NYG 4 @ NYG
NYG 3, PHI 0 @ PHI
PHI 8, NYG 1 @ NYG
PHI 6, NYG 5 @ PHI
PHI 3, NYG 1 @ NYG

Why the Athletics won: Hall of Famers Frank "Home Run" Baker and Eddie Collins hit .450 and .421, respectively.
Why the Giants lost: The Giants hit just .201 to lose for the third straight season.
Memorable moment: Eddie Plank spun a masterful two-hitter in the clinching game.
Key stat: 0.95. The identical Series ERAs of Game 5 starters Plank and Christy Mathewson, with Plank outpitching Mathewson to win the championship.