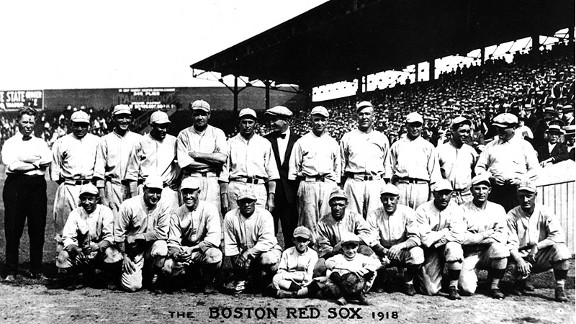 National Baseball Hall of Fame Library
Boston (AL) 4, Chicago (NL) 2
Game Scores:
BOS 1, CHC 0 @ CHC
CHC 3, BOS 1 @ CHC
BOS 2, CHC 1 @ CHC
BOS 3, CHC 2 @ BOS
CHC 3, BOS 0 @ BOS
BOS 2, CHC 1 @ BOS

Why the Red Sox won: With the Series moved up to early September due to World War I, Boston's pitching helped the Sox overcome a .186 team average.
Why the Cubs lost: You can't blame the pitching -- the Cubs lost despite allowing just nine runs in six games.
Memorable moment: After pitching a shutout in Game 1, Babe Ruth's two-run triple was the key blow as he won Game 4 as well.
Key stat: 4. The number of World Series the Red Sox both appeared in and won during the decade.