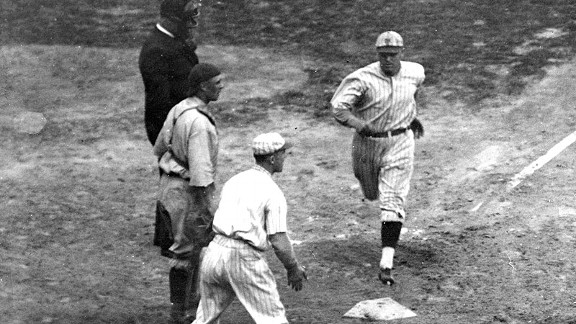 National Baseball Hall of Fame Library
New York (NL) 5, New York (AL) 3
Game Scores:
NYY 3, NYG 0 @ NYG
NYY 3, NYG 0 @ NYY
NYG 13, NYY 5 @ NYG
NYG 4, NYY 2 @ NYY
NYY 3, NYG 1 @ NYG
NYG 8, NYY 5 @ NYY
NYG 2, NYY 1 @ NYG
NYG 1, NYY 0 @ NYY

Why the Giants won: Jesse Barnes pitched 16.1 innings in relief and won two games, while Art Nehf pitched a shutout in Game 8.
Why the Yankees lost: Babe Ruth made his first World Series in pinstripes but he wrenched his knee and missed the final three games (other than a pinch-hit appearance).
Memorable moment: The final game ended on a double play when Aaron Ward was gunned down at third base, trying to advance from first on a groundout.
Key stat: 2. The number of unearned runs allowed by Waite Hoyt in three starts for the Yankees; unfortunately, one of those came in the first inning of Game 8.