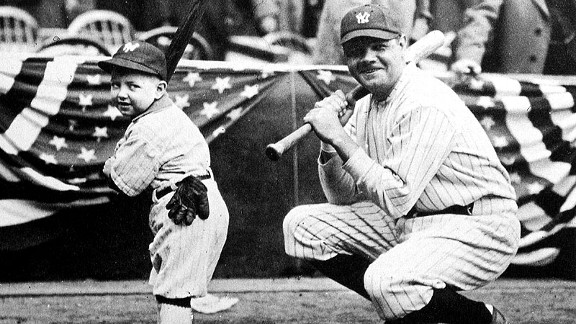 Mark Rucker/Transcendental Graphics/Getty Images
New York (AL) 4, New York (NL) 2
Game Scores:
NYG 5, NYY 4 @ NYY
NYY 4, NYG 2 @ NYG
NYG 1, NYY 0 @ NYY
NYY 8, NYG 4 @ NYG
NYY 8, NYG 1 @ NYY
NYY 6, NYG 4 @ NYG

Why the Yankees won: After sharing the Polo Grounds with the Giants since 1913, the Yankees moved into their new cathedral and won their first Series with a five-run rally in the eighth inning of Game 6.
Why the Giants lost: Dave Bancroft, a .304 hitter during the season, went 2-for-24 and first baseman George Kelly drove in just one run.
Memorable moment: Casey Stengel hit game-winning homers for the Giants in Games 1 (top of the ninth) and 3 (seventh inning).
Key stat: 1.556. The OPS of Babe Ruth, who hit .368 with three homers, a double, a triple and eight walks in his first great World Series performance. "The Ruth is mighty and shall prevail," Heywood Broun famously wrote.