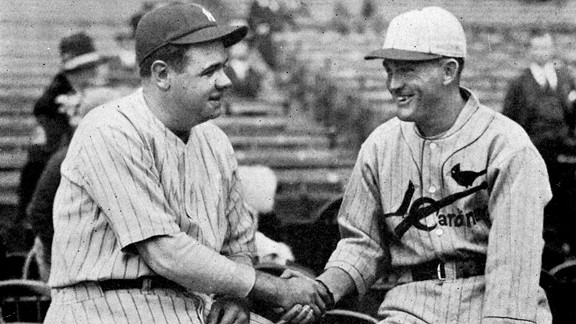 Mark Rucker/Transcendental Graphics/Getty Images
St. Louis (NL) 4, New York (AL) 3
Game Scores:
NYY 2, STL 1 @ NYY
STL 6, NYY 2 @ NYY
STL 4, NYY 0 @ STL
NYY 10, STL 5 @ STL
NYY 3, STL 2 @ STL
STL 10, NYY 2 @ NYY
STL 3, NYY 2 @ NYY

Why the Cardinals won: Veteran hurler Pete Alexander won two games and saved Game 7.
Why the Yankees lost: Babe Ruth was caught stealing second base for the final out of Game 7 with slugger Bob Meusel at the plate.
Memorable moment: Alexander entered in the seventh inning of Game 7 with the bases loaded and struck out Tony Lazzeri -- after a long fly that drifted foul.
Key stat: 11. The combined number of runs scored by the Yankees in every game but Game 4, in which they scored 10 behind Ruth's three home runs.