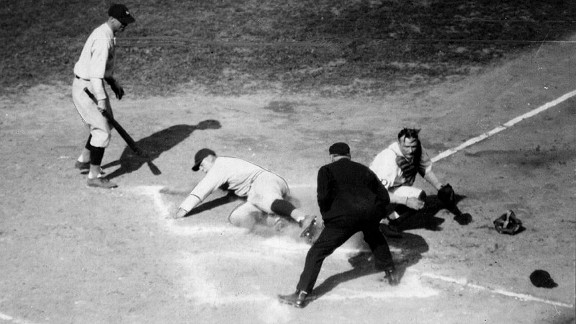 Mark Rucker/Transcendental Graphics/Getty Images
New York (AL) 4, Pittsburgh (NL) 0
Game Scores:
NYY 5, PIT 4 @ PIT
NYY 6, PIT 2 @ PIT
NYY 8, PIT 1 @ NYY
NYY 4, PIT 3 @ NYY

Why the Yankees won: The team many consider the greatest of all time actually won with its pitching as it hit just two home runs (both by Babe Ruth, who hit .400 and drove in seven runs).
Why the Pirates lost: Myth has it that the Series was over when the Pirates saw the Yankees take batting practice before the opener, launching ball after ball over the fence.
Memorable moment: Yankees pitcher Herb Pennock retired the first 22 batters in Game 3.
Key stat: 4. The number of walks allowed by the Yankees' staff, which wasn't overpowering, striking out just seven hitters.