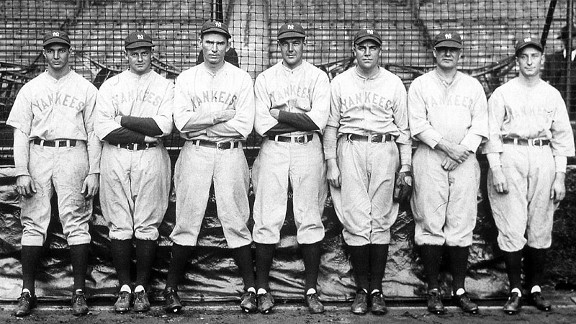 Mark Rucker/Transcendental Graphics/Getty Images
New York (AL) 4, St. Louis (NL) 0
Game Scores:
NYY 4, STL 1 @ NYY
NYY 9, STL 3 @ NYY
NYY 7, STL 3 @ STL
NYY 7, STL 3 @ STL

Why the Yankees won: They swept their second straight World Series as they outhomered St. Louis nine to one.
Why the Cardinals lost: After hitting .281 as a team, they batted .206 and scored just 10 runs.
Memorable moment: Babe Ruth, playing on a bad ankle, hit three home runs in a World Series game for the second time, homering in the fourth, seventh and eighth innings of Game 4.
Key stat: 7. The combined number of home runs for Lou Gehrig (four, .545) and Ruth (three, .625), who were a two-man wrecking crew.