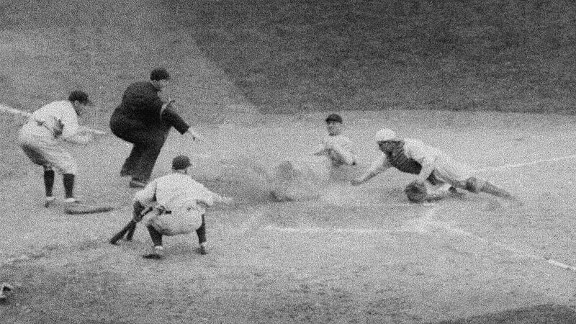 AP Photo
Philadelphia (AL) 4, Chicago (NL) 1
Game Scores:
PHI 3, CHC 1 @ CHC
PHI 9, CHC 3 @ CHC
CHC 3, PHI 1 @ PHI
PHI 10, CHC 8 @ PHI
PHI 3, CHC 2 @ PHI
Why the Athletics won: Trailing Game 4 8-0 in the seventh, they scored 10 runs. Trailing Game 5 2-0 in the ninth, Mule Haas hit a two-run homer and Bing Miller doubled home the winning run.
Why the Cubs lost: Rogers Hornsby and Hack Wilson combined for 78 home runs and 308 RBIs that season, but had just one RBI in the Series.
Memorable moment: Surprise Game 1 starter Howard Ehmke fanned 13 for the A's. (He'd start just twice more in his career.)
Key stat: 10. The number of hits the A's had during their 10-run inning in Game 4, including Haas' three-run inside-the-park home run.