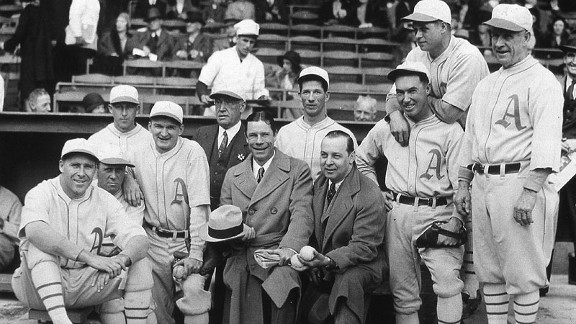 Mark Rucker/Transcendental Graphics/Getty Images
Philadelphia (AL) 4, St. Louis (NL) 2
Game Scores:
PHI 5, STL 2 @ PHI
PHI 6, STL 1 @ PHI
STL 5, PHI 0 @ STL
STL 3, PHI 1 @ STL
PHI 2, STL 0 @ STL
PHI 7, STL 1 @ PHI

Why the Athletics won: They hit only .197, but the 1-2 combo of George Earnshaw and Lefty Grove was dominant.
Why the Cardinals lost: They hit .314 and scored more than 1,000 runs in the regular season, but hit just .200 and averaged two runs per game.
Memorable moment: Jimmie Foxx broke a 0-0 tie in the ninth inning of Game 5 with a two-run homer off Burleigh Grimes.
Key stat: 1. The amount of rest (one day) for Earnshaw, who pitched seven innings in Game 5 and returned to the mound two days later to throw a five-hit complete game in the finale.