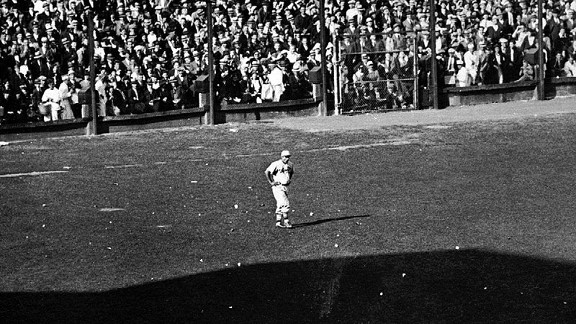 AP Photo
St. Louis (NL) 4, Detroit (AL) 3
Game Scores:
STL 8, DET 3 @ DET
DET 3, STL 2 @ DET
STL 4, DET 1 @ STL
DET 10, STL 4 @ STL
DET 3, STL 1 @ STL
STL 4, DET 3 @ DET
STL 11, DET 0 @ DET

Why the Cardinals won: The Dean brothers, Dizzy and Paul, accounted for all four wins and had a combined ERA of 1.43 in 44 innings.
Why the Tigers lost: Leading 3-2, the Tigers couldn't close the series at home and wasted a key chance in Game 6, with runners on second and third and one out in the eighth.
Memorable moment: In Game 7, the Detroit fans pelted the Cardinals' Joe Medwick with garbage when he took his position in left field after a hard slide into Tigers third baseman Marv Owen the previous inning. Commissioner Judge Landis had Medwick removed from the game.
Key stat: 6. The number of doubles hit by the Tigers' Pete Fox. It remains a Series record.