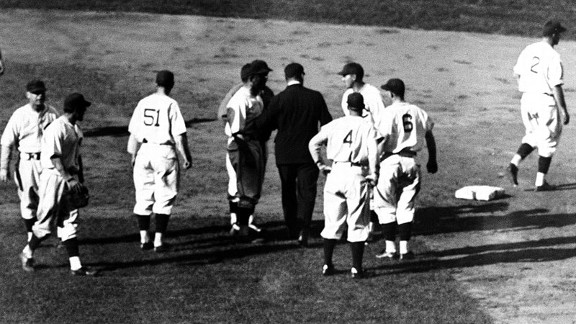 AP Photo
Detroit (AL) 4, Chicago (NL) 2
Game Scores:
CHI 3, DET 0 @ DET
DET 8, CHI 3 @ DET
DET 6, CHI 5 @ CHI
DET 2, CHI 1 @ CHI
CHI 3, DET 1 @ CHI
DET 4, CHI 3 @ DET

Why the Tigers won: After dropping Game 1, the Tigers won four of the next five games, three by one run, getting two strong starts from Tommy Bridges.
Why the Cubs lost: They couldn't win without Lon Warneke on the mound. Warneke was brilliant, 2-0 with an 0.54 ERA. The other six pitchers? 0-4, 4.26 ERA.
Memorable moment: In Game 6, Goose Goslin's single in the bottom of the ninth scored Mickey Cochrane to clinch the Tigers' first-ever World Series title.
Key stat: .050. The batting average (1-for-20) of Marv Owen, who replaced the Tigers' Hall of Fame first baseman Hank Greenberg (broken wrist) in Game 2.