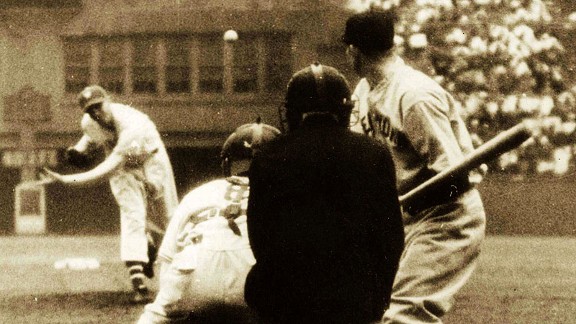 AP Photo
New York (AL) 4, New York (NL) 2
Game Scores:
NYG 6, NYY 1 @ NYG
NYY 18, NYG 4 @ NYG
NYY 2, NYG 1 @ NYY
NYY 5, NYG 2 @ NYY
NYG 5, NYY 4 @ NYY
NYY 13, NYG 5 @ NYG

Why the Yankees won: Led by Jake Powell (.455, 1.175 OPS), the Yankees battered the Giants, outscoring them 43-23 and hitting .302 as a team.
Why the Giants lost: Other than Carl Hubbell (1-1, 2.25 ERA), no other Giants pitcher could slow down the Yankees' attack. Their staff ERA was 6.79.
Memorable moment: Prized rookie Joe DiMaggio made a running catch in center field to end Game 2 ... and he kept on running up the clubhouse steps at the Polo Grounds.
Key stat: 17. The number of consecutive decisions won by Hubbell before the Yankees beat him in Game 3.