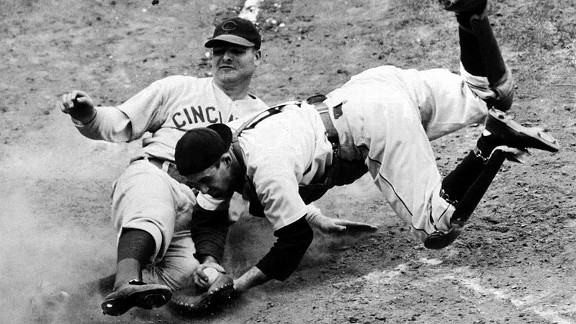 AP Photo
Cincinnati (NL) 4, Detroit (AL) 3
Game Scores:
DET 7, CIN 2 @ CIN
CIN 5, DET 3 @ CIN
DET 7, CIN 4 @ DET
CIN 5, DET 2 @ DET
DET 8, CIN 0 @ DET
CIN 4, DET 0 @ CIN
CIN 2, DET 1 @ CIN

Why the Reds won: Bucky Walters and Paul Derringer were tough on the Tigers; the two Reds starters went 4-1 with a 2.17 ERA.
Why the Tigers lost: Up 3-2 in the series, they scored one run over the final two games, getting 12 hits and only two for extra bases.
Memorable moment: Tigers starter Bobo Newsom, whose father died in his hotel room after watching his son win Game 1, threw a shutout "for Dad' in Game 5.
Key stat: .353. The series batting average of 40-year-old Jimmie Wilson, a Reds coach who became the backup catcher after former backup Willard Hershberger committed suicide in August.