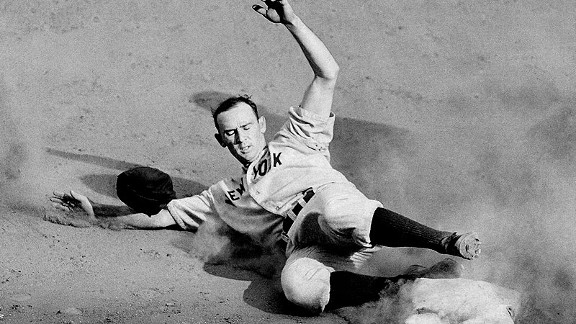 AP Photo
New York (AL) 4, Brooklyn (AL) 1
Game Scores:
NYY 3, BRO 2 @ NYY
BRO 3, NYY 2 @ NYY
NYY 2, BRO 1 @ BRO
NYY 7, BRO 4 @ BRO
NYY 3, BRO 1 @ BRO

Why the Yankees won: Joe Gordon (.500 BA, 1.595 OPS) and Charlie Keller (.389, .976) combined to drive in 10 of the Yankees' 17 runs.
Why the Dodgers lost: They had no offense, scoring 11 runs and hitting .182 with one home run in five games. No regular hit higher than .235.
Memorable moment: One out away from a one-run Game 4 win, Dodgers catcher Mickey Owens' passed ball on a third strike allowed Tommy Henrich to reach base. The Yankees then scored four runs and won the game.
Key stat: 7. The number of times Gordon walked, tying a five-game Series record.