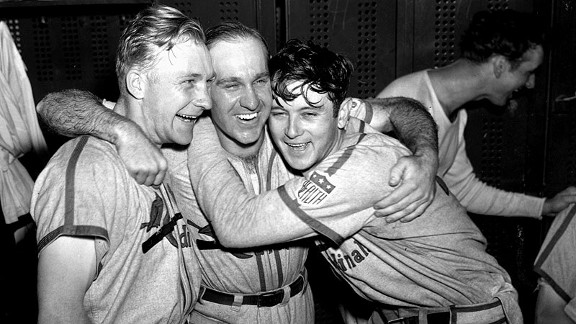 AP Photo
St. Louis (NL) 4, New York (AL) 1
Game Scores:
NYY 7, STL 4 @ STL
STL 4, NYY 3 @ STL
STL 2, NYY 0 @ NYY
STL 9, NYY 6 @ NYY
STL 4, NYY 2 @ NYY

Why the Cardinals won: They received clutch pitching from undaunted rookie Johnny Beazley, a 21-game winner who beat the Yankees twice -- in Games 2 and 5.
Why the Yankees lost: In Game 1, their only victory, they scored the first seven runs of the Series, but then got outscored 23-11 the rest of the way.
Memorable moment: Whitey Kurowski, who'd gone 3-for-14 in the Series, hit a tie-breaking, two-run homer in the top of the ninth in Game 5 to win the title for St. Louis.
Key stat: 8. The number of consecutive World Series appearances won by the Yankees until the Cardinals finally beat them.