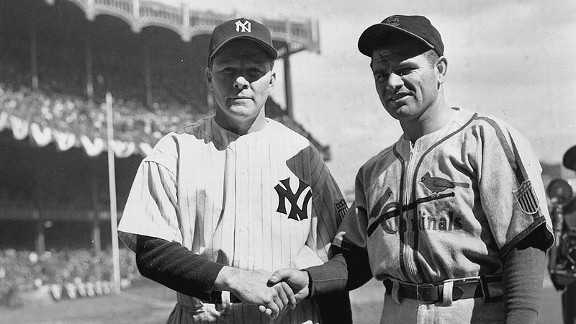 AP Photo
New York (AL) 4, St. Louis (NL) 1
Game Scores:
NYY 4, STL 2 @ NYY
STL 4, NYY 3 @ NYY
NYY 6, STL 2 @ NYY
NYY 2, STL 1 @ STL
NYY 2, STL 0 @ STL

Why the Yankees won: AL MVP Spud Chandler pitched like an ace with a pair of complete-game victories, a seven-hitter in Game 1 and a 10-hit shutout to clinch the Series in Game 5.
Why the Cardinals lost: Other than their Game 2 victory, the Cardinals never scored more than two runs in a game. They went scoreless in 22 of the final 23 innings.
Memorable moment: With the Yankees down 2-1 in Game 3, Billy Johnson's bases-loaded triple capped a five-run eighth inning as the Yankees took control of the Series.
Key stat: 3-4. The scheduled Series format (three games in New York, four in St. Louis) due to wartime travel restrictions.