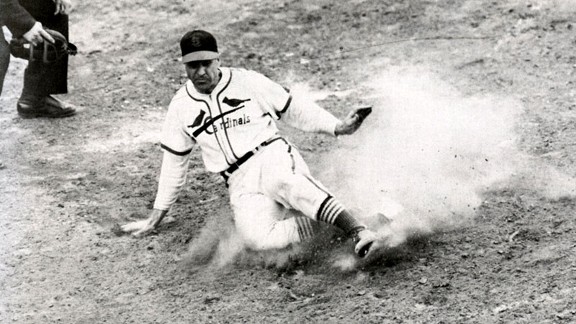 Mark Rucker/Transcendental Graphics/Getty Images
St. Louis (NL) 4, Boston (AL) 3
Game Scores:
BOS 3, STL 2 @ STL
STL 3, BOS 0 @ STL
BOS 4, STL 0 @ BOS
STL 12, BOS 3 @ BOS
BOS 6, STL 3 @ BOS
STL 4, BOS 1 @ STL
STL 4, BOS 3 @ STL

Why the Cardinals won: They rode the masterful pitching of Harry Brecheen, who had two complete-game victories (Games 2 and 6), won Game 7 in relief and allowed one earned run in 20 innings.
Why the Red Sox lost: Over the final two games, Boston's inability to hit with runners in scoring position (1-for-13) was its undoing. In Game 7, the Red Sox put two runners on with no outs in the ninth and didn't score.
Memorable moment: Known as the "Mad Dash," Enos Slaughter scored from first base on Harry Walker's double to break a 3-3 eighth-inning tie in Game 7.
Key stat: .200. Ted Williams' batting average in the only World Series appearance of his career.