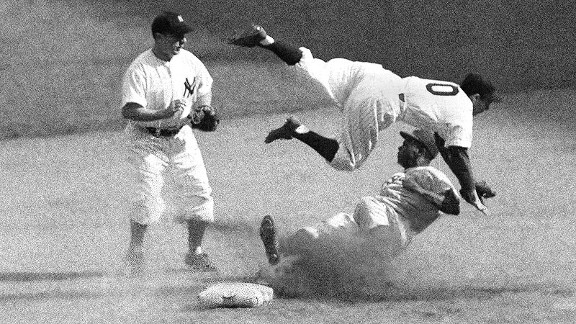 AP Photo/Harry Harris
New York (AL) 4, Brooklyn (NL) 3
Game Scores:
NYY 5, BRO 3 @ NYY
NYY 10, BRO 3 @ NYY
BRO 9, NYY 8 @ BRO
BRO 3, NYY 2 @ BRO
NYY 2, BRO 1 @ BRO
BRO 8, NYY 6 @ NYY
NYY 5, BRO 2 @ NYY

Why the Yankees won: Although Johnny Lindell (9-for-18, 1.403 OPS) led the offense, Joe Page's clutch relief effort in Game 7 (five scoreless innings) was the difference.
Why the Dodgers lost: The Dodgers' starting pitching was a glaring weakness; no starter pitched beyond the fifth inning, and the rotation had a collective ERA of 9.64.
Memorable moment: In Game 4, Bill Bevens was one out from a no-hitter when Cookie Lavagetto lined a two-run double to right field to beat the Yankees.
Key stat: 6. The appearances by the Dodgers' Hugh Casey, who won twice, had one save and an 0.87 ERA.